Google Play: Everything you need to know!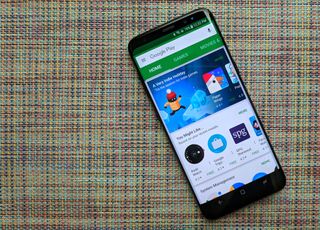 Google Play is the cornerstone of Google's ecosystem of content and has become a critical part of Android. It reaches almost all of Android and through Play Services is capable of fixing many of Android's problems, especially in regards to updates and security. Google Play also is a content library and ecosystem that is accessible on more platforms than almost any other.
Born as the Android Market, it's grown from just a home for apps and is now the one-stop shop for applications, books, movies, music, TV shows — basically anything and everything that you can buy and use on your Android phone or tablet.
Downloading and managing apps
The first thing you're going to want to do when getting a new Android phone is downloading new apps, or re-installing ones that you previously had on another phone. It's easy to do this, and there are plenty of tools to help you get there!
Sharing and review apps
When you've downloaded a new app, you may want to review it or share with your friends. The reviews help the developers with feedback for their changes, and sharing helps spread the word.
Downloading and sharing movies, music, and books
Google Play isn't just about apps. You can buy and rent movies and TV shows, subscribe to Google Play Music's unlimited streaming service, or buy the latest books from your favorite authors!
Sharing apps and movies through Google Play Family Library
Sharing is caring, and Google understands that when we buy things we like on Google Play, we want to share them with our family. Enter Google Play Family Library, which allows you to share your favorite paid apps, movies and books with members in your Family Library.
How to use a Google Play gift card
Did someone give you a gift card to Google Play that you need to spend? Wondering how to get your gift card into Google Play, or what to spend it on? We're here to help!
New features in 2018
One great feature of the Play Store is the ability for users to try beta versions of their favorite applications. That's going to get even easier soon: users will no longer need to sign up for the beta versions. If developers still want a version of their application to be invitation-only, they can maintain a closed alpha version.
Another great feature for both developers and users is Dynamic Delivery: apps are compiled for different screen resolutions, languages, and architectures. Currently, the application downloads all the files needed for all resolutions, languages, and architectures, but apps will soon be able to download only the files needed to make the app run on their specific phone.
Finally, we have Slices. Not pizza slices (though we have those too), but App Slices. An example of an App Slice is the playback controls for a video app; users can see this content in places like the search bar. If the user is searching for "The Flash," they'll be able to see a quick link to watch The Flash on Netflix.
More: What's new in Google Play at Google I/O 2018?
More: What's new with Development Tools at Google I/O 2018
Update, May 2018: This article was updated to reflect new features announced at Google I/O 2018.
Daniel Bader was a former Android Central Editor-in-Chief and Executive Editor for iMore and Windows Central.
What an awesome write-up! Basic for some, but great information for those new to Android. Posted via the Android Central App

And more importantly, something you can send your friends to after you convince them to get an Android.

Love your little guides because rather than having to explain to my... less technologically advanced friends, I can just say "search it up on AC"

Keyword.. "convince".. We should not have to convince anyone. I've given up on that. They usually have other platforms because they're either ignorant, dumb as rocks, fans, or sheep. If you have to convince any of the above then you've just become their personal tech guy and any and all issues that come about is all your fault. - and they will come up and they will complain to you. And please, everyone save your success stories. Either agree or ignore this comment. If someone reaches out to you, that's a totally different story. This write up is perfect for that. Good job guys! Nexus 4 (AT&T)

I made the mistake of trying to convert someone from Apple to Android. They initially had a confirmation bias towards Apple so they went into it half heartedly. I also ended up being their go to guy and punching bag because they were to lazy to learn the ins and outs of Android. Posted via the Android Central App

Exactly. Been there too many times. No more.. They'll break out manuals and YouTube to learn iOS. Android, they just try to use it as an iPhone.. And then you know what happens next. Nexus 4 (AT&T)

Exactly Posted via the Android Central App

When I was in android I let my account in the Play store be used (share) all my paid apps on their devices. Just to show them all the good apps I had paid for and let them experience it for themselves till they started their own.

Great article Ara Posted via the Android Central App

Concerning buying a SD vs a HD movie : does it really matter? Or is HD worth getting? In my case I have a note 4. Posted via the Android Central App

I would say yes, kind of like watching SD on your HD tv. Looks like crap. Posted via the Android Central App

Still looks better than the DVD player plugged into my big screen.

That's true, I buy HD because I would also be watching on a big screen. Posted via the Android Central App

That comes down to personal preference. If you cast to a Chromecast or have a Nexus Player enabling you to play back to content on larger screens frequently, then possibly. I buy SD because most of the time I'm watching on my phone or Chromebook or a smaller TV, since I only inherited a big-screen over the holidays.

Well, a good part of convincing someone should include giving them research to read over and YouTube videos to watch, shouldn't it?

In the article or says you can't see/use the device section in the Google Play Store on mobile. Well you can't in the app but you still can on mobile using your browser.

True, but at that point you're using the website (albeit in a limited capacity) so I didn't want to further confuse people by bringing that in.

One thing, how can i sync my games so if i start on tablet and pick up on phone i can pick up where i left off. better yet, how can i swap my phones and get my saved games? Say you are on lvl 22 on a game, if i swap to a new phone that game isnt saved. I have to start over again.

It usually depends on the game and whether it supports syncing of the game state/save. This might be through G+ or Facebook or the like, but the onus is on the game and it's developer to support it.

This is why cloud sync through Google Play Games should be required for Android games, but this is why you just have to be more picky in your game choices.

There are options to getting your game's save state off the device (at least for backup purposes), but the "convenient" way requires root, which I don't recommend if you're not ready to deal with the consequences of much lowered security. There are alternatives, but they require you to be plugged in to a computer to make it happen. "Hellium" is one I've played with breifly, written by Koush, the guy behind ClockWorkMod and a bajillion (that can be a word) other awesome Android hack tools, and he's well loved and trusted in the community. https://play.google.com/store/apps/details?id=com.koushikdutta.backup&hl=en Here's an article that lists a few others, in case you want to check out other non-root backup options. http://www.technorms.com/39708/android-backup-4-best-options

In the TL'DR world I find myself giving advice to people less and less (as they are too lazy to seek a meaningful answer themselves). Advising someone on a product just makes you accountable for every function, fault and user issue they have with it, it seems.
Still great write up Ara.

Awesome article - Thank You Posted via Android Central App

I'm a software developer, and I have *totally* watched movies at work. I claim it helps me focus to have the background noise :) The one additional option I *really* wish the Auto-Update feature had is "while plugged in". Sometimes I'll be out for the night, and my battery will be low, but I'm like "It'll make it a couple of hours, if I don't play with it." Then we'll end up at a friend's place, I hit their WiFi, and my phone commits suicide trying to update all the apps. I refuse to believe I'm the only person with this problem.

Your sarcasm meter must be in the shop. Posted via the Android Central App

I keep a couple extra handy, just in case. Posted via Android Central App

Excellent article. I know I can download purchased music tracks or albums onto my computer, as long as I have the Google Music program installed. Can I do the same for movies / TV shows purchased?

Not at the moment. If you have the Play Movies app for Chrome you may be able to pin them for offline playback, though I'm unsure if that's just for Chromebooks. Posted via the Android Central App

Thanks. That's good to know.

Excellent article, will direct friends here for quick reference, very well done Posted via my Droid RAZR Maxx HD using the Android Central App

I would like to add, this integration of GMS into Android is not true to the spirit of AOSP. Soon you will no longer be able to have a Google-less Android, most apps would never run without the Google services running. While most of us like Google and its services, it is no longer a free and open source OS. Too much the Google proprietary back end will be (is) needed. Listen to This Week in Google (TWIG) on TWIT.TV from last week - the have a GREAT argument about this. Of love to hear Jerry's view (s) on this. Posted via Android Central App

While you're not wrong, I think there are important missing details in your argument. It's true that many apps from the Google Play Store would not function without Play Services, but you wouldn't have access to those apps anyway. It's an important distinction (albeit confusing) that Android and AOSP are not the same thing. AOSP is a functional operating system on its own, even if it's not interoperable with Android. You are absolutely correct that AOSP is not compatible with the Android ecosystem. But I believe you're wrong that that makes AOSP "not valid" as an operating system. There was a time when Linux itself had that same problem. Free, open, and practucally useless to an end user. Posted via Android Central App

Complete guide. show me options that I dont knew. Just great. Posted via the Android Central App

Anyone wish the my apps (installed) page was more like ios? At the top you would still have the apps that need updating, but below would be a historical breakdown of "On Tuesday, these apps updated, on monday these apps updated, so on and so forth."

When I try to make purchases when playing games I can't it says error decline on your verizon account. I called verizon and isn't with them. Could you please help.me.

I was wondering if it's possible to do away with the play store and still be able to update all of my apps

i really like to play games like others,thru this apps it helps us much.thnx

Hey Dagnachew Alemu! What's your take? Leave a comment.

Hey Dagnachew Alemu! What's your take? Leave a comment.I lost my user name

I cant install my play store...my lg prime doesn t open the page. Some suggestion? I tryed

Hoq can I dwnload google play store in my phone htc one m8

ana nabri wahda mabrawche yzawjoni

I have st 2 apps o. My phone. Where can i reload the shopping bag for Google Play store and I also need Dictionary.com?

Can you help me get back two app icons? The Google Play store sack and the blue Dictionary
.Com icon.

So many opportunities for one man. Not just using the apps but creating them.
http://androidpluspc.com/play-market-on-pc/
I love where you taking this world Google

Email address for Android

So far informative decently enough.

I would like to add, this integration of GMS into Android is not true to the spirit of AOSP. Soon you will no longer be able to have a Google-less Android, most apps would never run without the Google services running. While most of us like Google and its services, it is no longer a free and open source OS. Too much the Google proprietary back end will be (is) needed. Listen to This Week in Google (TWIG) on TWIT.TV from last week - the have a GREAT argument about this. Of love to hear Jerry's view (s) on this. Posted via Android Central App

If you use WhatsApp, and take the time to clean up old media files you send and receive, check out Timely Cleaner on Google Play. It automates the process as much as possible, so you don't lose anything you want to keep in the clean up.

I know this is a re-hashed old article from back in 2015. But seriously... the Google Play Store has been suffering in comparison to other venues. Sure, as an app store it's great. Hold's it's own in the face of other app stores. However, as applies to Google Play Movies and TV... it sucks rocks in comparison to pretty much every other streaming service. Sure there's been feeble attempts to utilize YouTube Red to create original content for Google, but realistically, production value and quality of shows really suffers (Cobra Kai for example, while was cute to watch, was obviously of much lower caliber to what other services offer). Google really needs to step up its game as it applies to Play Movies and TV. Other than the App Store, where it's strong but still not king, Google Play really really suffers in every other aspect.
Android Central Newsletter
Thank you for signing up to Android Central. You will receive a verification email shortly.
There was a problem. Please refresh the page and try again.