Top 5 things to know about Google Play Family Libraries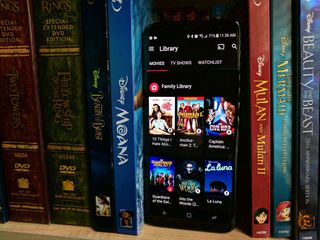 Last year, Google Play rolled out Family Libraries, allowing families to share content from almost every section of the Google Play Store with the whole group. Now, rather than buying all your content with one account and adding that account to every tablet/phone in the family, everyone can buy what they want and share it. It sounds great, and it's a leap forward for family content management on Android and Google's properties but there are a few things you should know.
1. Mind your family's setup
In order to use a Family Library, you need to add your family's Google accounts to a Family Group. Family Groups can have up to six members including the family manager, so if you're in a large family, think carefully about which members can get in on the group. If you have to make two groups to accommodate your whole family, you'll have to have another account moderate the second group, as you can only be in one Family Group at a time.
You can also only switch family groups once every twelve months, so don't go thinking you can just switch in and out of groups between your friends and your family.
Once you've figured out who's going to be in your group, get invites out and accepted quickly. Invitations can expire, and that's exactly what happened when I sent out my invites while setting up the Family Group for Google Play Music's Family Plan. You don't want to hassle with sending and resending everyone's invites and making sure everyone accepts and gets set up. Sit down and do it after a family dinner, or during movie night while everyone's watching Frozen for the billionth time.
2. Turn off automatic adding
You probably don't want your kids watching that copy of Deadpool (opens in new tab) in your Play Movies library, and you'd rather they not read your copy of 50 Shades Darker (opens in new tab). You're not going to want Google Play adding everything from your library to the Family Library. If you did this during your setup already, no worries, let's just turn it off right now.
Open Google Play.
Tap the three-line menu button in the top left corner.
Tap Account.
Tap Family.
Tap Family Library Settings.
Tap the content type you wish to turn off automatic adding for.
Tap Don't add automatically.
If you want to remove all your purchases from the Family Library and add them back manually, tap Remove Purchases.
If you want remove the purchases, tap Proceed.
3. Curating your Family Library can get tedious
You can revoke everything in a hurry, but adding things back takes time. To individually add a movie, TV show, or app, you have to go find that movie/show/book/app on either the Google Play Store, Play Movies & TV, or Play Books. When you find the item you want to share, they'll be a toggle on that item's page (except in Play Books, where it's in the dropdown under the cover in your Library).
If you didn't add everything initially, you're going to be spending a lot of time scrolling through your library finding what you do and don't want to add. There is no batch adding — except for things you purchased as a bundle, and television shows, which are all or nothing when it comes to adding them to Family Library. So if you wanted to share JLA Trapped in Time (opens in new tab) with the kiddies but not Batman Under the Red Hood (opens in new tab) from the DC Animated collection (opens in new tab), you're out of luck.
4. Switch the family payment method and monitor it
When you set up a Family Library, you have to set up a payment method for purchases that the whole family can use. While Google accounts registered at 13-17 years old will need the family managers approval before using the family payment method for any purchase, adult Google accounts in the family group don't need permission to use it for anything but in-app purchases by default -- and the only other option is to not need approval for those either.
Our recommendation in both cases is to either use a credit card that you monitor closely, use a debit card with overdraft alerts, or use a reloadable Visa debit gift card.
5. Not everything is shareable — especially when it comes to apps
While most if not all movies and TV shows are shareable, the same can't be said for books and apps. See, movies you got for free during promotions on Google Play can be shared, but books you got for free in Google Play cannot. Music is not shareable at all beyond sharing the All Access Family subscription.
Free apps cannot be shared, nor can in-app purchases — nor some paid apps. Developers cannot completely opt out of Family Library, but they can opt out any purchases made before July 2nd, 2016. Any app purchases you made before that, you are at the mercy of the developer as to whether or not you can add them to Family Library.
Because app purchases are shareable but in-app purchases are not, we may soon see a larger push to in-app purchases from apps that previously had paid and unpaid versions. It's also a shame that developers cannot opt out of sharing apps, as that could deprive them of thousands and thousands of purchases from one family member seeing another's app and deciding to purchase it themselves. However, this also gives family members a chance to try paid apps recommended by their brother or sister before they buy it themselves — and you should pay for apps that you enjoy using. Support developers!
What other tips do you have after setting up your own Family Library? Share them in the comments below and tell us which older-purchased apps you've been able to share.
Android Central Newsletter
Get instant access to breaking news, the hottest reviews, great deals and helpful tips
Ara Wagoner was a staff writer at Android Central. She themes phones and pokes YouTube Music with a stick. When she's not writing about cases, Chromebooks, or customization, she's wandering around Walt Disney World. If you see her without headphones, RUN. You can follow her on Twitter at @arawagco.
I like it. Didn't know they had enabled this.

I am looking at the payment options for the Family Account and do not see an option to use my Google Play balance as an option. The only options I get when trying to change the payment option for the Family Account are credit cards. Can you explain how this can be done?

Do you have an existing Google Play balance? If not, you can add Google Play credit to your account on the Google Play store website. Once you have Google Play credit, it should show as an option when setting your family payment option.

I have $26 in google play credit and see no way to change my Family Library payment option to it. The only choices I have are my 2 credit cards.

https://photos.google.com/share/AF1QipNM01thldGpnz5aMCFd9PgbuU7AVjdUxxeW6nS7iTiyZ5y979NoqTAvW55udKNlNw?key=RG5naHdXd2JEeEVNMndpRHp3M0hYZENLNy1LYnF3 Try on the Google Play website. That's where I set it to Play credit while writing the article. It doesn't come up as an option in the app anymore.

No go. Just went to the website and the only options showing up are still just the credit cards.

Drat. They changed it. (Happy it worked for me at least). Thank you, updating the article.

Absolutely ridiculous! Are you sure? My son-in-law said when you go to buy something, it says your reward balance [no matter amount], check box to use balance then pay balance with secondary way would be the easiest way. All cashiers know how to do this for customers who need to pay with two types of payments!

Yes, you can use Redeem codes, Play Credit, or the family payment options. Like the link I posted in both the article and these comments.

I have a balance in there from Google Opinion Rewards but it isn't an option to use when changing payment options.

So, are you saying we can not use our rewards to purchase items that will be in the library?

Also Pokemon libraries Posted via the Android Central App

Can you share Google play credit this way? Posted via the Android Central App

Well, you could let other family members use yours if you'd managed to get it set as your family payment method, but since that's been removed, nope.

Interesting, sharing my account and using restricted profiles seems to be a way better option to me, but then again my kids are way too young to have gmail accounts anyway. Also with restricted profiles most app and inapp purchases work as well as movies, music and books. I could see the family account thing being a coming of age thing maybe for responsible tweens and teens. Outside of that, I don't see any benefits, however, very informative article, thanks! Posted via the Android Central App

That's kind of the way we have been doing it.

No in app or paid app sharing? What's the use? Sounds useless to me. With Apple you could share purchases inside your family. Posted via the Android Central App

No, no. you can't share in-app purchases or free apps, only paid apps (and only some paid apps). And even then, for those of us with lots of books or movies in Google Play, there is certainly a use in this.

Did Apple's app sharing have a similar cut off date? From the apps I've bought since gingerbread, most of them have sharing enabled now, but maybe only 10% aren't using the cut off date making it near useless for me. That's a huge difference on end user experience if apple went back and enabled sharing for all previous purchases. Then a general question, do developers have the option to change that cut off date enforcement still? It took a really long time to get through my purchased list and check every app individually. If one of my apps becomes shareable later on, I'm definitely going to miss it.

Too bad,not much use here for $48.00+ in Google play credit. Posted via the Android Central App

You could donate it to a developer you like if they have a donate button in their app... or buy a bunch of books to read... or binge watch a few movies...

Yep,all good ideas. Posted via the Android Central App

When you actually want to buy a movie or show, During the actual payment process at that time you have the option of how you want to pay . You can select your play credit. Or other credit cards. The credit card that is setup as "default" payment method is just that. A default payment method.

I'm still making individual purchases from devs I like. I will not deprive them of income. Posted via the Android Central App

As you should. Support developers!

Ask iOS developers if they feel deprived.

Fyi: I have a Google business account, and they are not able to join a family. Sucks because I have over $100 of apps on that account. Posted via the Android Central App

Google business account, Google for Work account, or Google Apps account? Though I suspect the reasoning might be that work accounts shouldn't be shared with a family, and I they probably don't want coworkers using Family Library to share work related apps.

Unfortunately we use GApps4Business for our whole family and run "like a business" in our digital lives. It was too tempting to consolidate under our last name domain and coordinate, organize and share in that context. Perhaps we'll eventually see "Google Apps for Families" with family controls etc. Waiting for that day.

I do the same thing. It really is frustrating at how poorly google integrates their products. I use google apps for business to run my 'family domain' so we all have the same name@lastname emails. Unfortunately I guess that means according to google we aren't a family and thus don't need these features.

I wish it gave the option to have separate payment options. Myself and adult siblings could share our libraries, but a shared payment option will not work. Posted via the Android Central App

I agree, it's a bummer. But you can use a Visa gift card with a low balance and just put it in there as a placeholder. That said, family groups with adult kids wasn't the primary use case that Google had in mind, lol.

What kind of information is visible to the members in the family plan? Will they be able to see eachother's profile/information and/or download history if they are not the account manager?

I'm family manger for my family group, and I can't see any of my family's purchases unless they share them, can't see their download history or their profile information. The only way I'll ever see their purchases is if they share them or if they use the family payment option.

Are you able to see the in-app purchases? For example if your son bought a bunch of stuff on Candy crush are you able to see that?

I started a family account this morning. My son can now see my entire movie collection and was able to get the Monument Valley app without having to pay for it (normally .99). Not sure about the in app purchases that I made.

In-app purchases are not shareable, sorry!

It's fine. This has already been a great update for the movies and apps alone!

One more important thing (that should be obvious, though): Members of the Family Group must have an account created in the same country. So people trying to share content with family abroad, that's a no-no. :(

And of course, the most important thing to know... it's not available in my country o________o

I was imagining family library would solve the issue of having a "shared" account on all devices since my kids are too young to have their own devices. Although they now use handed down devices from my wife and I they are still too young to have their own accounts. But it looks like a shared account is still the solution to a lot of issues. Not just for sharing Android purchases but also for a Chromebook that everyone in the family will use. One gets the impression the people working at Google don't have families!!!

This is not only a horrible implementation by Google, but it's misleading to the point of deserving a class action lawsuit. When I signed up and invited several family members, including some who are adult, AT NO POINT did Google warn me that by doing so I was allowing them to make purchases on my account! The only way i discovered it was when I helped a family member set up their account from the invitation, and it told THEM they could make purchases on my account!!! Unfreaking believable, and I'd have never set it up if I realized I couldn't control who made purchases on my account. I was stupid enough to think Google was actually making it easy for me to pay a little more and share my Music account with my family. I should have known there was another motive. p.s. No doubt they buried the information somewhere in the legalese user agreement, but at no point as I signed did anything on the screen tell me anyone I invited could make purchases on my account as long as they were past a certain age. Which BTW is also meaningless since anyone that creates a Google account can say they are any age.

First, how much is the family library? I think if they fix their rules it would be great! Changes we want: 1. Google Rewards of all family members can be used for purchases!
2. Fees for family plan plainly written before credit card number required to be entered!
3. Owner of family plan library has final approval for any & all purchases or make a way for all family members to be able to add monies to payment method!

FYI, if you cannot add a movie to your family library you may have bought it on YouTube. It will show up in your Play Store order history as costing $0.00. If that is the case do not contact Play Store help, they are clueless. Contact YouTube support (from inside the YouTube app) and ask for a refund, then purchase it on the play store and then you can add it to your Family Library
Android Central Newsletter
Get instant access to breaking news, the hottest reviews, great deals and helpful tips
Thank you for signing up to Android Central. You will receive a verification email shortly.
There was a problem. Please refresh the page and try again.