Google Play Music: Everything you need to know!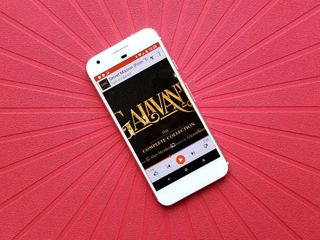 While there are many apps that stream music, and stream it well, Google Play Music (opens in new tab) is Google's tentpole music service, and as such is an app that comes on millions and millions of devices. While we know that Google Play Music will not live forever, I for one am going to enjoy it for every second that we still have it!
Everything you need to know about Google Play Music's future
Is Google Play Music shutting down?
Right now? No, Google Play Music is not shutting down in the immediate future. Google shut down the Artist Hub on April 30, but Google Play Music itself has no sundown date at this time.
In the somewhat distant future? Yes, Google has stated:
YouTube Music is supposed to take over for Google Play Music, but seeing as YouTube Music only had its overhaul and relaunch a little under a year ago, the service isn't ready to take over yet, which means Google Play Music is safe for now.
When is Google Play Music getting shut down?
We don't know when Google Play Music will be shut down yet, and Google hasn't released any kind of long-term timetable. While we could make guesses, there's really no telling how long the migration to YouTube Music because there's still so much that needs to happen before it could happen, including but not limited to:
Feature parity achieved between Google Play Music and YouTube Music
Libraries migrated to YouTube Music
Past purchases and purchase functions migrated to YouTube Music
User uploads and upload mechanism migrated to YouTube Music
Step one, feature parity, still has a long, long way to go, and let's not forget that this is a plan with a lot of moving parts and a lot of things that can — and will — go wrong and will need to be tested, coded, and tested again by the developers on the unified YouTube/Google Play Music team. There's a lot that still has to happen, and I personally doubt that Google Play Music will shut down before 2020.
What is shutting down in the near future?
Artist Hub, the mechanism that indie artists used to manage and distribute their songs through the Google Play Music subscription catalog and Google Play Store, was shut down April 30. When this happened:
Songs and albums managed through Artist Hub ceased to be available for purchase on the Google Play Store.
Songs and albums managed through Artist Hub ceased to be available to Google Play Music users via subscription catalog or free radio functions.
If you purchased indie artist music that was managed through Artist Hub, that music remains in your library.
Google is directing artists that used Artist Hub to work with one of its "YouTube partners" to make their music available for streaming and purchase once Artist Hub shuts down, but for users, all you really need to know is that some music from indie artists not associated with larger record labels vanished from Google Play Music's catalog on April 30.
What will happen to my library?
Like so many aspects of this migration, there's a long answer and a short answer to this question. In the interest of time, the short answer is that your library will migrate to YouTube Music before Google Play Music shuts down.
The long answer is that your Google Play Music library is made of up to three types of content, and each type of content could potentially be handed differently during the migration:
Purchased music will be migrated to YouTube Music, and while it should retain a method for download for use with another platform, we don't know how that function will work in YouTube Music as YouTube Music doesn't have a method for downloading files beyond saving for offline playback, which isn't the same thing.
Uploaded music will be migrated to YouTube Music, as will the personal music upload function and the 50,000 song limit. We don't know how the personal library uploads/downloads/management will work for YouTube Music and if it will use any/all of the current upload mechanisms in place for regular YouTube uploads.
The subscription catalog Google Play Music has varies from the subscription catalog YouTube Music has. They are under separate streaming agreements and some record labels are more willing to deal with one than the other.
If the song/artist/album information doesn't line up exactly between an album in Google Play Music and YouTube Music, the version added to your library in YouTube Music might not be the same version you wanted/originally added in Google Play Music. This issue has plagued any music transition service that tries to convert your Spotify/Google/Pandora library to YouTube Music so far.
We still don't have a date for when library migration might begin, nor any concrete details about how it will work and what if any work users might need to do for it.
Why isn't my music showing up in YouTube Music?
Library migration has not happened yet. Your YouTube Music library at the moment exists separately of your Google Play Music library at this time and we are still a ways off from migration.
You'll need to rebuild your subscription music library from YouTube Music's catalog if you want to use YouTube Music right now. I rebuilt a chunk of my library in YouTube Music and have been slowly building it out between discovering songs through Your Mixtape and adding music when I get a craving for it.
If you don't want to rebuild the library — or worry about merging them down the line — then be patient and keep using Google Play Music for now. Google will absolutely let you know when they migrate over your library.
Am I going to be charged more for my subscription?
No, you're grandfathered in to your current pricing and absolutely DO NOT CANCEL YOUR SUBSCRIPTION. Google is not raising your rates for the new service; whatever your price was when you signed up for Google Play Music will continue to be your price after YouTube Music replaces it.
If you still pay $8/month for Google Play Music, you'll keep paying $8/month when Google Play Music is retired for YouTube Music. So long as you keep paying for your current subscription, you should not be charged more.
Do I get YouTube Music with my subscription right now?
Yes, if you live in a country both services are available in, then your Google Play Music subscription should include YouTube Music, and you can try out the service right now.
Once upon a time, subscribing to either YouTube Red or Google Play Music got you both services — plus YouTube Music — but when YouTube Music relaunched last year alongside YouTube Premium, the pricing and "who gets what" got a little more complicated.
If you subscribed to Google Play Music or YouTube Red before June 2018, your subscription includes YouTube Premium, YouTube Music Premium, and Google Play Music.
If you subscribed to Google Play Music beginning or after June 2018, your subscription includes YouTube Music Premium and Google Play Music
Note: Google Play Music's subscription is the same price and includes both services. Subscribe to Google Play Music instead of YouTube Music Premium even if YouTube Music will eventually replace it.
If you subscribed to YouTube Premium, your subscription includes YouTube Premium, YouTube Music Premium, and Google Play Music.
What if YouTube Music isn't available in my country?
The 21 countries that currently have Google Play Music subscriptions but do not have YouTube Music Premium are:
Belarus
Bosnia-Herzegovina
Bulgaria
Croatia
Cyprus
Czech Republic
Estonia
Greece
Hungary
Iceland
Latvia
Liechtenstein
Lithuania
Macedonia
Malta
Poland
Romania
Serbia
Slovakia
Slovenia
Venezuela
If YouTube Music isn't available yet, it may soon be — each country has its own copyright, media, and streaming laws that Google has to deal with when expanding the service — but we don't know what will happen to subscribers if YouTube Music doesn't reach their countries before Google Play Music is shut down.
Getting started with Google Play Music
Google Play Music is a streaming service that allows users to stream up to 50,000 of their own songs for free across most platforms, in addition to allowing free users to listen to curated stations and paid users to stream up to 40 million songs in their streaming library. It's an app with a lot of functions, so finding your way around can be a bit of a task. Here's how to get what your want out of Google Play Music:
Getting started with Google Play Music
Putting your music into Google Play Music
Whether you're a free user just looking to get your music into the cloud to stream or you just want to get the music you purchased in Google Play Music out of an encrypted cloud and into your hard drive, there's a few tricks to getting music in and out of Google Play Music's online locker. Here's what you need to know before you burn a device authorization downloading or uploading music.
Downloading and uploading music in Google Play Music
Google Play Music needs a change...
No service is perfect, but if anyone tries to tell you Google Play Music is, give them a firm smack on the arm, because they're either lying or delusional. Google Play Music has more than a few flaws that need fixing, from a skewed device policy to an outdated and clunky UI. See what Google Play Music's flaws are and how they could impact your use.
...And change is on the horizon
YouTube Music will eventually be replacing Google Play Music, but nothing's stopping you from picking up the app and trying it out right now! From the scarily accurate Your Mixtape algorithms to an unparalleled selection, there's a lot to like in YouTube Music, as well as a whole, whole lot of bugs that need fixing, too.
Everything you need to know about YouTube Music
Updated April 2019: This guide was rewritten and updated as Google Play Music begins to slowly, slowly transition towards the YouTube Music takeover. There's still a lot we don't know, but as we find out more, we'll keep updating this space.
Android Central Newsletter
Get instant access to breaking news, the hottest reviews, great deals and helpful tips
Ara Wagoner was a staff writer at Android Central. She themes phones and pokes YouTube Music with a stick. When she's not writing about cases, Chromebooks, or customization, she's wandering around Walt Disney World. If you see her without headphones, RUN. You can follow her on Twitter at @arawagco.
Excellent choice for the main picture.

"We're gonna go-" "Yeah!" "And then-" "Exactly!" "Who are we?" "I forgot..." LOVE Galavant!

I've been a subscriber from the beginning and really love it, as well as the ad removal from YouTube. My only complaint is the device policy as you have it above. Many times, GPM sees software upgrades as a new device. Every year I run out of changes and have to wait for my anniversary to fix it.

Big issue for me. I change devices often (usually 2-4 devices/year) and am constantly dealing with this. I also use beta firmware and change firmware often. They need to fix this. Only issue I have with it

I contacted Google about this issue years ago, told them I work for a cell phone provider, and that I change devices often. They changed my account where I no longer have any limits to authorize or de-authorize devices. Totally forgot about this issue. But I love GPM. Only issue I have is I wish there was a main playlist button, and for some reason on my Moto Z Droid it sucks with Bluetooth. I'm fine when I'm watching YouTube with my BT, never skips. But GPM skips alot. Probably my phone's issue, not Google's.

I agree. I've been with the service for a long time & I think it's great. Wish they allowed you to control YouTube playlists the same way you control Play Music playlists. I would love to que a video up next instead of having to create a while playlist.

DOWN WITH THE DEVICE LIMIT! DOWN WITH DEAUTHORIZATION LIMITS! FREEEEEEEDOOOOMMMMMMM!!!!!!!

I don't mind the device limit bit I HATE the deothorize limit. Just plain stupid. Flicked via the BlackBerry keyboard on my Pixel 2

KUDOS on the Galavant shout out!!! (For those who don't know, it's a *hilarious* comedy you can find on Netflix.) I'm still using Google Play Music, but I would use it SO much more if it wasn't blinding white.

I can't wait for OMS theming to come to everyone, but if you're on a Samsung device, have you considered Sungstratum?

I've subscribed from the beginning, and switched to the family plan when that became available so my wife and daughter could use it too. My only complaints are the lack of a dark theme, and more importantly the fact that Spotify and Apple get get access to some artists that we don't get. Bob Seger is sadly missing from Google Play.

I loved YouTube Red but couldn't stand the UI from Music.

It's my preferred streaming platform, simply because they have the most music available. However, I still pay ANOTHER $20/month for Tidal, because they offer lossless audio! I sincerely hope Google is planning on adding higher quality streaming to their service!

Actually Spotify has the most music available. They have exclusive deals with many niche artists and genres, particularly Sega and their game soundtracks.

I made a quick video to show how BUSTED GooglePlayMusic is on any Home device. https://www.youtube.com/watch?v=dCMGrgeo-Cc&t

Google doesn't need another music service. They should just fix what they already have. No wonder no one takes the company seriously anymore.

I hate that in the moment this looks like a nightmare. Just hoping Google follows through with migration features but honestly, I really hate that GPM is going away.

OK, YouTube Music isn't available in my area, while Play Music is. What if YouTube Music isn't available for me when Play Music is shut down? Better not think it through ... #fail

Can't wait to see how it matches all my Razormaid mixes.

YouTube music remains a disaster. You can even listen to music if you close the app and want to do other things on your phone. Yet I find it so completely irrational that Google will kill GPM without having an exact GPM experience on YouTube Music..... It begs the question.... Why bother ever shuttering the very popular GPM service?

I think Google should change company name of products or anything because they are doing same thing again and again.

I recently got a text from the lead of a dance troupe I work with, saying they had problems with their CD for one of the routines. They asked if I could play it from YouTube Music, and I was already at the theatre, so there was not much I could do. The quality sucked. Still. People don't realize that what sounds fine over their cell phone does not sound the same over a 13,000 watt sound system. Maybe it was just a poor mix on the original, but the fidelity was bad as well.

Thanks for the article Ara! I'm glad to know they are not shutting down immediately, but I still started a trial subscription to Qobuz. It's nice.

As long as I still get ad free youtube for my $9.99, google can do whatever they want with play music.

After using Google play music for almost 2 years and trying out YouTube music for a month I have to say their audio quality is horrible in comparison. Many of the same songs from YouTube are just reuploaded to YTM and anybody who cares about sound quality would notice the difference. Maybe they could make a setting for people who want some of the rare YouTube stuff and you could switch it off for separate high quality only tracks. I will not use YouTube music if they try to replace it without having all the GPM tracks on it first. I would rather ditch the extra cost and just pay a minimum to have ad free YouTube and find another streaming service for music. With today's internet speeds mp3s should be in the past anyways.

I've loved Google Play Music a long time -- but wished their audio quality was better (I can tell it from other 320's in ABX testing) -- and the dark cloud hanging over it the last few years has really bummed me out. I checked other services, esp. Tidal, with its lossless -- but I hated the UI's, particularly Tidal's (loved the sound, though). BUT... now Amazon is bringing out a new lossless streaming tier ($15/mo or $12 for Prime users). I just downloaded the basic Amazon desktop player and, I have to say, as far as user interface and queue sophistication goes, it's a good match for the powerful UI in GPM desktop [the Android version of GPM has gotten better but always lagged the desktop]. I'd love to be able to stay with Google Play Music (desktop) but it looks like Google has never been able to get it to catch on. And, you know, as a prime subscriber, I can 'upgrade' to lossless Amazon for just an extra $3 a month if I ditch GPM.
Android Central Newsletter
Get instant access to breaking news, the hottest reviews, great deals and helpful tips
Thank you for signing up to Android Central. You will receive a verification email shortly.
There was a problem. Please refresh the page and try again.