How to upload and download music on Google Play Music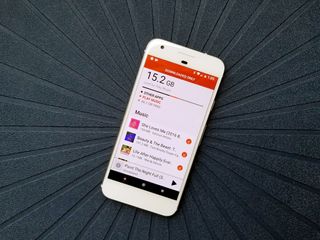 Before All Access, before the white and orange overtook Google Play Music, the service was rather simple: you uploaded your music, and you streamed it anywhere. It was a simpler time. It was a better time. Nowadays, many users use Google Play Music without ever uploading their libraries. Whether you want to download the music you bought, upload the music you own, or just get music saved on your phone for offline listening in the car, here's how to manage your Google Play Music library.
How to upload and download music on Chrome
Uploading and downloading music can be done quite easily in Google Chrome, thanks to Google Play Music for Chrome. This web extension adds a miniplayer for Google Play Music while listening on your laptop or desktop, and it also adds the behind-the-scenes necessities to upload and download music from Google Play. Keep in mind before using Play Music for Chrome that using it to download or upload music will add that computer to your device list, so make sure the computer you're using it on is the computer you're normally going to use.
To upload:
Tap the three-line menu icon in the top-left corner of the screen.
Tap Upload music.
Drag and drop your music into the window.
If you haven't already added Google Play Music for Chrome, Google will prompt you to add it so that it can commence the upload.
To download a song or album:
Tap the three-dot menu next to the song or album you want to download.
Tap Download.
If you haven't already added Google Play Music for Chrome, Google will prompt you to add it so that it can commence the download.
You can only download a song or album twice through the Google Play Music website and Chrome extension, so be mindful, and if you're planning on doing a large download or upload, switch from Google Play Music for Chrome to Google Play Music Manager.
How to upload and download music through Music Manager
Google Play Music Manager was originally the only way to get your music in or out of Google Play Music's music locker service, and while the program is slightly old, it works well and more importantly, it works in the background, so you don't have to look at it very often. Music Manager is available for Windows, Mac, and several Linux distributions; in fact, it's compatible with just about every major laptop/desktop OS out there except for Chromebooks.
After downloading and installing Google Music Manager (opens in new tab), you'll log into your Google Account, and then you'll be presented with a few options:
Uploading from iTunes — or Windows Media Player, if anyone still uses that — or uploading music from specific folders on your computer
Whether Play Music automatically uploads new music from iTunes or your chosen folder
If you want to download your library, you can choose to only download free and purchased music or your entire library
Once you've applied your settings, simply close the window and let the program run in the background while you use your computer normally. Because the app relies on background uploads and downloads, it's not lightning fast but it also doesn't bog down your computer's internet speeds while it manages your music. Uploading your initial library or downloading your whole library will of course depend upon how many songs you have and how fast your internet is, but if you have a few thousand songs, I'd give it a day or two to finish uploading everything. Your times may vary but your patience will be rewarded.
Why can't we upload on Android?
You'll notice that for a Google service that is so geared towards the mobile experience, Google Play Music doesn't actually have a way to upload or download music directly from its Android app. The "download" option that exists in the Google Play Music app is actually more akin to the save for offline playback in Google Play Movies. The music's on your phone, but it's encrypted, so no other music app can see or play it.
At least for the downloading side, I can see how that might get a touch dicey, especially when you get the paid subscription songs involved in offline downloads. However, it's been over five years, and it's long past time for Google Play Music to have an option for uploading your music directly through the Android app, especially when the device you upload or download music through counts towards your device limit. If Google Photos can automatically scan your phone and ask you if you want to upload photos and videos in whatever random folder of your phone, then damn it, so can Google Play Music. Don't make users go through a desktop middle man.
Saving albums or playlists for offline playback
Open the playlist or album you want to download.
Tap the download icon next to the three-dot menu icon.
Want to download an individual song? Well, you have three options: download the whole album that song is from, add it to a playlist and download the playlist, or turn on the setting in our next section.
How to automatically save music while you listen
Don't want to hassle with manually going and downloading every album, song, and playlist you're listening to? Not a problem. Google Play Music has a handy hidden feature to help users download music for offline playback while they're streaming their libraries. Cache music while streaming is a great setting that you should turn on immediately, whether you spend a lot of time off Wi-Fi or just want to make sure you're not tuneless should your trusty Wi-Fi go down.
Tap the three-line menu icon in the top-left corner of the screen.
Open Settings.
Tap Cache music while streaming.
How to automatically save new podcast episodes
Having new podcast episodes downloaded and ready to listen without having to go hunt them down while you're on Wi-Fi is a blessing for long commuters, and Google Play Music makes it very easy to keep the latest episodes downloaded on your phone. There is, however, one caveat: Google Play Music will only auto-download 3 episodes at a time. So, if you listen to a podcast that's updated every day — or sanity help us multiple times a day — auto-download might not keep everything you haven't heard yet downloaded unless you really stay on top of your subscriptions.
Tap the three-dot menu on the podcast's page. 2 Tap Subscribeif it's a podcast you haven't subscribed to before or Manage subscription if it's a podcast you already subscribe to.
Tap Auto-download to toggle it on.
Tap Subscribe if it's your first time subscribing to the podcast or OK if you already.
Looking for more Google Play Music? Here's everything you need to know!
Android Central Newsletter
Get instant access to breaking news, the hottest reviews, great deals and helpful tips
Ara Wagoner was a staff writer at Android Central. She themes phones and pokes YouTube Music with a stick. When she's not writing about cases, Chromebooks, or customization, she's wandering around Walt Disney World. If you see her without headphones, RUN. You can follow her on Twitter at @arawagco.
Playing uploaded music doesn't work most of the time on Android TV (tested on both Shield and MiBox). It's been like that for quite a while now -- Android TV just isn't a platform that Google cares about, unfortunately (see the rubbish YouTube web app rather than the native one they previously had).

Does music manager still actually upload the music or does it search for and find it in the cloud using metadata and then add it to your library? I can see actual uploading for rare or unusual music, but relying upon uploads for relatively common pieces seems really wasteful.

Music Manager does scan for tracks that are in their library and add them instead, but only if ALL of the track data matches. For instance, I uploaded the Beauty and the Beast (2017) Deluxe Soundtrack, but since the album listing in Google Play is a different track order than the hard disc version, they didn't match and sync, they uploaded (and then made me add the album art again.

Music Manager still looks like the colossal failure it always was. Back in the day (early GPM days, before they had the streaming service), it literally duplicated almost EVERY TRACK I owned (downloaded a separate copy and everything when it would 'sync' -- deleting these extra copies only resulted in new downloads). Some tracks, it did it 3-4 times. I tried getting Google to deal with it, they promised to figure it out, but ultimately, they wanted me to delete my entire library and re-upload. And don't even try installing it again after an OS re-install. It used to have the biggest, ugliest fit (this is when, I suspect, those track duplications occurred, as I upgraded computers). My music library is many GB, so deleting it every time I changed PCs was pretty much a non-starter. A large chunk of my collection is odd stuff that won't be already in the cloud, either. I basically cleaned it up manually, uninstalled music manager, and I manually upload and download new stuff via the Chrome extension when needed. I should probably note that I store my music on a RAID-ed NAS box that runs a flavor of linux. It is mapped to my computers as a network drive. So I would advise against music manager at all costs. It's garbage. Use the chrome extension instead.

Actually, the way I get around this on my computer is that after the initial upload, I switch it from uploading iTunes to just uploading a specific folder on my machine, which is linked to Google Drive. If I want to upload music to Google Play, I put it in that folder, and then it'll upload in the background. And since it's Drive-linked, I can add it to that folder from my phone or Chromebook, and it'll download and sync whenever I get home and turn on the old desktop.

Did you say iTunes? What does iTunes have to do with Google Play Music? I don't use iTunes. Never have. Music Manager only worked correctly the first time it was installed and synced. Mind you, Music Manager was only syncing a single folder on my NAS drive as well. Subsequent syncs of the same collection to the same Google Music library after a PC change (fresh windows install) resulted in weirdness of epic proportions, which made a serious mess of extra files with oddly truncated file names (many GB of extra files) stored on my mapped NAS drive. I had to manually clean these files up (filed a bug report with Google, who continually promised me a resolution to my problem while assuring me that this should not happen). They never did follow up beyond telling me to delete my library from the cloud and allow music manager to start over. Yeah. I'm totally going to do that every time I upgrade my PC. Not. Ultimately, I just uninstalled Music Manager and resorted to just managing my collection via the Chrome extension. I should note that my husband's completely separate music collection also suffered the same fate as my own -- different PC, different storage location (his was on a local hard drive inside his computer, separate from the OS drive). He upgraded his machine and re-installed windows and boom. Same problem. Multiple copies of the same tracks. Over and over. Yeah, I'll pass.

Hopefully they address the issue of albums randomly disappearing.. Have had this happen multiple times and there is a large thread on their support forums as well.

GPM is a colossal mess. I bought a Home Mini for the holidays and discovered how bad Google Assistant and Google Home are because of GPM. There's a huge thread on Google's forums how you cannot play your own uploaded music with Assistant or Home. It usually defaults to a radio mix. The tags are good, but GPM is like a random number generator on what it's going to do.
Android Central Newsletter
Get instant access to breaking news, the hottest reviews, great deals and helpful tips
Thank you for signing up to Android Central. You will receive a verification email shortly.
There was a problem. Please refresh the page and try again.