Google's Pixel 4a 5G is now available in Clearly White from $459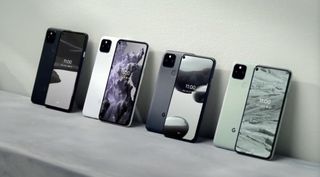 (Image credit: Google)
Update, January 28 (12:40 pm ET): The Pixel 4a 5G is now available from Google in Clearly White.
What you need to know
The Pixel 4a 5G will now come in Clearly White from late January.
Google had earlier sold a variant of the handset in that hue for Verizon customers who paid $100 extra for the privilege.
Now, it's being made broadly available to all.
Like the Pixel 4a, the Pixel 4a 5G launched in a singular Just Black colorway. Sure, there was a model of the Pixel 4a 5G that was in white, but it was a Verizon exclusive. Again, like the Pixel 4a, Google is now making an additional color variant of the 4a 5G available for purchase months after launch. It's still the same Clearly White variant that Verizon sells, but it's now coming to all customers.
The Verge spotted a now-defunct link for the upcoming phone on B&H, and was late able to confirm with Google that the phone would be launching at the end of the month, specifically the 28th of January.
Google's Pixel 4a 5G remains one of the best phones the company's released. Despite costing dramatically less than the Pixel 5, you're getting an experience that's more or less comparable to the flagship.
Android Central's Hayato Huseman noted:
The Pixel 4a 5G will keep that status for much of 2021, but it'll come in a lovely Clearly White shade as well, giving consumers a choice.
Update, January 28 (12:40 pm ET) — The Pixel 4a 5G is now available in Clearly White from Google
As expected, the Pixel 4a 5G (opens in new tab) is now available from Google in white. It'll set you back $459 whether you choose to get it unocked or on Project Fi.
I'm just happy that they are expanding the color options. Here's to hoping that in the upcoming generation, Google doesn't make people wait for new color additions.

There's no more useless "feature" on phones than color. I can't remember the last time I saw someone use a phone without a case, so color doesn't mean anything, at least to me.
Android Central Newsletter
Get the best of Android Central in in your inbox, every day!
Thank you for signing up to Android Central. You will receive a verification email shortly.
There was a problem. Please refresh the page and try again.