Google Chrome Beta now available for Android 4.0 devices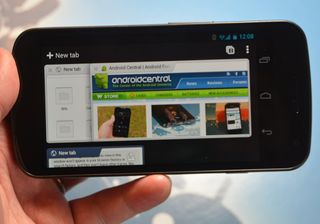 It's been rumored for some time, but now it's finally here -- Google Chrome has landed on Android. Android 4.0 phone and tablet owners in selected countries can now grab a beta version of Chrome from the Android Market.
Chrome for Android expands on the stock ICS browser with faster performance and speed-boosting features like the ability to pre-load web pages, and a brand new tabbing interface. Tabs are now handled through a card-like interface, allowing you to flip between open pages, seeing more of the sites you've got open. Familiar features from the ICS browser, including incognito mode, and bookmark sync, have made it across to Chrome for Android too.
There's also a big focus on maintaining a consistent browsing experience across multiple devices, so you can send pages between desktop Chrome and mobile Chrome right from the menu button. We'll be diving further into Chrome for Android in a our hands-on feature. In the meantime, we've got screenshots, an official Google video and the Market link after the break. Note that you'll need an Ice Cream Sandwich phone or tablet, and live in the U.S., Canada, UK, France, Germany, Spain, Australia, Japan, Korea, Mexico, Argentina or Brazil to use it.
YouTube link for mobile viewing
Alex is global Executive Editor for Android Central, and is usually found in the UK. He has been blogging since before it was called that, and currently most of his time is spent leading video for AC, which involves pointing a camera at phones and speaking words at a microphone. He would just love to hear your thoughts at alex@androidcentral.com, or on the social things at @alexdobie.
Wow, looks pretty good. I hope it finds its way to GB soon.

It won't. They've already said so. They need the HW acceleration functions they get with ICS. They talked about the development of Chrome on mobile devices being based on the future and not on making it backward compatible with older devices and older OS versions. Bummer, I know.

Really nice, I have been waiting for this for a long time. Too bad only 1% of android users have ics... We are the 99%... Occupy Google... ::Grabs my Guy Fawkes Mask::

This is when It's good to be part of the 1% (Luvs my GSM Gnex)

When is it ever bad to be part of the 1%? Or at least in that context. I would have no complaints if I were making $100 million a year. I'm guessing you would be hard pressed to find someone sane who would complain about making that much.

Go talk to those idiots in the Occupy movement. They would rather we all be equal and miserable. So long as nobody has any better. Well sorry This homey don't play dat.

1. Probably a good idea to keep politics off the board. 2. You definitely should adhere to number 1 if you are clueless as to what you are talking about. That is nowhere near what the occupy movement was about.

I would love to be in the 1%. Everyone could protest their little hearts out.

Good one Trench but true LOL hahahaha

yeah it's pretty damn fast.

I was just going to say that.It's really quick. And for some reason, I'm getting correction suggestions with the keyboard in 4.0.2 as well.

Same here. It's fast, but the screen jumps around constantly on my Xoom and it keeps inserting capital letter randomly.

I'd like to see two way syncing. Currently (unless I am missing a flag in desktop Chrome) it only syncs to the mobile browser. I'd like to be able to be browsing on the mobile and pick it up at my desk.

Nice....can't wait to load this up on my xoom when I get home. Guess this will get me to make the switch to Chrome on my PC and ditch Firefox.

I felt that way too until I started using Chrome. Adblock doesn't work as well which is a deal breaker for me. Also, addons like Forecast Fox are much better in Firefox due to the nice status bar at the bottom.

Why cant i see this in the market? Im im the US.

Are you running a device with ICS (I would assume it'd need to be an official build, maybe)

yeah Im running a stock ICS nexus...but got it thru a APK now.

Same here...no listing in the market.

the QR code up there takes you right to the market link. It's listed under Chrome Beta

FWIW I'm on a CM9 alpha for Samsung Captivate and it let me install to mine.

I couldn't pull it up in the market on my Epic 4G on CM9, but I installed it from my computer and it sent it to my phone. It would not allow me to install it on my Evo 3D running ICS.

You need to search for "chrome beta" to find it. Searching for "chrome" alone doesn't find it.

Too bad it's not available in Hong Kong. Anyone have the .apk?? :D

Pretty slick so far. I guess this will be my new go to browser.

nevermind, some one jsut gave me the APK!

Its really well put together for beta. Kudos for this!

Where is "Mexiso"? :P Other than that, awesome article! :D

Hmm, time to root my SGS2 methinks...

Does it have the "Request desktop site" option that the stock browser has? I'm fiddling around with it now and not seeing that option anywhere.

This will be a deal-breaker for me, if it doesn't have that or the ability to change the user agent permanently.

I'm not seeing it anywhere either. I would assume it is coming since the feature is already in the stock browser.

Wow, Stock Browser is good but Chrome puts it to sleep in some areas...it is beta but works well...love how i can swipe between different web pages

Google's definition of Beta = everyone else's version 6.0.

Leapfrogs every other browser out there.
If this works half as good as they imply everything else is left in the dust. The best features of desktop Chrome, Opera, Dolphin, and then a fresh coat of ICS added on. If they can keep is slim and fast this be a feather in Androids cap that Apple couldn't match.

Finally...
Anyone got a link to the APK ? I'm outside the US

Try this http://db.tt/Yn2ij5PM

It's not working.. It says public links have been disabled !!

Set as my default browser, im sold

What about flash does it support that? What about text wrapping.

Yet another reason why the piss poor support of phones being updated to ICS sucks. Google needs to get a handle on it.

Buy a Nexus and quit being a crybaby.

Why buy a new nexus when it won't be supported by Google in six months either. Still using my N1 that I paid out the ass for, aside from requiring ICS to install another browser it works just fine.

The N1 had at least 18 months of Google support. Probably would've had more if it had more than 256MB of sysvol space. 18 months is still short, but a lot more than your over dramatic "6 months".

Hmmm.. I have a Nexus S and it's been supported for over a year. So I don't get your point. The bottom line is, you can get a Nexus S on three of the four carriers and a GNex on 3 of the carriers now and soon to be all four of the major carriers. He has options. Everyone has options. If you want to be a die hard Android fan than that's the phone to have, not the latest discounted contract phone. So again... Get a Nexus and quit crying.

Do you want to give me 600+ bucks so I can buy one. I also would have to import in a Galaxy Nexus to work on my carrier. AKA no warranty. The biggest problem with Android is broken promises and support from the manufactures. Google so call update allaince is pretty clear it was nothing more than words and broken promises.

Loving the cards for tabs. I wonder who inspired that layout...hmmmmmm.

Cards == webOS? LOL, if an OS/OEM rests on its laurels, all of it's thunder gets misappropriated while it naps.

I love the Incognito tab feature lol! Ninja mode!

DAMMIT!!! Google, please release this sw33t Chrome cream for other Android devices running Gbread and higher SOON! I had to ask my two G-Nex toting coworkers to DL it and let me check it out. (And I hate those MF's)

Needs the "request desktop site" function of the stock browser. Other than that though, it looks better and feels faster. Really good for a first beta.

I love it but how could they not include the quick controls?

Maybe because it is a Labs feature?

If you press in an area that contains a bunch of links tightly contained together, it will pop up a magnifier that makes it easier to click on a specific link instead of having to zoom all the way in to make sure you don't accidentally hit the wrong one. Pretty neat.

Does anyone know how to force a desktop version of a website? The browser is fast but a lot of sites load mobile sites on my tablet. And REFUSED to load desktop

It doesn't appear to be possible to force the desktop version of a site with Chrome, no. Hopefully it's something they'll add in with a future update, because I too dislike most mobile sites, even on my phone.

Seems to work better on my GSM Galaxy Nexus than on my Transformer Prime. On the GN I can see the status bar as a page loads, my bookmarks were synced from Desktop Chrome correctly, etc. On the Transformer Prime there doesn't seem to be the blue "page loading" line showing you progress, and even though Chrome said it was syncing my bookmarks none have shown up when I try to access them. ***Edit*** OK it just took a while for some reason on the Transformer Prime, now all my bookmarks have shown up and the "other devices" tab shows all my tabs open on my desktop - pretty sweet! Scrolling speed is better than the stock ICS browser on both devices but I miss the vertical scrolling slider that shows up on the right-hand side of the stock browser on the Transformer Prime. I really like how tabs work on the phone, along with the text reflow (for example its really easy to read articles in this forum on the phone now without "zooming"). I expect this is going to get lots of updates quickly :)

Nice! I've been waiting for this.

Well Android browser was not much diffrent from chrome in inside, they just add chrome features in to it

I like how the UK version settings screen says "UNDER THE BONNET" instead of "hood" in the US version.

So, there would be no reason to have the Chrome to Phone app now, correct?

Correct, if you choose to use Chrome on both platforms.

Thanks. Always looking for reasons to declutter my list of apps.

Browsing on PC would still take advantage of Chrome-to-Phone.

Wow, it works great on my NS4G. My favorite browser.Finally!

Damn I wish I had ICS on my phone so I could try this out :/ . Any word on whether or not they'll develop it for Gingerbread?

Does it have plugins? I love Dolphin because it has a last pass plugin, I don't think I could use a browser without it at this point.

Renders fast on my touchpad but scrolling is still a little laggy compared to stock browser, even after full load

I do like it, quite a bit. Quick and the looks are awesome. But I love the "request desktop site" and the ics browser + gestures.

No flash, no user agent. Nice beta but not a daily driver. Dolphin with it's gestures and addons is just so refined. It would take a lot for me to switch. I see a lot of people switch simply because it is a Google product regardless of the usefulness and lack of features which doesn't really make sense to me.

Or, you know, people prefer the feature set of Chrome over Dolphin. Choice is good.

release the G-Nex on all US carriers now!!!

Nice. I like it. Wish the android OS would handle multi tasking like tabs in this chrome. Thats the one thing in webOS that is so much more intuitive than android.

It appears to be killing the battery tho.

It would be nice is Flash would work. The tab sycning is a nice feature, however I'm finding "chrome to phone" serves my needs a bit better. For example, I often send individual pages that I might be in the middle of reading on my computer to my phone. Chrome to phone, to me right now anyway, seems like it can be used to be a bit more surgical. The tab system is pretty cool.

Chrome is blazzzzzzzzzzzzzzzzzing NJ Google :)

much welcomed features. however, it lags quite a bit (slower than ics browser when loading media heavy pages) and its a bit choppy. also, flashplayer 11.1 is not working with it. but its just beta, so hopefully everything gets ironed out on an rc or 1.0 version.

I'm not so sure I prefer Chrome to the stock ICS browser yet but it sure is nice to have spelling correction and word prediction when typing in text boxes in the browser now.

Just loaded it, and so far I like it and will work with it. I've been using Dolphin for quite a bit, so just have to see how this plays out. Stock ICS browser wouldn't treat all my websites as desktop despite telling it too, so that's why I quite using the stock one. The Chrome browser isn't doing this so far. Not having flash work might be a pain, but the UI is very intuitive.. but I use Chrome on my desktop.

Anybody noticed battery drain??

This is a great day and long time coming from Google. Now let see 4.0.4 or higher for the Nexus GSM phones. Why cater to those Verizon folks.

What can I tell ya. Those VZW folks are just more needy.:)

Not that bad but I prefer the ics stock browser!

Nice. I just kicked dolphin to the curb for this on my GNex.

Loving it on my ICS'd 3VO. Nice a smooth, FANTASTIC tabbing. Probably the best tabbed experience on a phone as of yet imo. I also love that I can nab any tabs I currently have open on my desktop from my phone when I'm on the go. No more chrome to phone needed

It doesn't work on custom roms:(

Yes it does. AOKP Milestone.3, working fine.

Only caveat, it will never support Flash : (

Its killing battery extremely for me on Aokp Milestone 3. I thought Franco's update to the kernel was the culprit but I'm not alone on this beta using a ton of juice.

I don't think it is just for you. It drained my battery a lot. I am not sure it is just the initial sync and stuff that affected the battery tho.

Well it doesn't work for my AOSP ICS build on my my evo.

Hmm Chrome doesn't play my fav YTMND while stock browser does. http://fanfictionredux.ytmnd.com/
I guess we are the zombies hah.

I cannot believe that there won't be support for for devices that aren't for ICS!

I know right! Why won't they let it work on software that doesn't have what it needs to run properly? Who cares about hardware acceleration?
/sarcasm

I like android4.0 series.
Android Central Newsletter
Get the best of Android Central in in your inbox, every day!
Thank you for signing up to Android Central. You will receive a verification email shortly.
There was a problem. Please refresh the page and try again.