FotoSwipe makes sharing photos between Android and iOS a breeze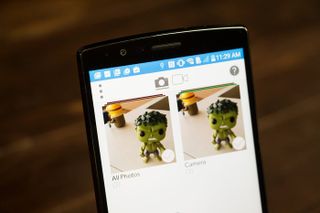 If you've ever wanted to share photos between Android and Apple phones, you'll know how inconvenient it can be. Sure, you can text or email photos between one another, but it's not the most elegant solution. This is where FotoSwipe comes to the rescue. With a simple drag-and-drop, FotoSwipe allows you to share images between Android and iOS devices. All you need to make the magic happen is the FotoSwipe app on each device!
It's super easy - and I can attest to this myself - as I had the pleasure of testing the FotoSwipe app along with many of our most awesome members earlier this year. Thanks to our feedback, FotoSwipe is locked, loaded, and ready to download for free in the App Store and Google Play!
I encourage you to check it out yourself - download links are below. For more information you can also check out the video & press release below or visit www.fotoswipe.com.
FotoSwipe Launches Revolutionary Photo-Video-Sharing App Featuring First Ever Drag-and-Drop Between Mobile Devices
Simple One-Finger Swipe Technology Makes Cross Platform Photo-Video-Sharing Quick, Easy, and Fun
NEW YORK, NY– November 10, 2015 – FotoSwipe, a mobile photo-sharing app that allows users to instantly share photos and video across mobile platforms, today announced it has launched on iOS and Android. FotoSwipe is the first and only mobile application to use drag-and-drop technology between devices, enabling users to easily share an unlimited number of photos with a single swipe from one mobile device to another without exchanging contact information. To see how the application works, watch the video here.
FotoSwipe eliminates the pain of antiquated photo-sharing methods like text or email attachments, which are slow and cumbersome, especially when transferring more than a few photos. The app offers a simple, elegant, and lightning fast solution to allow users to privately exchange digital memories, safely storing them in the phone's native gallery. FotoSwipe lets users send thousands of full-resolution images and even video between devices with the simplicity of a familiar drag-and-drop gesture. Photos are transferred in seconds between screens.
"We developed FotoSwipe to take photo-sharing back to basics and provide an easy and simple way to send images from one mobile user to the next," said Sylvain Dufour, FotoSwipe Founder & CEO. "With an onslaught of apps that offer multiple services, today's platforms are becoming increasingly complex and we recognized a need for simplicity. We've all faced the same difficulty of sending and receiving large quantities of images over text and email. Simply put, FotoSwipe eliminates that problem with an innovative and speedy solution that makes photo-sharing fun, instead of a labor intensive chore."
FotoSwipe is ideal for social outings like weddings, birthday parties, and kids' soccer games, where friends and family members take many photos and need to share them with each other. The app's patent-pending drag-and-drop technology enables users to quickly transfer all of the events' photos from one device to the next with a single swipe. FotoSwipe not only lets users share large quantities of full resolution photos but also keeps them private. Transfers can be protected by a time-sensitive proximity key or by simply swiping from one device to another.
Even if your friends are far away, FotoSwipe still allows you to share photos and videos with the same easy swipe gesture. FotoSwipe creates a simple code that users can send via their preferred messaging app, allowing for easy sharing with anyone, anywhere. Friends who receive the code can simply tap it to launch FotoSwipe on their device and receive the photos or videos. Sharing codes are valid for 24 hours and can be sent to as many friends and family as desired.
FotoSwipe is free and available to download now on iPad and iPhone on iOS 7 or later and on Google Play. For more information, visit http://www.fotoswipe.com/
About FotoSwipe
FotoSwipe is a mobile photo-sharing app that allows users to instantly share photos and videos across multiple devices with one swipe of a finger. With FotoSwipe's location-based technology, a simple drag-and-drop gesture between phones can send photos and videos to iOS or Android devices in the immediate vicinity without sharing personal contact information, or anywhere around the world. FotoSwipe eliminates the painful labor of sending large quantities of images and videos to friends and family via text messaging, and instead makes photo-sharing fun, fast, and easy. FotoSwipe is available for free in the App Store (iPhone, iPad and iPod) and on Google Play. FotoSwipe's technology is patent pending.
Get the Android Central Newsletter
Instant access to breaking news, the hottest reviews, great deals and helpful tips.