Formula 1 launching F1 TV streaming service for 2018 season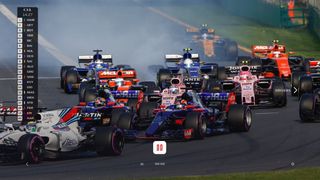 Tuning in to Formula 1 races can be a difficult prospect depending on where you're located, but things are set to get quite a bit easier starting with the upcoming 2018 season. Formula 1 has announced F1 TV (opens in new tab), a new streaming service that will offer up a one-stop shop to stream live races and more (via Engadget).
Launching with the 2018 FIA Formula 1 World Championship season, F1 TV will cost between $8 and $12 per month and include commercial-free live streams of each race with commentary in multiple languages. All 20 driver on-board cameras will be available to view, and F1 TV Pro subscribers will get access to unique feeds not available elsewhere.
Formula 1 says that alongside races, subscribers will also get access to press conferences and interviews before and after each race, as well as practice and qualifying sessions. That's in addition to live statistics available at a glance for each race.
At first, F1 TV will be available "through desktop and web," but mobile apps and TV apps for Apple, Android, and Amazon devices will be "phased in" later. F1 TV Pro will launch in English, French, German, and Spanish in the U.S., Mexico, France, Germany, Belgium, Austria, Hungary, and "much of Latin America." A cheaper, non-live option dubbed F1 TV Access will also be available with access to timing data and radio commentary, along with access to archive video content.
If you're a Formula 1 fan, F1 TV definitely looks to be an interesting prospect. The service is expected to launch early in the 2018 season, and you can sign up to register your interest at Formula 1 (opens in new tab) now.
Best to wait till it's worth watching again. I'm literally not losing any sleep over F1.

With ESPN taking the reins for F1 coverage in the US for 2018, wouldn't I be able to see races live on the WatchESPN app?

Depends on what you are happy with. ESPN will give you the live race with commercials and that's about it. The F1 streaming product is commercial free, customized views, what when you want, support races, etc.

Already paying for a streaming service with live tracking, onboard cams, practise, quali & race. If I didn't have that already I'd pay for this. Unfortunately my streaming service also gives me all Champions League & NFL matches so it's impossible for me to switch.

What streaming service is that if you don't mind me asking?

Of course because Sky has all the rights in the UK, it's unlikely the UK will ever appear on that list, which is a shame as I'd be willing to pay for that when the F1 picks up again. I don't fancy hawking out for the full Sky Sports package given I mostly watch F1 and Cricket.

You could always try signing up and streaming through a VPN.
Android Central Newsletter
Get the best of Android Central in in your inbox, every day!
Thank you for signing up to Android Central. You will receive a verification email shortly.
There was a problem. Please refresh the page and try again.