First TV commercial for LG Optimus G surfaces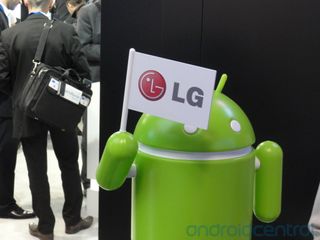 Despite the fact we haven't yet seen or held the LG Optimus G, the roll of promotional material for the device continues. Following teasers, and pieces focusing on the camera technology, we now get to see the first television commerical for the new LG flagship. All 16 seconds of it, and it's in Korean. But, we get another quick glimpse of the phone itself, and it also hints at 4G LTE capabilities too. There's no mention of a release date either, but at the moment that's probably to be expected.
LG is throwing a US event next week, where we're fully expecting to see the Optimus G finally get into our eager hands. Until then all we can do is watch on and wonder.
Source: LG (YouTube)
i speak korean and i think this is one of the worst phone commercials ever.
LG trying to hype up something that will most likely fail. pretty sad.
nothing looks different or innovative...
LG, please stop making like 6 teasers about something that no one really cares about. god.

I can understand korean. how about that.
I've heard they've been making quite a turn around software-wise.
Their hardware has always been something to aahhhh over at times. With this release they have the True HD IPS+ display for easier outdoor reading, less power consumption when there is a white background, no air gap between the film sensor and the cover glass, and a color accuracy of sRGB 100.
2GB of RAM.
A battery that can last way into 800 charge cycles
First ever 4G LTE Quad-core processor (Snapdragon S4 Pro)
And a 13mp camera! The only thing I don't like is the 15:9 aspect ratio.
Anyway, I care and you should too. If not then why are you here?

Wow Mr. Bqrius comment was pretty COLD.. But true LG needs to stop fronting and holding people in suspense. Your not Samsung matter of fact your not even Htc either. Yawn...

They're just trying to create hype guys.. their other phones have failed by their normal strategy, let them at least try something new to generate interest lol.

I don't understand LG. They are making good phones, I like their design. I have Optimus 2X. But support??? This new high-end mobile and with ICS? Maybe JB in 2013. Why LG? O2X still without ICS. Really nice phone, I don't like samsung and htc design. But this looks simple and nice, but it's LG.

I just watched the commercial and had a realization:
I know I have a problem when I start watching cell phone commercials in languages that I don't speak.
Android Central Newsletter
Thank you for signing up to Android Central. You will receive a verification email shortly.
There was a problem. Please refresh the page and try again.