First look at the Alcatel Onetouch Hero 2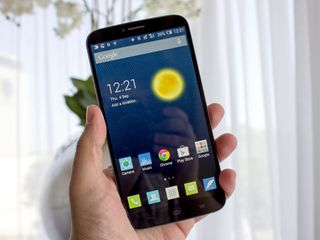 An octa-core CPU, 6-inch full HD display, integrated stylus and a wealth of connected accessories
At IFA 2014 in Berlin, Alcatel Onetouch has pulled the wraps off its latest higher-end Android offering, the Hero 2. With a 6-inch 1080p display, the Hero 2 is trying to be a little more than just another "me-too" large smartphone. It has an integrated stylus with some custom applications and a whole host of interesting looking connected accessories to accompany it.
To add to a more premium feel, the Hero 2 has an aluminum frame, and despite its size it's incredibly thin and light, coming in at just 170 grams. The stylus has a home on the device with a built in slot, and while it's not a Wacom style such as Samsung's S-Pen, it's much more refined to write with than you'd find on many a regular stylus. It has a fine point so handwriting is a pretty comfortable, fluid experience.
Specs wise inside the Hero 2 there is an octa-core CPU at 2GHz, 2GB of RAM and 16GB of onboard storage expandable by microSD card. It's powered by a 3100mAh battery, has a 13.1MP camera round the back and a 5MP 'selfie camera' round the front. It'll do Cat 4 LTE and has Android 4.4.2 KitKat running beneath Alcatels own custom user interface.
Using a set of pins on the rear, the Hero 2 has some interested connected accessories such as an LED flip cover – think of a similar effect to HTC's Dot View – and even a clip on DJ accessory which when paired with an application that comes pre-loaded on the phone allows you to get your mix on wherever you are. Personally speaking, such things are way above my head, but the clip on part is nicely done with a multitouch interface, and it doubles up as a flip cover for the phone.
The accessories don't end there, either. Alcatel also has a secondary, E-ink display device it describes as a "physical widget," a smartwatch and a mini handset to accompany the Hero 2, as well as a laptop. The E-ink device can be used in conjunction with the phone and you're able to send a whole host of things to it such as images, emails, e-books, even boarding cards. And even in such a small form factor battery life should be approaching a full month.
The mini handset is a similar idea to the HTC Mini, in that it's a fully functional phone you can use for calls and messages without needing to pull out your much larger smartphone. It goes a little further than that, too, with the ability to act as a pointing device for presentations, a basic TV remote through the onboard IR blaster and as a control for the media player on the phone.
The watch is interesting, perhaps more for what it may eventually become. Alcatel has its own software on there at the moment as a way of feeling its way into the market slowly, but company executives told us that Android Wear is very much something they'll be looking to offer on future wearables. This time out it's a round watch with a pretty slim strap compared to other smartwatches, a built in heart rate monitor, compass, and charges via a standard USB connection built into the end of the strap. It'll retail for around €99 so while it's more limited than an Android Wear watch, it also costs substantially less. That said it still acts as a notification device, a music playback controller and much more.
Hero is more for Alcatel than just a phone, it's an entire family of products with the phone at the center. The Hero 2 will be shipping in some markets during September. For more check out some more hands-on pictures and the full press release below.
Image 1 of 6
Image 2 of 6
Image 3 of 6
Image 4 of 6
Image 5 of 6
Image 6 of 6
ALCATEL ONETOUCH unveils the HERO 2
Featuring LTE octa core CPU, 6-inch Full HD edge to edge display, HERO 2 is designed for an unprecedented user experience for speed, graphics and data processing
IFA, Berlin, SEPTEMBER 4 – ALCATEL ONETOUCH introduces the HERO 2 smartphone, the newest arrival to the HERO family to revolutionize digital creativity. Equipped with an LTE octa-core processor, this powerful device also acts as a hub for an array of companion devices, allowing users to express their creativity with ease.
The svelte HERO 2, at 175 g, is one of the lightest 6-inch smartphones on the market, its slim, stylish aluminium body fitting ergonomically in users' hands, with every detail crafted to provide a pleasing in-hand experience.
The perfect compromise between a standard smartphone and a tablet, the HERO 2's Full-HD screen features true-to-life colours, with the display filling 90 percent of the surface. This edge-to-edge display presents optimal viewing for work or play. What's more, the phone offers ample power for users' multimedia needs, boasting a generous 3100 mAh battery.
"At ALCATEL ONETOUCH, we see the demand for large-display devices," said Dan Dery, ALCATEL ONETOUCH Chief Marketing Officer. "HERO 2 answers this call and in addition, it's the perfect device for work and play, with multiple tools to express user creativity."
Gesture control. Handwriting recognition. Camera live filters. Everything you need to unleash your creativity. Thanks to HERO 2's innovative features, you are at the helm of your own mobile studio.
Tools for work and play
The HERO 2 comes with a stylus which transforms the phone into a creative enterprise tool letting you create memos, professional sketches and even do Fast Math. With optimized hand writing recognition, the HERO 2 enables desktop like functionality to create and edit office documents on the go.
The HERO 2 also allows users to mix tracks, sample and add sound effects, all with a flick of a finger thanks to the first professional companion flip cover: MagicFlip DJ, a mini DJ mix panel which allows you to mix your own tracks on the go. And Hi-Fi sound ensures that mixes sound crystal clear.
For the all-important camera, whether it's for work or for fun, it's difficult to shoot a decent movie while walking. Photo and video stabilization technologies also allow you to capture DSLR-like pictures, and shoot shake-free footage. And don't forget about the stunning effects you can create with the built-in filters.
HERO 2: the centre of a smart ecosystem built to users' needs
With a host of companion devices, HERO 2 adapts to every need. It is the centre of an ecosystem of creative connected devices that users can carry, put on their desk or connect to their TV. An array of MagicFlip covers provide customised capabilities: MagicFlip DJ for music, MagicFlip LED lights up with information about missed calls, alerts or the time.
With the compact companion device Sidekick 2, users can remotely control TV, music and more. It also acts as an extension to users' phones, allowing them to access messages, contact lists and more. The portable E-Card allows users to read notes, maps, e-books with the comfort of paper. The SmartBook functions as a smartphone in laptop form, while TV-Link connects the HERO 2 to larger screens wirelessly.
With these features, accessories and companion devices, ALCATEL ONETOUCH ensures a truly versatile experience through connectivity to multiple screens. Everyone can invent their own personalized HERO 2, and unleash their unique creativity.
The HERO 2 will be available on the market in September 2014.
This could be really good, if it wasn't for Alcatel's horrible reputation for not providing timely (or none at all) software updates.

This looks very promising; the e-ink device especially! Posted from my TARDIS!

That phone seems to have the same yellow band on the bottom of the screen as my OnePlus One.

Lol good eyes. It looks like it actually does!!

Good nose Posted via the Sprint LG G2 Android Central App

Not the most terrible offering lately Posted via...The One

This is a good Step in the right direction. Unfortunately, I will once again have to purchase the Note device from Samsung (Not sure which one I will be getting). it seems that NONE of the tech companies want to seriously compete with Samsung in this area. Maybe next year huh? Wake me up when someone has a stylus device (whose stylus is Wacom based or a similar tech) with a high tier processor, a high res screen, respectable battery life, and competes with the note on design and features.

in a phone, noone else.
in a tablet, only Nvidia have even tried.

The Shield Tab doesn't really compete with the Note on features, though. The stylus is nice and it works well, but the on-board apps that make use of it are pretty bare-bones, and the UI in general is almost indistinguishable from a Nexus. Posted from my Nexus 5, behind seven proxies

Who else thought they were looking at an LG G2?

Looks like the phablet market is heating up.

Not bad. I bet there is a media tek processor under the hood.? Posted via Android Central App

Really good.. I like this phone unfortunately bought other one Posted via Android Central App

The Hero 2 is definetly something I would buy. I hope they price it at $300 to $350. That would be awesome!

where is the phone going to be sold at i really want this phone one touch hero 2
Android Central Newsletter
Get the best of Android Central in in your inbox, every day!
Thank you for signing up to Android Central. You will receive a verification email shortly.
There was a problem. Please refresh the page and try again.