HTC EVO 3D, EVO View 4G available on Sprint on June 24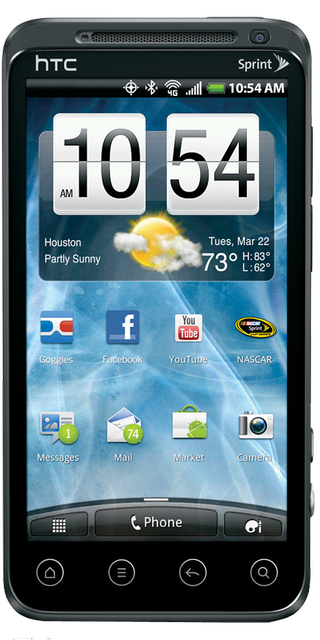 Sprint this morning announced the long-awaited launch date for the HTC EVO 3D. You'll be able to get the 4.3-inch glasses-free 3D smartphone on June 24 for $199 on contract. As you'll recall from our initial hands-on with the phone back at CTIA, this is HTC's first foray into the 3D arena, with dual cameras on the back so you can create 3D content as well as consume it. Specs are:
4.3-inch 3D qHD capacitive 960 x 540 px display
1730 mAh battery
4GB of internal memory
8GB microSD card pre-installed (expandable to 32GB)
1GB RAM
1.2GHz dual-core Snapdragon processor
Android 2.3 (Gingerbread)
Dual 5 MP rear cameras (for 3D)
1.3 MP front-facing camera
2D video recording at 1080p
3D video recording at 720p
Additionally, Sprint announced that the HTC EVO View 4G -- essentially Sprint's version of the HTC Flyer 7-inch tablet -- will be also be available June 24, for $399. And Sprint's done us a solid here, offering the Scribe stylus for free. (It's otherwise sold separately.) Check out our hands-on with the EVO View 4G from CTIA.
Source: Sprint
More: EVO 3D forums; EVO View 4G forums
Android Central Newsletter
Get instant access to breaking news, the hottest reviews, great deals and helpful tips
I read the release, but I'm curious if it is $199.99 instant after new, two year agreement, or will there be a $100.00 MIR? It didn't say... HRM....

Sprint got rid of all MIR. So you can do it at Best Buy, Radio Shack or any Sprint store and will be just $200.

They didn't get rid of them permanently.

I know! It took them long enough! Cant wait to get my hands on it...

The View is a 3D device? Never knew.... but I just got the email!!! .... from what I read in the email the "2 year price" before deductions is $399. I'm assuming that means $400 is the off contract price?

The View is NOT a 3D device, only the Evo 3D

Yeah. That was my bad. Writing with one eye open. O_o

I hope the $400 is right. It sounds too good to be true though.

$400 off contract doesn't make sense -- especially given that the Flyer isn't 4G capable and costs more. They both seem to be on contract prices. Edit: Engadget reported that these are contract prices.

The Sprint device is HTC View 4G. The Flyer version is, I believe, a WiFi device. Sprint is really stepping up to the plate with their recent deals.

Been a lurker for years though I check the site every five minutes for updated news, all I wanted was to post first. Damn you OREDSOX7...LOL....

My apologies! :( :P I was surprised no one posted prior to me, actually! :)

What version of sense will the EVO 3D have?

Come too papa!! Can't wait for CM7 on the EVO 3d

What will be the 2 year contract extension price? Might be $249

The e-mail says $199 after $200 instant savings with new line activation (or eligible upgrade) on an Everything plan with data, Premium data add-on and a 2 year agreement.

considering the samsung price on tablets with contract im sure that 399 is w/ a new line 2yr agreement. Also i think he meant 4g tablet not 3d

About time! Boy, the things I can shoot in 3D.

Engadget saying that premier customers can order it online on the 21st.... by the time ups gets it too you it will probably be the 24th anyway

Sprint ships next day air for free

Now that we FINALLY have a release date and I have a Nexus S, I dont care. Not to mention Im going well over twelve hours on a charge which the 3d will NOT be able to do(stock battery). We'll see...maybe itll floor me when I hold it but I dont think anything will overtake my love for the Nexus. Call me when quad core is available to consumers and is actually utilized by the os and software...regardless, I am looking forward to playing with one of these 3vo 3d's.

Its a 1730mah i think it will perform well... if not there's always seidio

I understand it is a 1730mah capacity battery. But for anyone who tried the Seidio 1750mah battery in the evo 4g, it was only about a 13% increase over stock capacity and died out just as quickly. So, in my experience, a 1730mah battery in this 3d will perform the same as the 1500mah did in the evo 4g. Now when I had the Sprint/Sony extended battery, 2600mah I believe, that chunk got me through the day on the evo. I just hope people arent expecting exceptional battery life...multi core is not fully optimized software side or otherwise...I dont expect this stock battery to do more than 4 hours for a power user. My whole song could change come the 24th...but Im a battery whore. Really wanna play around with that 300+mb of sense.

Who would buy the 1730mah? I'm talking about the 3500mah . . . which is what I used on my EVO now... and since the thickness of the phones are almost identical, stuffing my 3500 in the 3D wouldn't be a problem at all for me

People that want stock form factor would have bought the 1750mah battery, for a minor power capacity increase without adding bulk. There is also no guarantee that the current extended batteries will function in the 3d.

So the faster, smaller, more efficient dual-core processor won't provide a single benefit? I think you're underestimating the improvements in power consumption that will happen as the result of this speed, core, and die size change.

I agree. 45n chips will use less power plus the dual core will alleviate some of the load to 2 processors vs just 1. Just like dual core laptops last longer than older single core ones. I'm really not worried about battery life. Glad I pre ordered mine yesterday...woohoo I cant wait to touch her.

I'll give credit to Nexus S very nice device but the Evo 4g was better in many ways trust me. Htc makes Samsung look stuip the original nexus one was much better build wise than your current nexus s 4g. I hope that HTC makes the next Nexus 3 that might be the only way I leave the evo family on sprint htc has to make this next nexus 3 otherwise FORGET IT FOR ME I WILL STICK TO MY EVO 3D. Next year will be the QUADCORE EVO what will be better than that??? NOTHING

what is the regular price for the Evo3D without 2 year contract?

Also wish to know this information..As I am a current Sprint owner just one year into my contact. Want to know the full price of the phone without extending contract. Will sites like Amazon offer the phone without contract? Or RadioShack?

anticipate $499.99-$599.99, depending where you go.

That's the same answer I got when I inquired about the Nexus 4G on the phone with a Sprint rep (She couldn't tell me anything about the EVO 3D). If bought from the website and with my $75 discount on December 1st, that comes to about $400. I'm not paying $400 for a phone that's not unlocked. So I reckon I'll wait out my full contract and see what is around next December.

Best Buy has it listed for 599.99 off contract https://www.androidcentral.com/e?link=https2F2Flink...

i suddenly feel sick.. i dont know if i will be able to make it into work on the 24th *cough cough*

I too will be.. I need to get off my PRE. the battery life is damn near nun now.. i can lose 100% in 2 hours.. without using it lol

3D is good for porn!!! YEAH!!!

Nice...pre-ordered mine an that's my birthday and I'm off and I get paid...chea!!!

The 24th was made just for you!!

Sprint also said Premier customers will be able to get their hands on it 3 days early by ordering online. Does this apply to people that preordered through their local Sprint store? Please Sprint, please!

Yeaaaaaaaaaaaaaaaaaa Baaaaaaaaaaaaaaaaby!!!!!!!!!!!!!!!!!!!

We also know that Sprint will be preloading The Green Hornet on the installed SD card. Hmmm... what size SD card are they including? This is in addition to the 4GB onboard memory, correct?

Correct. 1GB ram/4GB onboard for apps/storage plus the sd slot.

the internets is saying that the evo3d will come with an eight gig sd card

8GB. Go to sprint.com for all the specs.

Nice! Can't wait until that week. I'm going to enjoy that day.

It seems like Sprint is just teasing everyone with this phone - Release it already :)

I just looked at Best Buy's webpage, they have all the info as well..
Since I'm pre-ordered via Sprint back in April, I hope to have it rather quickly.. I just wonder if SPB-3D will work on it. I use more panels than the 7 that are stock. Hell, I can not wait...

Woo hoo, now I can stop checking the web every 5 minutes.

Does anyone have any experience as a new customer as to where I should go? There's a Sprint store downtown a few blocks away, which would generally be easier for me to hit up than something like Best Buy one the ride home. But if everyone thinks I'll get it on the 24th at BB vs the store or vice versa I'd appreciate the advice.

My experiences have shown that Best Buy is way more efficient than the Sprint stores. They seem to have a more streamlined process. I have heard Radio Shack is also better than a Sprint store, but I have not used them personally. You should pre-order if you want one on the 24th.

I brought my evo 4g from radioshack on june 4th 2010 it was preordered on May 15th last year. This year I preordered my Evo 3d on May 8th from Bestbuy for the first time and will go through the process at bestbuy even thou I would love the phone 3 days early. Either way this bad boy is mines

Personally I would play both areas if you have not preordered yet. On launch day I would hit radioshack at 8am if none are there then I would hit up a sprint store the closest to your home or job and if that doesn't pan out hit up bestbuy. Consider the 24th of june evo 3d holiday which means since you don't have a preorder your main goal will be to get YOUR HANDS ON THIS PHONE NO MATTER WHAT ON DAY ONE. This should be a fun day.

Just got off the phone with a sprint rep and she told me she got a memo earlier today that stated the instant rebates will end on June 23rd. She told me to be prepared to have to wait for a MIR. She even checked if the business acct I was on would get instant rebates anyways, and she said it doesn't. I thought they give perks to business accts, guess not. I hope Sprint extends it for a little while then! I'm due on July 1st! Can't wait!

Very excited about this. Definitely a three day weekend for me.

Does the Evo 3D have a locked bootloader?

No. The CEO of HTC is on record as saying it will not be locked.

Can anyone tell me at the time of the EVO 3D release, that will be my 1 year anniversary of my contract with my EVO 4G could I get the $200 contract deal even though I'm a silver member.

No, what you can do is call a rep. And ask to get your upgrade back sense that was part of the advertised reasons for you getting the Evo

that phone looks BEAUTIFUL. *catches breath*

I'm extremely happy because I just went to the Sprint store near my job and was told that I qualified for the full rebate ($199)! The only slight problem is that this particular Sprint store (5th Ave. NYC) seems to have a long pre-order list. I was told that since there was a long list, they would call me whenever my EVO 3D was available for pick-up "...most likely a couple of days after the release date." Perhaps the best option for anyone who wants to have it on the day of release is to pre-order at Best Buy (or Radio Shack).

I hope RadioShack takes my old Pre as a trade-in!

Anyone else waiting to see what Moto announces with Sprint on Thursday before jumping into the (HTC) 3D world?

Evo 3d is the winner here. Sprint usually has no desire for motorola device so this one must be pretty good maybe even like the atrix but regardless the Evo 3d will be the best device on sprint.. Anything that is the Evo line of device will be the best.

Bah, the Evo 3D releases the very next day after Sprint's $125 phone number port credit expires. Coincidence? I think not. POOORRR QQQUUUEEEE!!??

Oh man, check this out... so the people that are able to pick it up early will get the instant rebate while the people that buy it on the 24th will have to fork over an extra $100, mail-in the form and wait 8 weeks? How lame is that?

And now the latest iteration of the HTC EVO 3D ad from Sprint shows this very article in the "Read More."

Too bad ****1 YEAR LATER**** Phoenix has ***NO 4G SERVICE*** !! So cant use 4G on the old EVO, cant use 4G on the new ones. Just despicable Sprint. Just despicable. You guys cant tell I am very bitter now can you. :/

can i return my evo 4g if i bought it couple of weeks ago to get the evo 3d plz helpppp i want to get the evo 3d so bad

Yes yo can return your current evo you have 30days with that device. The Evo 3d will be out June 24th so that probably will still be within your 30day period. If its not immediately return the evo 4g before the 30 day period then just wait for the evo 3d to launch and get the evo 3d

Don't BLAME SPRINT for where you have decided to live...That's your own fault pretty sure verizon or at&t servie can't be that much better...

Well it's now show time the whole world will see exactly how good this device will be when it hits the market. Rather you are a fan of 3d or not this will be the best android device on the market. The technology alone will make it the best straight out the box but with the Asynchronous dualcore 1.2 Ghz processor people will really get a chance to see how great this device will be from a bettery life standpoint. Both cores of the device will never have to be used at the same time so that alone will preserve extreme battery life not to mention htc already designed built in battery management that takes this device to a new level never seen in a dualcore phone before. It's already been said by BGR, as well as ENGADGET and PC MAG that the close cousin of the Evo 3d the Sensation on Tmobile has better battery life than the Samsung Galaxy S2 so it stands to reason that the Evo 3d will be just as good as the Sensation if not better. It's AMAZING how people come on this site and feel like THEY NEED TO BE ME OR POST THINGS IN MY NAME THAT I DIDN'T POST it shows they have NO LIFE…Bottomline here ladies and gentleman if you aren't packing a dualcore Evo 3d on sprint the network with the best android device that are up to date then you AREN'T PACKING ANYTHING….Sprint has raised the bar when it comes to innovation last year was the Single core Evo 4g, This year is the Dualcore Evo 3d, and Next year will be the Quadcore Evo it keeps going on and on. HTC AND SPRINT CLEARLY RULES….. Reply

Can wait to get this bad boy in my hands.

BTW Sprint's Buyback Program is currently pricing EVO 4G trade-ins at $150, that's $50 more than Radio Shack's offer... Sprint will also give you a $75 credit with a 2-year contract renewal, even if you don't qualify for Premier Gold (which would give you a full discount on new phones every 12 months as if you were signing a new contract)... So that's $500 - $150 - $75 = $275 for current EVO 4G users, not too shabby, not as great as the old Premier program but not bad at all. I'm surprised they're still buying it back for that much, could've swore it was $125 a few months ago. Site also says that if you generate a quote online, the price is locked in for 45 days. If you're one of the people that whined to customer support and got your Premier upgrade restored for this year then I guess you could still take advantage of this and buy the EVO 3D for $50... :p I sure plan to! (and I bought my EVO 4G for only $125 thru a student discount! $175 for two years of top-notch phones, heh) P.S. The trade-in offer is instantaneous if done in-store, but might take up to three billing cycles if done by mail. I ordered my EVO 4G from Sprint directly and it arrived on the next business day (Monday after it launched on Friday), so online is less of a hassle overall but it'll take longer to get your money back. I'm still hesitant to pre-order and buy it in-store though... I'd like to hear more about the bootloader, battery life, and whatnot.

$150 Buyback? Yes. $75 credit with a 2 year-contract renewal? Unfortunately Not. I just got off the phone with a Sprint Rep to confirm, and they told me that they only offer a $75 credit for renewal if you are in your final month of your contract. I am far from my last month o contract, so despite my 8 years of loyalty to Sprint, there is no renewal credit for me.
Android Central Newsletter
Get instant access to breaking news, the hottest reviews, great deals and helpful tips
Thank you for signing up to Android Central. You will receive a verification email shortly.
There was a problem. Please refresh the page and try again.