Everything you need to know about Freedom Mobile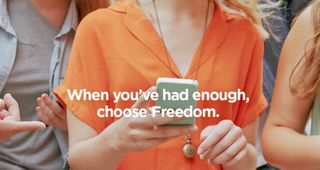 Earlier this week, Canada's Wind Mobile announced that it was changing its name to Freedom Mobile, and under new owner Shaw was launching an LTE network on November 27. That was met with a healthy dose of excitement and trepidation from current Wind Mobile users and potential switchers alike, but there were many remaining questions. Let's try to break some of them down right now.
What is Freedom Mobile?
Freedom Mobile is the new Wind Mobile, a brand change that, according to CEO Alek Krstajic, was necessary to offload some of the baggage of the existing brand, and find a new space within the Canadian mobile industry under new owner, Shaw Communications.
For all intents and purposes, Freedom Mobile is the same company as Wind Mobile — even the orange and blue color scheme is nearly identical — but with LTE connectivity.
OK, so what's the big deal about LTE connectivity?
Wind Mobile, around since 2009, has been behind the incumbents like Rogers, Bell, and Telus when it comes to technology. While the so-called Big Three set up and expanded their LTE networks to include high-speed tech like LTE-Advanced, carrier aggregation and VoLTE, Wind Mobile was stuck with limited spectrum, older equipment, and 3G speeds. Even in the big cities in which they were supposedly competitive, like Toronto, Vancouver and Calgary, download speeds were limited to under 5Mbps.
More: Is Wind Mobile worth it?
In late 2015, Wind Mobile began replacing all of its old network equipment with newer Nokia equipment, beginning with Vancouver and working east towards Ottawa. While those changes have been for the better, they are still limited to 3G speeds.
LTE is a big deal, then, because it finally allows now-Freedom Mobile to compete on the same level as the Big Three carriers — at least in the markets the company operates. And because Freedom is owned by Shaw, it has the capital to continue investing in networking equipment — and spectrum, when it becomes available — where it doesn't currently operate.
Tell me about the LTE service
Starting November 27, Freedom Mobile will operate an LTE network in the cores of Toronto and Vancouver, expanding to the outlying regions of each city by the spring of 2017.
By summer of 2017, Calgary, Edmonton and Ottawa will be LTE-enabled, and Freedom hopes to have negotiated LTE roaming deals with its domestic roaming partners (namely, Bell and Rogers) for when customers are not connected to its Home network.
Finally, by the fall of 2017, all of Southwestern and Southeastern Ontario — where there are towers — will be LTE-enabled.
How fast will it be?
Freedom Mobile's LTE connectivity is not slated to be the fastest in the business, but with a theoretical maximum speed of 180Mbps, it will certainly be competitive with the incumbents' existing networks, at least in areas with good coverage.
The main issue will be that because LTE service will be so limited, many customers will often fall back to Freedom's 3G service, which is considerably slower than LTE, and slower too than the incumbents' 3G networks.
How do I get on the LTE service?
This is where things get a bit tricky. Freedom Mobile's LTE network operates on a brand new channel called Band 66 — that's why the company calls it a "traffic-free" LTE network — which means there are only a handful of phones that support the new standard. Eventually, most new phones will support Band 66, which operates on AWS-3 spectrum, but as of this writing it is limited to the expensive LG V20 and the yet-unreleased ZTE Grand X 4, a mid-range device.
Eventually, you'll be able to bring your existing phone to Freedom Mobile to connect to its LTE network, but right now the most popular devices, from the Galaxy S7 to Google Pixel to iPhone 7, are not going to work on Freedom's LTE network.
There is one exception, though: in Eastern Ontario — Ottawa, and the surrounding region — LTE is piggybacking off Freedom's existing AWS-1 spectrum because the company wasn't able to buy any AWS-3 spectrum in that area during the 2015 auction. That means the network will be slightly slower in that region — using 10Mhz as opposed to 30Mhz — but it will also work with hundreds of existing phones, unlike in other parts of Canada.
What are the plans available right now?
Freedom Mobile is taking an early adopter strategy for its LTE network, likely because it knows how limited it is at first. Not only is there only one plan available right now, but it's different, and slightly more expensive (naturally) than the rest of the company's plans.
The LTE plan is regularly $45 and includes 3GB of data, unlimited Canadian calling and global texting, but for a limited time the price drops to $40 and the data allotment is doubled to 6GB, which is pretty good.
What about switching over? Can I use LTE on my current plan?
No, if you're an existing Wind Mobile customer transitioning to Freedom Mobile, you won't be able to use your existing plan to access LTE. And if you're using an older SIM card, you may actually need to buy a new one to get access to the LTE network.
What if I want to trade in my newly-purchased Wind phone for an LTE-compatible one?
Freedom is doing people a solid by extending the return window on phones purchased less than 30 days ago. For those purchased between August 1 and November 21, there's a special trade-in program that charges a small restocking fee should you decide to buy the LG V20.
So, is it worth switching over?
That depends. We have yet to use Freedom Mobile's LTE network, at the very least it should be five to ten times faster than its 3G network.
There are a few things to consider. Even though Freedom Mobile has 30Mhz of AWS-3 spectrum in most of its regions (except for Eastern Ontario), AWS spectrum still doesn't travel well through walls, so those in basements or buildings with thick cement exteriors may experience the same connectivity issues on LTE as on 3G. LTE is inherently more efficient, but radio waves are not magic: you won't get service where the signal can't reach.
Right now, if you're currently a Wind Mobile customer, I'd wait to see whether the network is as robust in the Toronto and Vancouver core as the company claims, and I'd investigate other devices before settling on the LG V20, especially if you're looking for a smaller phone — that thing is massive.
We'll have much more Freedom Mobile coverage in the next few weeks, so stay tuned! Got questions? Leave them in the comments below and we'll try to answer them!
Android Central Newsletter
Get instant access to breaking news, the hottest reviews, great deals and helpful tips
Daniel Bader was a former Android Central Editor-in-Chief and Executive Editor for iMore and Windows Central.
Freedom sounds like some kind of stereotype for an American carrier based in the Bible Belt. I can't believe they're launching service and 99% of their potential clients won't even be able to use it without purchasing new hardware.

I'm amazed Wind Mobile ever stayed in business at all with 3G data speeds

Price. You get the package with data at the lowest price.
Kept my family on them for 5 years.
Problem is they make less money.
Rogers will soon "solve" that problem.

I wonder the current 3g signal will be improve or not, after LTE is deployed.

Why do you think that will happen? They have zero motivation to spend money on the old network.

I think you are missing the most important point. It is subtle, and it shows where Shaw is taking this.
Shaw has no desire to be a "low cost carrier". This simply was the only network they could get their hands on.
Current Wind customers are on plans that do not expire.
To use the new LTE, one HAS TO SIGN UP ON A NEW PLAN
One that expires in 12 months. One that you agree to those terms and conditions when you switch.
Also, forcing people to buy phones that only work on their network is called "Lock in".
The biggest enemy of cell companies is when people jump ship to another company.
That is why for Black Friday Virgin Mobile and Fido both had $40 unlimited plans with 4GB data
Once people buy new phones, and when the 12 months ends, most will have no choice but to resign with Freedom,
and at higher prices or lower data caps.
This business is all about extracting the most $$ for the least data usage.

I couldn't agree more. I signed up and realised I made a big mistake.

Unfortunately this is true. I found out the hard way that although they claim "freedom from data overages" their signal is so weak that you end up paying for away data usage even within the city. Biggest mistake is signing up for their service
Android Central Newsletter
Get instant access to breaking news, the hottest reviews, great deals and helpful tips
Thank you for signing up to Android Central. You will receive a verification email shortly.
There was a problem. Please refresh the page and try again.