Endomondo update aims to help you keep your New Year's resolutions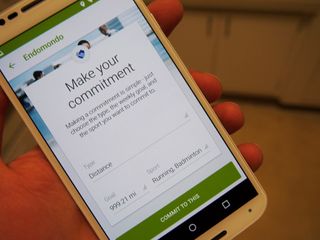 Looking to help users stay committed to their New Year's resolutions, Endomondo has updated its Android app with some new tools. Coming along for the ride are two new features that allow users to create their own private challenges, as well as define weekly fitness goals.
The first feature, as previously mentioned, will allow users to create private challenges and then invite others to participate. Endomondo believes this is a natural extension of the apps current public challenges, which have been a key part of motivating its users.
The second feature, called Commitments, will allow users to stay commited to a particular fitness goal. From Endomondo:
The update is live today, so if you've had trouble sticking to those resolutions, see if Endomondo can give you a boost.
Press Release:
COPENHAGEN, Denmark – Jan. 06, 2015
Staying motivated is a crucial aspect to keeping New Year's fitness resolutions. To help, Endomondo has released an update for the very popular Endomondo Sports Tracker iOS and Android app that includes two new goal-oriented means for keeping users focused on fitness ambitions.
The first tool now available enables users to create their own private challenge and invite select people to take part directly from the app. With more than 300,000 participants in some of Endomondo's public challenges, it is a proven motivating concept that is now launched in a more personal version which can be tailored to every user's needs.
The second new feature is called 'Commitments' and allows users to set a weekly, personal fitness goal from the app. Users can choose a weekly performance schedule before selecting a specific sport in which to participate. It is then possible to review weekly activities via the app and get notified of the progress made towards the goal.
Mette Lykke, Endomondo's Co-founder & CEO, said she believes the social fitness micro-communities that emerge from the creation of simple challenges become invaluable motivational tools helping others along a path to fitness.
"Endomondo was built on the core belief that social interaction and support are key motivators when it comes to people getting and staying fit," Lykke said. "In 2015, Endomondo intends to philosophically change how people use social networking for the purpose of fitness. The launch of Commitments and Create a Challenge are the first steps towards that aspiration."
For more information about the recent Endomondo Sports Tracker app updates, please visit http://blog.endomondo.com/press/ and http://blog.endomondo.com/.
About Endomondo:
Founded in 2007 and now with nearly 30 million fans worldwide, Endomondo stands apart from other activity tracking apps because it helps users connect with like-minded people and encourages the sharing of experiences and support in achieving collective goals. Operating on most GPS-enabled smartphones, Endomondo lets people track workouts, analyze performance, and aids in the discovery of new activities and insights so people become and stay active. Users can send friends real-time pep talks while they exercise, compete against friends for fun, challenge co-workers, and share it all across popular social networks.
Get the Android Central Newsletter
Instant access to breaking news, the hottest reviews, great deals and helpful tips.