There's no guarantee your favorite show will remain streaming so you can watch it whenever you'd like, but luckily, this current TV show sale at iTunes will help solve that problem and let you add a few shows to your digital HD collection at a discount. Complete series of shows like New Girl, Parks and Recreation, Legion, and You're The Worst are on sale for as low as $19.99 for a limited time. That includes every episode and every moment from these shows for nearly the price of a movie ticket.
Binge With Me!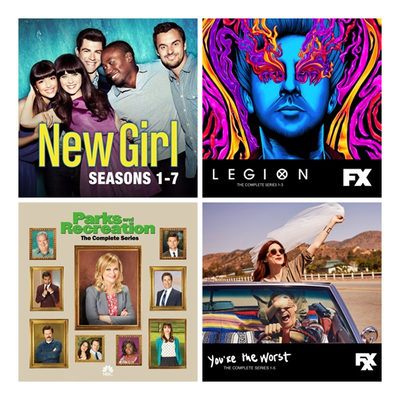 Now's your chance to beef up your digital HD collection on iTunes at a discount with shows like You're the Worst, New Girl, Parks & Recreation, and Legion on sale for as low as $20 for a limited time.
Starting at $20
With the release of Apple TV+, all of your iTunes purchases are accessible using the Apple TV+ app on select devices such as the Amazon Fire TV Stick or the Roku Streaming Stick+, as well as a myriad of smart TVs and more.
Whether you're looking to add a show to your collection that you've seen before or hunting for something new to watch, this sale at iTunes has a myriad of great picks to choose from. One of my favorite shows which most people probably haven't seen is You're The Worst, a show that attempts to deconstruct the traditional Rom-Com genre and show the reality of a relationship between two people who might not belong in one. Today's sale brings all five seasons down to $19.99 total.
Beloved series like Parks and Recreation, New Girl, and Twin Peaks are included in the sale too. That's 122 episodes of Parks and Recreation for only $30, or 146 episodes of New Girl for $20. It's hard to find better deals on entertainment if you're a fan of these shows.
There's a good number of Sci-fi and unconventional shows in the sale too, from Legion to Joss Whedon's Firefly to Misfits. You can also find deals like Cowboy Bebop for $4.99 and The Strain for $14.99.
We may earn a commission for purchases using our links. Learn more.