Best microSD cards for the Samsung Galaxy Note 7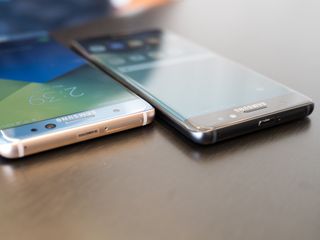 After abandoning expandable storage for 2015's flagship releases, Samsung has righted the ship in 2016 by reintroducing of microSD slots on both the Galaxy S7/S7 edge and Galaxy Note 7.
If the 64GB of internal storage on the Note 7 just ain't going to cut it, you'll want to invest in a quality microSD card and add up to 200GB of additional storage. That means you'll have more space for all your music, 4K videos, photos, and animated gifs, and you can save the phone's internal memory for your favorite apps and games.
SanDisk Ultra 200GB microSDXC Card
Why you can trust Android Central Our expert reviewers spend hours testing and comparing products and services so you can choose the best for you. Find out more about how we test.
If you're serious about maximizing your storage, you'll definitely want to consider this 200GB microSDXC card from SanDisk. With write speeds up to 90MB/s, you'll be able to record in HD or 4K to your heart's content. And you'll still have room to spare for all your movies, music and other data. Amazon regularly has this one on sale for under $80, so this is your best value for sure.
See at Amazon (opens in new tab)
Samsung MicroSD EVO+ 256GB
Since we're talking about a Samsung phone, we'd be foolish not to mention Samsung's best option for microSD. With read speeds up to 95MB/s and write speeds up to 90MB/s, this card should be able to handle whatever you throw at it. Better yet, Best Buy is offering a Galaxy Note 7 pre-order deal, where you can get the card for free (opens in new tab)! It's a pretty good deal, but if you've already got the Note 7 you'll want to get this card via Samsung's website.
See at Samsung (opens in new tab)
SanDisk Extreme PLUS 64GB microSDXC
Looking to double your available storage without breaking the bank? This 64GB card from SanDisk is UHS speed class 3, with write speeds up to 50MB/s — more than enough to handle 4K video. With transfer speeds of up to 95MB/s, you're able to add your favorite music and media in a flash with the included SD card adapter. This card is designed to withstand anything life throws your way — including x-rays — and comes with a lifetime limited warranty.
See at Amazon (opens in new tab)
Kingston Digital 64GB microSDXC Card
This Class 10, UHS-I microSDXC card from Kingston features a 64GB capacity and advertises a read speed of 90MB/s and write speed of 45MB/s. Included is an SD adapter which the microSDXC card slides into when using on a computer or other standard SD device. The Kingston Digital 64GB microSDXC card is currently available for $30.
See at Amazon (opens in new tab)
Will you be expanding your Note 7 with a microSD card?
If you're considering on upgrading the Note 7's storage, let us know in the comments how much space you think you'll need, and how you plan on using that extra storage.
Get the Android Central Newsletter
Instant access to breaking news, the hottest reviews, great deals and helpful tips.
Every carrier is offering the 256 GB SD card as an option since that promotion is directly from Samsung. Why mention only best buy? Posted via the Android Central App

The difference between Best Buy and the carriers that they are alluding to, is that Best Buy gives you the memory card at the time of activation, and the carriers require you to go through Samsung, and have them ship it to you (up to 12 weeks later).

Does the Note 7 support that new UFS 2.0 Samsung standard?

UFS has a different pin layout as I understand.

Why not "best headphones to buy for your Note 7"? C'mon now vzw Moto XPE/N7

For that, Phil has to hand over a brand new Note 7 to Ara. Which I don't see coming anytime soon, as she for the moment, she is totally caught up with her Moto G4 and will be covering a lot in the upcoming smaller Nexus.
PS. Ara Wagoner, please don't kill me for saying it all out so loud. Posted via the Android Central App on my Zuk Z1. Loving it.

Yea.. Every carrier has the free 256GB card offer... They even are offering their Gear Fit2 as well. Oh and a 20-50 dollar visa card depending on where ya pre order. Tho I'm also with the one guy, a headphones article would be pretty nice too. Tho I assume that'd be waiting until a review unit shows up so the included headphones can be in the running. Posted via the Android Central App

Why can't you just write one "Best microSD cards" article instead of writing one for every phone? Money talks, I guess. I miss the old AC. Posted via the Android Central App

I think it may be them trying to keep the info circulating as well. Think about it. They did do a "best SD card" thing some time ago. Which means that article is buried deep and most people don't just show up to a news site and use the search box. They just look at the most recent articles that are uploaded. So doing it about the note 7 just gives them an excuse to keep the information up and current for people. Posted via the Android Central App

They're not trying to keep people informed; if they were, they could constantly update ONE article with the latest and greatest microSD cards. They're trying to gain ad revenue from SEO because they know that a lot of people will be searching for the best microSD cards for the Note 7, even though if it's the best in one phone, it'll also be the best in another.

So? They have to get paid in order for us to receive the site for free. And to pay the writers. I suggest if that's a problem for you, then find a site that's a paid subscription and don't look back.

There are plenty of sites without paid subscriptions that don't write these types of articles. I'm not saying they're wrong for trying to make money, I'm saying there are better ways.

The better way you described in your post is your opinion. I personally don't let it bother me. I have other things to worry about than what posts should be merged.

In my opinion, a perfectly reasonable compromise so that the writers can get paid for their work.

Exactly. The complaining is far more annoying than the articles. Posted via the Android Central App

Oh cry me a river. It's a way to get more traffic to the site. They explained it in an article defending the butt ton of Pokemon Go articles. Site traffic increases by whole orders of magnitude because non-regulars (their largest audience I believe) google this type of stuff. So when your average pleb buys their new Note 7 (or plans everything out) some may google "best memory cards for Note 7" and WHAM, AC pops up and they get some more ad revenue to help keep the lights on. Without articles like this to draw in traffic and revenue there would likely be no more AC.

Woops, that was meant to be a reply, not a standalone comment. Basically in response to people criticising AC for saying things like "best *insert generic accessory here* for *insert latest and greatest phone here*"

I'd rather read about this than another Pokemon article. Posted via the Pokemon Central App

Indeed **** that Pokémon Posted via the Android Central App

Pokemon No feed. You don't see Pokemon, everyone else doesn't see your whiney posts. Everybody wins :-) Posted via the Android Central App

Woo hoo! Someone finally got it! I spent literally 10 seconds thinking that up because I didn't think I'd hang around here long but years later I'm still here. I'm stuck with it now lol Posted via the Android Central App

Agreed!!! Posted via the Android Central App

I've been using Samsung cards for about 4 years and I've never had a problem with them. I won't use anything else.

SanDisk do great cards as well. The larger microSD cards they do (like the 128GB ones I have in my phone and tablet) come with a lifetime warranty as well.

I've had multiple SanDisk cards and flash drives die on me, they weren't fakes, I checked
now I only buy Samsung, Kingston, or Lexar cards, depending on pricing, availability and performance

The LG V10 external memory will accept up to a 2TB card, if you can find one. IJS LOL

Still rocking the FREE 200GB card I received for buying the V10!

All of the new phones support till 2TB, not just the V10.

I'm getting my girlfriends card when she gets the n7 hehe don't tell her though Posted via my note 5 are gs7 edge

I'll be getting a 256GB card when they're available in the UK, if they're not available when I get mine in November I'll use the 128GB card I had in my S5 until then
currently have 60GB of music on my 128GB S6 with app data, offline maps, and backups taking up most of the remaining space
I'll put the music on that won't fit and put an offline copy of Wikipedia on again

I hope there is someone intelligent here... https://www.amazon.com/gp/product/B01G7L03OS/ref=s9_newrz_hd_bw_b3I4RsJ_... Think about this for a minute.. So, Amazon is selling a 128GB Samsung EVO select card for $39.99 and the 256GB Evo Select for: $185.26...THINK ABOUT THAT!

The 128 is a U 1 and the 256 is a U 3... Different writing speeds. That's your price difference.

My question is.... with the note 7, do it take full advantage of this 256GB card that they are giving away? if so, how? And what exactly is the difference between the Samsung EVO + and Select card? Seems like the free Fit2 is the best deal considering you can get a 128GB card for $40. Thoughts?

The article says "add up to 200GB of additional storage" and then displays a 256GB card. What am I missing here? Posted via the Android Central App

I just did a google search for 512 GB and I can get that for $60. Why would I want to pay anything more for less storage? That is before I checked out Amazon (which I'm an avid user of).

Does anybody know if the note 7 will handle a 512GB card?