Best heavy duty cases for the LG G5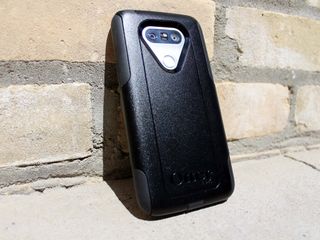 No matter how careful you are with your phone, sooner or later you're gonna drop it or it's gonna fall. When the inevitable happens, you want to make sure it's protected from getting scuffed, scratched, cracked, and smashed.
Not all cases are built equal. If you're an outdoorsy type, you'll want some added protection and only the most rugged cases can stand up to everything Mother Nature throws your way. Let's dive right in.
Otterbox Commuter series
Otterbox is well-known for making tough cases that can take a beating. Their Commuter series cases are no exception.
We tried this case out on our G5 and found that it fit perfectly. When on the device, the case forms a lip around it that protects the vulnerable corners from shattering. It also protects the LCD screen from getting scratched when the device is lying facedown.
For an Otterbox case, the Commuter feels quite light. It's comprised of two pieces: a hard polycarbonate outer shell and an inner silicone liner. The hard plastic shell protects the phone from scratches and dents while the softer inner lining absorbs impacts. The inner lining also has flaps that cover the charging port and audio jack so that dust and debris cannot get in.
You won't have to fiddle with removing the case to access important features of your device — the case has a triangular cutout in the back for the camera and the fingerprint scanner, cutouts along the bottom edge for the speaker and microphone, and along the top for the microSD card slot.
While not the heaviest-duty case around, the Commuter series is rugged enough to protect your LG G5 from damage from most everyday situations. If you're taking your phone with you while skydiving, well, maybe this isn't the case for you.
See at Amazon (opens in new tab)
Supcase Rugged Unicorn Beetle Pro Combo
If you want a strong combination of solid protection and sporty design, this is the case for you. The Supcase Rugged Unicorn Beetle Pro Combo includes a built-in screen protector and a swiveling belt clip holster so your phone is secure and protected, yet easily accessible if you're out hiking in the wilderness. With a dual-layer back cover offering shock absorption and port covers to keep dust and debris out, your phone is protected 360 degrees.
It's available in three distinct colors and, according to one reviewer, is even better when paired with a tempered glass screen protector (opens in new tab), in lieu of the one the case provides. It's worth considering if you trust the protection that tempered glass provides.
See at Amazon (opens in new tab)
Spigen Rugged Armor Case
This offering from Spigen is sleek and elegant, with a carbon fiber texture that offers a better grip in your hand. Made from thermoplastic polyurethane (TPU for short), it's flexible enough to be easy to install your LG G5, while still providing fantastic protection, thanks to military-grade certified air cushion technology to protect when your phone falls and lands on its corner.
When you put your G5 down, your screen and camera is always protected with a 1.2 millimeter lip around the display and 1.5 millimeter of space between your camera lens and the table or ground if you drop it. And, for all the protection Spigen provides, you'll also retain easy access to all the buttons, ports, and speakers.
See at Amazon (opens in new tab)
Poetic Affinity Series Case
If you want full-protection but also want to show off the LG G5 design, this is the case for you. Made of clear polycarbonate with TPU accents around the corners, this case is slim and stylish with extra protection provided for those detrimental impact areas. If you've found other cases to be slippery and hard to hold, you're going to love the side grip pattern they've included. The extra texture will make your phone easier to hold without adding unnecessary bulk.
The X-form strips of black TPU running down the back aren't just there for looks — they also provide shock dissipation without sacrificing the thin form factor. With raised bezel protecting your display and the same level of protection for the camera lenses on the back, it's perfect for protecting your new phone while still allowing you to show off its design.
See at Amazon (opens in new tab)
Lifeproof FRE for LG G5
If you've had a Lifeproof case before, you know what you're getting here. This case is waterproof, dirt-proof, drop-proof and even snow-proof, making it arguably the best full-protection case you can buy. This is the case for you if you're constantly out exploring in the wilderness and want to make sure your phone is protected from the elements.
It has received the highest ratings on the Ingress Protection scale, meaning it's guaranteed for full immersion in up to 6 feet of water for an hour. It also meets the U.S. Military Standard for drop and shock protection. Also included is a headphone adapter, so you can enjoy your music while surfing or snowboarding without worrying about compromising the waterproofness of the phone. All in all, if you never want to worry about your phone being damaged by the elements or drops, this is the case for you.
See at Lifeproof (opens in new tab)
i-Blason Prime
Combining rugged protection with stylish design, the i-Blason Prime features a dual-layer back cover that includes a convenient kickstand built right in. Featuring a polycarbonate hard shell with carbon fiber patterns on the inlay coupled with a shock absorbing silicone sleeve, your G5 will get a snug fit with maximum protection. And, all the ports are precision-cut with ample space for all your cables and headphones.
It also comes with a side-mount holster that clips onto your belt, and the raised bevel around the display won't affect your ability to install a screen protector.
See at Amazon (opens in new tab)
How 'bout you?
Not finding what you're looking for here? Check out our guide to the best cases for the LG G5. Or, do you have a favorite rugged case for your LG G5 that isn't on the list? Drop us a line below in the comments!
Marc Lagace was an Apps and Games Editor at Android Central between 2016 and 2020. You can reach out to him on Twitter [@spacelagace.
My phone needs mersin rhetoric sprawling spray Android Central App

Why are comments not allowed on Richard Devine articles? Is he aware that comments after turned off? Dam It Feels Good To Be A Google Gangster

After putting on one of these cases..... "Here. Let me quickly change modules...."

There are cases that come off in split second, however it is annoying to take off a case to swap batteries.....it always had been.

There is a case for the G5 made by spigen which allows you to keep the case on while changing batteries

I love Otterbox Commuter series cases for all my devices.
Android Central Newsletter
Get the best of Android Central in in your inbox, every day!
Thank you for signing up to Android Central. You will receive a verification email shortly.
There was a problem. Please refresh the page and try again.