Beats Music update saves tunes to SD card for offline playback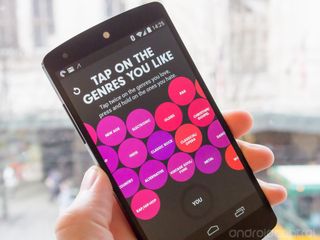 (Image credit: Android Central)
Beats Music has been updated for Android bringing some substantial improvements to the subscription music service. Now up to version 1.1, Beats Music brings a new landscape mode, the ability to save downloads to an external card, a refined 'Just For You' recommendations experience, improved playback, and the ability to transfer downloads between your phone's internal storage and the SD card.
The update arrives on the heels of Amazon launching its own music streaming service. Amazon's Prime Music is free for Prime subscribers while the Beats service costs $10-$15 per month and competes with services like Spotify.
Beats Music is now owned by Apple following a $3 billion deal.
Are you a Beats subscriber? Will you jamming to tunes in landscape mode and is the ability to save to an SD card important to you?
Get the Android Central Newsletter
Instant access to breaking news, the hottest reviews, great deals and helpful tips.
But.. But.. Sdcards are dead after Kit Kat... /s No the developers need to change how the code stuff is all Posted via Android Central App

Still hating that move. Still think cloud storage is a over priced gimmick. A over priced gimmick that only works if you have a great and constant 4G connection. Your screwed on a plane haha. I'll stick with my 32gb SD card as long as Google will allow them at all. Posted via Android Central App

Well, if you have a rooted device you could just download the SD card fix from the Play Store to resolve that issue.

Since Beats is now a part of Apple, Inc, can I assume this
means Apple will put MicroSD slots in the upcoming IPhone 6?

Doubt it. There was nothing talked about at the conference last time around
Posted via Android Central App

Only if they could come up with a proprietary card of course. Posted via Android Central App

Sony did Posted via Android Central App

This opens the door for CD quality all the way up to 24-bit 96KHZ recordings, as most new devices have. I'm sure at a Premium, but worth it if HD audio ever goes mainstream. Posted via Android Central App

OK how? Posted via Android Central App

Think because the 64gb sdcard can handle the space needed for the higher quality files. Posted via Android Central App

Nice Posted via Android Central App

Doing the free trial. Don't see why they need my phone number though. Posted via my SM-G900V

This may be a stupid question, but when I store the music on my SD card, what exactly does that mean? Should it be showing up in the preloaded Music app on the Android device I am using or how exactly does this work? Posted via Android Central App

And I just want to clarify, by using Beats in offline mode, stops from using my data? Posted via Android Central App

Did you ever figure this out? I have the 14 day trail and I've downloaded like 12,000 songs on my SD card. Will I still have them after the trial is over?