The Anker Bolder LC90 rechargeable LED flashlight is down to $22.99 at Amazon. This price drop matches one we saw a few times last year but haven't seen as much in recent months. It's a great drop for a flashlight that's already relatively inexpensive. You'll be able to buy a couple of these and keep them all around the house.
The brightness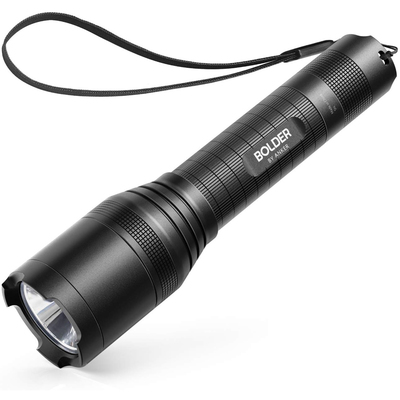 The LC90 a 900 lumen Cree LED for super bright light up to 660 feet. It's fully zoomable with wide and narrow beams and five adaptable settings like SOS and Strobe. It is IP65-rated for water resistance and lasts for up to 6 hours per charge.
$21.99 $30.00 $8 off
The Bolder LC90 uses a super-bright 900 lumen Cree LED. It's so bright it can cover about 660 feet or the length of two football fields. The peak of the light reaches up to 1,000 feet away. It's also fully zoomable with a wide and narrow beam. Switch between five adaptable settings including high, medium, low, strobe, and SOS.
The 18650 3350mAh rechargeable battery lasts for up to six hours in medium beam mode. It also has non-diminishing brightness so it'll just go until it can't instead of fading. Recharge the light in just six hours with the included micro USB cable. The LEDs will last a long time, too, with an estimated lifespan of 50,000 hours.
The IP65 rating means the flashlight is water resistant, and it's designed with an anti-slip finish. Use it even in heavy rain when you need to. It's also shock resistant so even if you drop it, it's not going to get damaged.
Anker covers the LC90 with an 18-month warranty.
We may earn a commission for purchases using our links. Learn more.