Android Quick App: Kona's Crate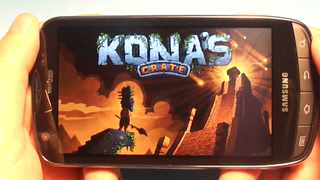 YouTube link for mobile viewing
Every so often a game comes around that makes you stop, take pause, and admire it's design. As the hardware we're using continues to improve, I think we'll be seeing more of that, but until we do, there is Kona's Crate.
Kona's Crate is a game about delivering stuff. What stuff, you ask? A crate, undoubtedly! It's not just any crate, however. It's filled with stars (you know, for points) and you give it to Chief Kona, the guy with the terrifying mask that you'd otherwise avoid. But hey, he's the one dishing out stars, so you have to do it. Just remember, if anyone ever offers you stars to get in their van and give you a ride home, the answer is no.
Anyway, because Kona is a jerk chief, he's opted for a less-than-conventional method of getting his cargo shipped to him. Instead of the standard fare, you've got to move a jet-controlled delivery platform to wherever he is on any given level. If it sounds simple, it's not.
Yes, the controls are simple. A left tap on the screen powers your left thruster, and a right tap powers the right. You've got the option to invert the controls, but regardless, a tap on the screen gets your engine purring. From there, this game turns into a split-second hating, reflex-challenging, make-you-want-to-throw-your-phone-in-agony kind of experience, but you won't be able to stop.
Gameplay starts off in a tutorial. As you advance through the laughably simple tutorial stages, you'll notice difficulty starts to ramp up. At first, where you needed only to nudge the crate over to the left, now you've got to navigate curvy freefalls and float over tricky walls. This is only the beginning of the challenge, as the farther you progress, the more intense gameplay gets. Falling blocks, TNT and physics are there to derail your next-day delivery shipment, and you've got to use your catlike reflexes to overcome it all.
A speedier delivery nets you more stars (maximum of three) at the completion of a level. If you can't hit your goal, the game tells you what time you need to have delivered in to reach the next tier up. Unique to Kona's Crate are the vines that wrap around your stars. Vines are your reward for not running into any obstacles like walls or ceilings, or in later levels, debris. I think this is more for the completionists in all of us, so be aware that it's there.
Kona's Crate contains more than 60 levels in three campaigns, with superb graphics and OpenFeint support. With OpenFeint, you can see how you stack up on the leaderboards for time, stars and vines earned, and even publicly post your bests on Facebook and Twitter (but not Google+!). There's also achievements to be had, like New High Score and Safe Landing, plus a plethora more I've not yet been skilled enough to unlock.
Overall, Kona's Crate is a solid game on Android. It's combination of beautiful graphics, challenging, unique gameplay, and high replayability factor are all reasons to invest in it. There's a free version as well as a paid version, but for a scant 99 cents, you can buy yourself the whole package as well as support a developer who is wholeheartedly deserving of it.
Download links are after the break.
I've been playing this on GTab for a while and enjoy it. It definitely gets challenging. Would probably be just as good on my phone but I'm low on storage.

got it free from amazon a week ago or so but haven't tried it yet. ok i just tried to play it doesn't work on Evo 3d ill see if it works on the dell streak 7 no go on the streak to time to uninstall.

Pretty impressive to see a 4.9 star rating for a game.

> This app is incompatible with your Sprint HTC HERO200. *Sigh* I need a new phone... I can't even run Angry Birds. The only really polished game that runs well is Cut the Rope... This game looks like a lot of fun.

Very HARD to finish level later on...
But still fun

It is a fun game. I got it when it was the free app of the day from Amazon. Worked great on the EVO 4G.Now I have the EVO 3D and it doesn't work with that phone yet. So, I will just have to wait until they fix it to work with the EVO 3D

how about hive player for honeycomb...only third party music player out with scrollable widget for music navigation and playing

Very addictive game but makes my phone get extremely hot droid x.
Android Central Newsletter
Get the best of Android Central in in your inbox, every day!
Thank you for signing up to Android Central. You will receive a verification email shortly.
There was a problem. Please refresh the page and try again.