Android Game Review: Reflexions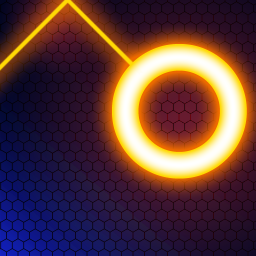 YouTube link for mobile viewing
We've all been there: a maniacal evil genius has you in the thick of his trap, and the only way to escape his series of death beams is to reflect them away from you using whatever is at your disposal. Maybe it's a nickel, maybe you've got a lot of mirrors at your disposal. At any rate, we all know the only way we got out of the trap (and saved the day!) was through practice.
My tool of choice? Reflexions, by YoYo Games. What better way to brush up on your reflecting skills, kill some time, and work your brain into a frenzy as you try to collect the diamonds and advance to the next level? I can think of none.
In Reflexions, you're trying to arrange mirrors to bounce your energy ball around, pick up all the diamonds scattered throughout the level (while avoiding the red, mine-looking things), and then bounce your way to the exit portal. The diamonds aren't for fun, either. The exit portal doesn't activate until you've nabbed all the diamonds, so you can't try and skip them to make a sweet time completing a level.
Your motivation to complete levels in a timely fashion? That timer running in the background, of course. In addition to your time being checked, the game is also timing your number of moves (how many times you flip a mirror), and that factors into your overall rating. There's no scores here, just the familiar three-star system that all games are using these days.
If you're like me and think you only earned two stars because the star in the middle is the biggest, don't fret. The game fills the outer stars first, and you get the big star in the middle if you really maxed the level out and earned all three stars. Trust me, confused me, too.
Reflexions is also peppered with little achievements here and there (in-game only, no OpenFeint), like completing the tutorial, world 1, getting 20 stars in world 1, etc. The achievements run the gamut from incredibly simple to ridiculously difficult, and while it's nice to give the player a lot of easy ones at the start, it almost feels a little too much like "everyone is a winner" for my tastes. Still, the completionist in me appreciates the challenge.
With 40 levels in four worlds, oodles of achievements, and the fact Reflexions runs equally well on both tablets and phones, I'd behoove you to try it out. It's only $1.10 in the Android Market, but that's a special, introductory price, so I'd move on this sooner rather than later.
Dr. Evil Mr. Bad Guy is planning, so if you're ready to brush up on your reflecting skills, we've got download links after the break.
Get the Android Central Newsletter
Instant access to breaking news, the hottest reviews, great deals and helpful tips.