Android Game Review: Great Little War Game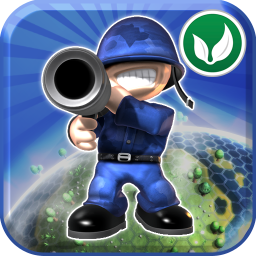 YouTube link for mobile viewing
What happens if you take one part Advance Wars, one part any tactics game, give it a hilarious storyline with a rough-and-tumble stereotypical general, and release it for Android? Oh, well then you'd have Great Little War Game by Rubicon Development.
In Great Little War Game (or GLWG, as it's named in the app drawer), you're part of Force Blue (my name, not theirs), whose leader, Generalissimo, is hell-bent on eradicating the armies of Force Red. (Red vs. Blue, anyone?!)
Gameplay is classic turn-by-turn based combat, where you move your forces around, attack your enemies, and when you're done, they do the same to you. The map is broken up by circles, and every circle is one step a unit can move. A unit can only move a certain number of spaces per turn, so plan your offense accordingly.
In the very first missions of the campaign, you're limited to using the most basic of units (grunts and snipers), but as you move through the story, you'll see your forces grow to include other units like the engineer, bazooka man, and even vehicles like the tank and jeep.
Missions on each map vary, from simple objectives to wiping out all your enemies, to other, more complex objectives like taking over your enemy's base (something only the engineer can do). My latest mission had me lasting eight days (or turns) without the general being killed, and once the eighth day ended, I won.
Trophies are awarded if you complete a mission's objective in a quick amount of time, and you can keep track of what trophy you'll be awarded in the same area of the screen that tells you what day your mission is on and how much money you have. You can also buy more troops with the funds you receive at the start of each turn.
If single-player gaming isn't your style, GLWG also has a "Pass & Play" setting, where you can play against a friend, and you just pass the game to them when it's their turn. It definitely hearkens back to the days of Mario Bros. on the SNES, and I like it.
There's also OpenFeint achievements scattered over the game's 20 missions, for the true completionist, and a Skirmish practice mode, for those looking to hone their war-making skills.
Overall, Great Little War Game exemplifies some of the best traits a game could have: humor, challenging gameplay, and replayability. The fact you can save up to three games at once is a great feature, too, and ensures you'll never have to start over (unless you want to).
Great Little War Game is $2.99 in the Android Market. We've got download links after the break.
Android Central Newsletter
Get instant access to breaking news, the hottest reviews, great deals and helpful tips
LOVE Great Little War Game! I thought Robo Defense and MythDefense were my favorite games on Android, until I downloaded GLWG. I only wish there were more levels. I love how challenging the levels can be. Some were very difficult, at least at first.

It is a fun little game, and in some respects, it reminds me of the classic war games from Steve Jackson games, like Ogre and GEV. Unfortunately, it crashes my Nexus S at least once per session, no matter what setting I have the graphics on. It is pretty good about auto-saving, though, so I never have to repeat more than one turn at a time.
Android Central Newsletter
Get instant access to breaking news, the hottest reviews, great deals and helpful tips
Thank you for signing up to Android Central. You will receive a verification email shortly.
There was a problem. Please refresh the page and try again.