Alex's favorite Android apps of 2014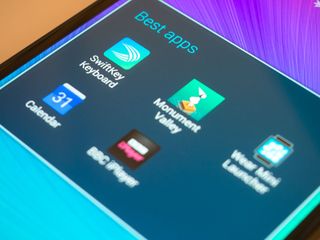 My favorite Android apps of the past year
In 2014 Android expanded its reach considerably. Phones like the Moto G and Android One pushed the OS into more hands in developing countries. Android Wear officially put Google on our wrists for the first time. And larger devices like the the Nexus 6 and Galaxy Note 4 gave buyers a broad new canvas for their apps. The fact that Android is now almost everywhere means the selection of Android apps is greater than ever, and sometimes it can be a little tough to tell what's really worth buying and downloading.
So as we do every year, we're rounding off 2014 with a look at our favorite stuff from the past year. This time it's my turn to share my Android app picks — head past the break for five of the top apps I've been using in 2014.
Monument Valley
If there's one mobile game that's worth the time of absolutely everyone with thumbs, it's Monument Valley. Ustwo's isometric, dimension-bending puzzler launched on Android earlier this year, and recently it's been expanded with even more content through the new Forgotten Shores expansion pack. Inspired by the works of artist M.C. Escher, Monument Valley has players guiding the character Ida through a surreal, beautifully crafted isometric world where perspective and reality interact in unusual ways. Monument Valley isn't a long game, nor is it massively difficult, but that means it doesn't overstay its welcome and rarely has the potential to frustrate.
Even if you're not a massive puzzle game fan, Monument Valley and Forgotten Shores are well worth their small asking price, promising a few hours of mind-bending interactive entertainment unlike anything else available.
SwiftKey
SwiftKey isn't a new arrival — well, unless you're using the recently launched iOS version — but it's an app I've installed in practically every phone I've used this year, and it's still the Android keyboard I use and recommend. Whatever secret sauce SwiftKey's using, I find its predictions are generally more accurate — whether swiping or tap-typing — than most rivals and bullt-in Android keyboards. SwiftKey's cloud integration lets you personalize your predictions based on your social network posts, as well as text messages and email. And since all this stuff is stored in the cloud, it's easy to keep it in sync between devices.
In recent months SwiftKey has added support for even more languages, while improving performance and introducing new Material Design-style keyboard skins. If you've ever become frustrated with your device's stock keyboard app, SwiftKey is a free alternative that's definitely worth a look.
Wear Mini Launcher
The past year saw the launch of Android Wear, and while Google's wearable OS remains in its infancy, third-party developers have been plugging some of the functionality gaps. For me, one big irritation is the number of taps required to launch apps and change settings, especially if you're not inclined to talk into your watch. Wear Mini Launcher addresses this in an elegant way, adding a slide-out menu bar to your smartwatch.
Swipe right once (from the leftmost edge on round watches, or the top-left corner on square ones) and you'll get a simple app list, swiping right again gives you a cluster of settings controls, including the all-important brightness slider. On watches that don't have built-in brightness sensors, this is way more convenient than finding it in the settings menu, and you also get easy access to other settings, and your phone and watch's battery readout.
Android Wear may well evolve to make voice-free navigation easier in time. Until then, Wear Mini Launcher will be on every Android watch I use.
Google Calendar
In a year of significant Google app updates, one of the most noteworthy is Google Calendar, which got a significant upgrade back when Android 5.0 Lollipop landed. In addition to a visual refresh, complete with new artwork for each month, the new Google Calendar integrates even more closely with Google's other services. Maps and photos of event locations are shown right there in the app, and Calendar's new Gmail integration even allows it to automatically detect events — such as flights and hotel stays — based on emails.
Google Calendar also got a bit smarter at detecting new events as you're typing them, adding in appropriate background art and guest details. New features like this push Google's homemade Calendar offering above many of the manufacturer-built offerings loaded onto Android phones, and if you're looking for a smarter calendar app, Google Calendar is well worth a look.
More: The new Google Calendar in detail
BBC iPlayer
If you live in the UK, this one's a no-brainer, especially considering the app itself is free. BBC iPlayer lets you stream live TV and radio from the BBC's various channels, and catch up on content you'd normally find through iPlayer on the web. In 2014 iPlayer for Android has been updated with a new design, the ability to download shows directly to your device, and higher quality streaming over 3G and 4G connections. And Chromecast support makes it easy to get all this stuff onto a larger screen, too.
Stay tuned for more favorite app picks of 2014 from the other AC editors in the days ahead. In the meantime, be sure to check out Jerry's picks to find out what he's been using over the past 12 months. And be sure to share your own picks down in the comments!
Alex was with Android Central for over a decade, producing written and video content for the site, and served as global Executive Editor from 2016 to 2022.
The Google Calendar update was absolutely horrible for anyone who actually uses the calendar in a professional way. No usable month view. Horrible information density.

You crazy! I love Google Calendar

It's fine if you don't have to actually find useful information (figuring out an open day for a meeting two weeks out or what your next week looks like), don't mind the horribly thought-out color schemes (white text on solid light pastels), don't mind choppy scrolling, or prefer whimsy over function. Otherwise, it's a major regression from the previous version even with some of the improvements (like auto-add events from Gmail).

I agree. My wife and I share each other's Google Calendars and after the update I can no longer add reminders to events she has added, requiring me to add a duplicate event. I wonder why any update has to actually remove existing functionality. Also the widget is more wasteful of space so I can't see as many events at a glance without launching the app.

I also dislike the new widget. Another form over function fail in the app.

Totally agree with you. It looks beautiful but poorly functions for anything other than checking what date it is today.

And the frustrating part is that we all now have big high-rez phones with the capacity to display a lot of information, but Google decided to go the opposite direction with this core app. Instead, giving us big clumsy typeface, insanely low information to pixel ratios, and basic calendar functionality.

I have to agree. Overall it feels like Material Design overall puts functionality in the back seat and fancy in the front. Blasphemy not-withstanding.

Agree. The one Samsung app I use is S Planner because of the excellent month view.

I really wanted to like the new Google Calendar. I loved the Material Design reboot, and the nice additions (integrated maps, pictures, etc.) make it pleasing to the eye. The agenda view is nice, but I really use a complete view of the month more frequently than any other vew as it gives me a single view of my entire month. This is where Business Calendar Pro wins out, especially since the month view allows me to see the text entries, rather than blocks of time. The options for calendar scheduling and reminding are just superior in Business Calendar as well.

Same here. I wanted to like it, but it's issues are just too core for a calendar app. I used Business Calendar back in the Gingerbread days. I may have to return.

The only thing it's missing for me is a dark theme. Posted via Android Central App

Everything seems to be missing a dark theme... cries #darkHOLOYOLO

I loved how you could pinch to "zoom out" on old versions of Calendar, essentially making more hours fit on your screen. That functionality seems to have been eliminated, unless I'm missing something.

Yeah, that's definitely another annoyance along with the 5-day view.

Totally agree. Eye candy only.

Agreed with all the negative comments about Google Calendar. So many simple bits of functionality are gone - pinch to zoom, 7 day week view (in portrait), proper month view....
I now use aCalendar+ and I'm loving it even more than the old (good) Google Calendar app.

I totally agree. month view is just a bunch of coloured bubbles - no indication of what times are free. It's not possible to see a whole day anymore, at most just an 8 hour block, 5 days wide. In day view (1 or 5) the padding for the titles means that only four letters are shown across. Recurring events do not show unless they're in a sub calendar. In new agenda view, there are just a bunch of pictures of places that I see - every - day - of - my - life.
I wouldn't even call this a calendar. Disabled for now, will delete when rooted.

Alex, do us a favor and provide the up to date BBC iplayer APK. Now that would be a Merry Christmas to all. Posted via the Android Central App

I think Fleksy has an advantage here. Many people get put off by the weird guestures and all, but once you cross that bridge, I believe there's no going back. Moreover, with the introduction of the chameleon theme, which changes the color of the keyboard according to the app it is in, and the various extensions, Felksy, IMHO is the best keyboard there is.

Yeah, I've been a long time user of Swiftkey, then got hooked onto Fleksy for quite a while. They really have been doing an awesome job. Swiftkey, even a brand new phone, feels a little bloated to me. Fleksy does not feel that way at all, but I have gone back to Google Keyboard, FTW. It just feels... Right... Posted via the Android Central App

The only reason I haven't gone back to google keyboard is it's inability to properly place a period or a comma. It really irks the hell out of me

Odd... I haven't had that issue... Posted via the Android Central App

I love both Wear Mini Launcher and SwiftKey, too! So I should probably trust your taste and buy Monument Valley. But like many other posters, the Google Calendar updates are making things harder for me.

Google Calendar update is a complete disaster. It is completely unusable due to:
- no full week view (5 days is not a week)
- terrible waste of screen real estate, very little information displayed
- very inefficient data entry screen In all it makes me think that Google slowly becomes like Microsoft with Win8 and Tiles or their ribbons in MS Office. Pity. Posted via the Android Central App

I agree with this and others. It's not a Calendar, more an events list. Posted via the Android Central App

I had forgotten about the data entry for events. It takes like four taps to set an end time for a meeting.

Turn your phone sideways. When viewed in landscape mode, it shows 7 days.

On Google Calendar, how do you duplicate (copy/paste, whatever the method may be) an event? I was trying to do that and couldn't figure it out. It must be possible, but I sure can't find out how. And Swiftkey... if they would just add an option to disable the automatic addition of spaces, I'd switch back. They are super stubborn about that, though, so I don't hold out any hope for it ever happening.

I suck it up and use Swiftkey because everything else is so good, but the auto addition of spaces absolutely grinds my gears so much, glad to hear I'm not the only who is perpetually pissed off that Swiftkey does it. I don't understand what's so hard about adding an option to disable it, or making it work like literally EVERY OTHER keyboard that exists (adding a space only AFTER you have signaled an intent to continue typing, not assuming you will want to type more after every word).

Monument Valley was fun for the hour it took to play. The promise of new levels are what convinced me to buy the game 5$ game - no talk of a few bucks more for a couple more levels. @ustwo lost my respect.

Is there any competition to SwiftKey in the bilingual and trilingual market? Nothing, as far as I know. Excuse me, but switching languages in the middle of a sentence is not acceptable. SwiftKey is the only one that actively supports more than one language at the same time. No switching required. Even if predictions were not the best, and even if it didn't have flow entry, there is just no other option.

No BBC iPlayer for the Americans? Posted via the Android Central App

Before I read the comments I decided to go ahead and update google calendar. Wow, that's a bad calendar app. Glad I have the stock calendar app to use instead. Posted via the Android Central App

Tried this for a little bit, but it is not usable. For the reasons many mentioned above, design is great, but functionality seems poor. This is the one app where I think Samsung does a better job than Google. All is good, I am on Android because I like choice!

Speaking of the sucky Google Calendar, why don't Google Tasks show? After the recent disastrous update, I switched to SolCalendar and tasks are listed on the calendar.

Best month view is "Pure Grid Calendar Widget" https://www.androidcentral.com/e?link=https2F2F... Posted via the Android Central App

Two votes for pure grid calendar. The widget shows the whole month with events spelled out. You can see the whole month without clicking a day to see what's there. Great when you're trying to set an appointment and need to find open time.

I feel like a lot of people who tout Swiftkey have never used TouchPal. I don't think I'll ever use another keyboard. The main attribute of Swiftkey is its predictions, but TouchPal does it so much better, in my opinion, plus it gives you more than three words from which to choose. I still can't believe that particular limitation of Swiftkey. Posted via the Android Central App

Cool Posted via the Android Central App

Well, it still bums me out that I can't see a month with agenda split view on phone (which is a phablet) and I really do wish they would allow us to make the choice. Despite this, I do find Google Calendar is much, much better than the old version (with those useless minimal bars on the horrendous month view that borders on uselessness which many stock calendar apps followed), it looks much sleeker and offers much better aesthetic than Jorte, Samsung and LG stock (which provides a suitable month calendar with those stickers and event bars that makes it easy to know: I actually like the old Samsung's stickers -- it looks cute). Actually, if you press the month title, a month view of sorts would appear (with circles to denote there is an event that day) and you can still read a few agenda entries (though it is not really as useful as split view still) . This makes the calendar useable for me to easily see when I'm free and remember my appointments. For month and agenda split views though, I would suggest Digical (if you prefer Holo/want something more dull/mature and don't mind forking money for calendar apps), Jorte (the UI looks too dated imo), Today Calendar (I liked the Material look: this one is fast and looks clean: too bad the widget don't offer split like Digical), Wave calendar (never really tried this: but it offers material design and split view for app and widgets)
However, my favorite would be the Gmail app revamp! I totally ditched stock email clients for this! Being able to manage my non-Gmail accounts is such nice feature!(My previous fav was stock samsung for that easy batch delete/read etc and grouping of mails) Inbox is also a fun and useful app: I really hope Gmail would adopt the pinning and one-click read for those auto-groupings (It really makes my mails so organised! ) I really loved Swifkey even more this year: Chinese open beta is finally out!
Android Central Newsletter
Get the best of Android Central in in your inbox, every day!
Thank you for signing up to Android Central. You will receive a verification email shortly.
There was a problem. Please refresh the page and try again.