How to capture amazing video on your Galaxy phone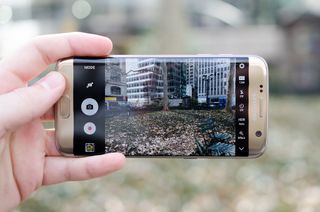 (Image credit: Andrew Martonik / Android Central)
Almost anyone, regardless of age or skill level, can play around with experimenting and shooting video on their Galaxy device.
With the help from some tools, a couple of simple tips, and some editing apps, you can turn your phone videos into some beautiful, memorable visual masterpieces. Plus, shooting video with your Galaxy is a blast because of its wide selection of toys and gear, room for creativity, and overall ease.
Shooting professional-looking video with your Galaxy phone is better than you think, so here's what you need to get started on your next mobile Hollywood blockbuster!
Gear
Just like someone who shoots professionally, you need some decent gear to capture the best quality video. However, because we aren't shooting anything too terribly intense, there's no need to break the bank or purchase crazy expensive equipment (unless you really really want to).
There are many inexpensive options available out there to bump up your overall Galaxy video quality, and the best part is you can choose to use one piece of gear, or all of them at once!
These are a few pieces of video equipment to consider using while shooting with your Galaxy phone.
External Lenses
Similar to a DSLR camera, switching up your lenses can change what your videos look like, how they feel, and the overall quality of your clips.
With the help of an external lens, it's easy to get creative and shoot your subject at different angles. You'll be more likely to do something unique with a fisheye, wide-angle, macro, or any other external piece rather than just your standard Galaxy camera. All you have to do is attach the lens, aim, and start recording.
Depending on the type of lens you're looking at shooting with, the prices can vary. Some can cost as little as a couple of dollars online (with decidedly low quality), while others can go up to $500+ for more serious phone videographers.
At the end of the day, the way you shoot will also influence the type lenses you buy. If you're looking to shoot more still, calmer videos, then magnetized or clamp-based lenses may be a great idea; if you're looking to shoot video that's a bit more fast-paced and intense, then you'll have to spring for a set of lenses that attach with a case (or even maybe find one that's waterproof).
Check out the XENVO Premium Lens Kit as a high-quality, reliable first lens option that won't leave you bankrupt.
Tripod
If you're looking to keep your shots steady and even, then using a tripod with your Galaxy is a must.
It doesn't matter if you're trying to capture a time lapse video, or attempting to get the perfect angle for your Instagram post, a tripod keeps your footage looking crisp and clean, taking your video from "Obviously shot on a Smartphone" to "Woah!"
Tripod types vary depending on the size of camera it's meant to mount, so it's unnecessary to spend a ton of money on something that specifically holds a larger DSLR or a video camera.
Smaller, less rigid tripods that move, twist, and bend in all directions work extremely well in tight spaces and weird positions, making them the best for shooting with your Galaxy phone as you can get the most creative results. You can pick up something like the JOBY GripTight GorillaPod to get the intended result.
As a bonus, smaller tripods that bend are also easier for storage, so it's great for shooting video on the go.
External light source
Whether you're taking video of a friend's party, shooting action-packed skateboarding stunts, getting a timelapse at the lake, or anything in between, there's probably going to be room for an external light source to amp up your video quality.
Even though your Galaxy phone's flash produces quite a bit of light, it may not work while recording video. And although you can use the recording option in tandem with some flashlight apps, this can unfortunately oversaturate the image and wash-out the video if you don't have control over how much light is let in.
An external light is a great piece of equipment for recording video because there are plenty of options to pick from depending on the type of video you want to shoot. For example, the Universal Dimmable cell phone light is a great option if you're looking to brighten up your photos without jumping through any hoops.
There are more durable ones for action-packed videos, or simple LED lights for interviews, and with lights like these you can typically adjust and control the flood of light that you let into frame so nothing looks too washed-out.
Microphone
If you're just looking to film fun little montages or music videos, a microphone isn't a necessary piece of gear to have — your phone's mic will do just fine. But if you're looking to talk to people on camera and have every syllable picked up on audio, or record crystal-clear ambient sound, then looking into a portable microphone for your Galaxy phone might be a great option to consider.
Microphones can give some incredible sound quality to videos, even if the footage isn't 100% top-of-the-line: people watching videos can't stand barely-intelligible audio. Even though most modern Android phones have numerous microphones, having something like a case attached, or even the way you hold the phone, can cover the holes, severely distort the sound quality.
While microphones for video and DSLR cameras can be a few hundred dollars, you can find some compatible microphones for your Galaxy online that won't be too terribly expensive. The Rode Videomicro Compact microphone is under a hundred dollars and makes sound clear as crystal!
Keep in mind that while you're shooting video, the microphone will add some weight to your phone, so shooting with a tripod or a stabilizer might be a great option to keep your footage steady and pro-looking.
Gear bag
Keeping your items stored can make sure that none of your gear gets damaged as you're moving around and shooting. Whether you're spending a lot or a little on video equipment, you want it to be working properly when you find the perfect shot.
You can either opt for a large, bulkier gear bag, or something a bit smaller depending on what you use to shoot.
If you're just shooting with external lenses, then a smaller roll-like bag, like the Photojojo Photographer's Pouch, could be good at keeping everything separated and neat, but if you're shooting with various tripods and lights, you might want something a bit bigger.
There are tons of options to pick from, but the key is to find something compartmentalized. Keep in mind that all this gear isn't as gigantic as DSLR gear, so even using DSLR bags designed for lenses that have multiple sections may be a good idea for hauling you Galaxy video equipment.
Shooting Tips
The ability to capture decent video is something most smartphones are capable of nowadays.
The difference between a cool video and an amazing video usually has way more to do with the person holding the camera, and the cool thing about people is they don't require a software update.
With that in mind, here's a couple of quick tips for shooting video on Android.
Vertical Videos
There's no nice way to say this, so I'll just come out and say it: if you're holding your phone vertically while recording video, you're doing it wrong.
The video you capture in portrait looks terrible to anyone watching the video, because the video doesn't fill the screen and makes enjoying the video you captured much more difficult. Any chance you have to turn your phone landscape to record video, you should absolutely do so. The resulting video will look much better, especially if you upload to services like YouTube for the world to see.
It's also worth pointing out that if you start recording a video vertically and rotate your phone to horizontal in the middle of recording, the video will not rotate with you. Instead you'll get something that is entirely unwatchable, because not only will the video be vertical but it will also be sideways.
Know when to use 4K
Lots of modern Android smartphones let you crank up the video resolution to 4K, and while this is an incredibly cool way to future-proof your videos by making sure the quality stands up to the test of time there's a few things about 4K that can cause problems for you.
Not only is recording 4K video incredibly expensive as far as processing power and local storage goes, but most of the first and second generation 4K-capable Android phones sacrifice things like video smoothing and stability for that higher resolution. This means 4K recording by someone with shaky hands or an attempt to capture something moving especially fast can actually wind up looking worse when recording in this higher resolution mode.
The best way to be sure your videos are going to be the best is to test out things like 4K before you go to capture something important, and be aware of the limitations found in whatever device you are recording with.
Be quiet
Whether you're running after something to catch a video of it, or you're just a loud breather all the time, it's important to be aware of how the sounds you make affect the video you are recording.
Shouting at someone on the other side of a Baseball field while holding a camera three feet from your face, for example, is a sure-fire way to cause everyone watching your video to cringe. It's not just shouting, in fact when you record something in a quiet place your Android camera could easily pick up on the sound of you breathing and focus on that instead of whatever you are recording.
It's not an easy problem to solve unless you are aware it is happening, and the easiest way to do that is to just pay attention to the sounds you are making and your proximity to the camera.
Settings
Every Android manufacturer does things just a little differently, and on top of that there are plenty of apps out there to take things even further with photos and videos. Being aware of what your app is capable of sets you up to record even better videos, as well as new kinds of videos that you never thought would be fun to capture.
The video settings menu for your camera app is your friend, and through it you could find yourself capturing 4K videos with laser focus, slow motion videos of your friend getting thrown in the pool, or even HRD video when you're in a place with questionable lighting.
The end result is better videos for every occasion, which isn't a big deal until you pull your phone out to capture that perfect moment. Use your settings, and have fun with your video!
Editing Apps
After shooting video on your phone, you'll want to be able to edit together your footage without exporting it to a computer.
Some editing programs are quite expensive, but you can edit creatively straight from your Galaxy phone screen without much hassle as long as you have the right apps to work with.
Here are a couple of editing apps that go hand-in-hand with shooting video on your Galaxy!
FilmoraGo
FilmoraGo is one the best option you have for smoothly editing through the footage you've captured with your Galaxy. One, because it's easy to follow along and understand the app's instructions, two, because the app has an incredible amount of creative options, and three, because it's just a great, overall video-editing tool!
After selecting the video clips you would like to string together, Filmora will give you little tips as your go throughout your editing process. If you think this is annoying, you can turn the option off when you first start compiling your video.
The variety of themes within the app give the user a ton of fun creative control, and if you didn't want to waste your time doing step-by-step editing, popping on a theme is a great alternative. You can pick from themes like fashion, 80's, winter, Chaplain, and much more.
With FilmoraGo, you can also get a bit more detailed with your video editing, adding in colored filters, titles, overlays, and more, all while editing the speed, the volume, and the length of specific clips.
Overall, FilmoraGo is a really fantastic, easy to use app that makes editing from your phone not only simple and headache-free, but also super fun! You'll soon be playing around with your settings, finding weird ways to splice clips together, and figuring out all the ways to turn your Galaxy videos into true Hollywood blockbusters.
VivaVideo
Slap a filter on it, add some music, and edit to your hearts content with VivaVideo, an unique Instagram-like video editor for your Galaxy phone!
The theme option is particularly great if you want some flashing editing and transition effects along with a couple of colored filters and some funky music. The great thing about VivaVideo is the wide variety of options that come along with the app, including themes that cater to country life, romance, pop art, retro, and more.
You can also add music to your Galaxy videos, or choose to keep the music going underneath your video from the theme you pick. With VivaVideo, you can even add special effects to your video, along with transitions, text, filters, and stickers to make your final product truly unique.
The worst part about VivaVideo? The watermark in the lower right corner. While the app is free to download, it costs $2.99 to be able to export your video without a watermark, and $3.99 to remove the watermark, remove the video duration limit, and get rid of all those pestering ads on the app.
Triller
Sometimes you want to shoot great interviews or more serious moments with your Galaxy device, but other times you want to have a little fun and make montages and music videos.
Triller is a really nifty video editing app worth checking out that combines social media with video-making creativity!
After picking out a song from your library or the recommended music from Triller, you get to throw a filter on your video and customize the look of your clip. Then just angle and begin shooting to record your mini music video. The music will begin playing out loud so you know exactly what lyrics and music to follow along to.
While Triller seems a bit barren compared to other video editing apps for your Galaxy device, the thing that makes it truly unique is the social media and sharing aspect. Like apps like Vine and Instagram, you can post your video straight to your feed to have it seen by others around the world. You can also view other people's videos and get inspiration for creative storytelling ideas from them.
What do you recommend?
Is there a tool, tip, or app that we missed that can make shooting pro video with your Galaxy phone easier? Let us know what you use to shoot in the comments below.
Sign up for Black Friday email alerts!
Get the hottest deals available in your inbox plus news, reviews, opinion, analysis and more from the Android Central team.