Vizio's new P-Series TVs pack Google Cast to stream all your favorite shows and movies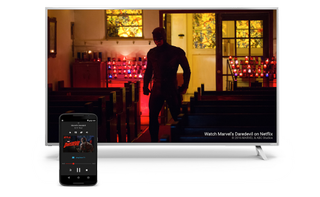 Google has partnered up with Vizio to load Google Cast on the manufacturer's P-Series displays, as well as Vizio soundbars and speakers. The new screens come with SmartCast, powered by Google Cast – the technology behind Chromecast. This allows owners of included TV sets to use their smartphone or tablet as a remote control to cast their favorite entertainment straight to the big screen.
Chrome laptops are also supported, making it possible to mirror websites and more from the Chrome web browser to the TV. This functionality makes it easier for families and friends to share and enjoy content on a single large screen, as opposed to crowding around a tablet or laptop. The P-Series also comes with 4K support and can display Dolby Vision High Dynamic Range content.
The new displays start at $999.99 for the 50-inch variant. Interestingly, each P-Series TV will also feature a 6-inch Vizio Android-powered tablet to act as the living room remote. Unfortunately, for the connected soundbars and speakers, Vizio hasn't released any details on these upcoming products as-of-yet, but we do know there will be a soundbar, 360 wireless (and portable) speaker, as well as a satellite setup for the full immersive setup.
Press Release
Irvine, CA — March 22, 2016 — VIZIO, Inc. announced today the launch of VIZIO SmartCast, its next generation smart entertainment ecosystem which will span displays, sound bars and standalone speakers. VIZIO SmartCast debuts on the all-new P-Series Ultra HD HDR Home Theater Display collection, the first Ultra HD and High Dynamic Range offerings to fully integrate Google Cast technology. The displays are controlled by the VIZIO SmartCast app that comes preinstalled on the included 6" 1080p Android™ Tablet Remote. P-Series marries its intuitive smart features with unmatched picture quality technologies that were first brought to market on the VIZIO Reference Series. Available now, the collection starts at an MSRP of $999.99 for the 50" class size.
The VIZIO SmartCast app turns every mobile device screen into a remote control and represents a paradigm shift in content discovery. Instead of jumping between apps, VIZIO SmartCast allows users to search and browse content first by genre across multiple apps at once, then select the app or source to play the content. The app also simplifies on-screen navigation. Rather than struggling to see and adjust settings or navigate apps from across the room, VIZIO SmartCast users gain access to all menus and playback controls through the app. With the VIZIO SmartCast app available for download on iOS and Android devices, consumers will never have to deal with a lost remote again.
"The VIZIO SmartCast app, pre-installed on the P-Series Tablet Remote, finally brings home entertainment into the mobile era with advanced navigation, search and control of content sources," said Matt McRae, Chief Technology Officer, VIZIO. "We're excited to debut the
P-Series collection, which not only sets a new benchmark with picture quality technologies like High Dynamic Range and Ultra Color Spectrum™, but is also the world's first display to fully integrate the Google Cast protocol."
The VIZIO SmartCast P-Series Ultra HD HDR Home Theater Display boasts the same advanced picture quality technologies first released on the 2015 VIZIO 120" and 65" Reference Series. Ultra HD featuring High Dynamic Range with Dolby Vision content support transforms the entertainment experience with dramatic imaging, incredible brightness, contrast and color that brings content to life. New release titles such as In the Heart of the Sea and Point Break continue to roll out through video-on-demand services like VUDU, which currently has more than 30 Warner Bros. titles available in the Dolby Vision format.
"We're excited to see VIZIO cascade Dolby Vision into their P-Series collection, delivering a premium imaging experience to a broader range of consumers," said Giles Baker, SVP, Broadcast Business Group, Dolby Laboratories. "Viewers are now just a few taps away from the vibrant color and stunning contrast that Dolby Vision brings to Hollywood content."
In addition to High Dynamic Range, Ultra Color Spectrum provides a wider color gamut enabling impeccable accuracy in every hue and tone, allowing more realistic colors than ever before. The P-Series also features powerful Full-Array LED backlighting with up to 128 Active LED Zones which dynamically adjust to on-screen content for deeper, richer black levels and more accurate contrast.
Each VIZIO SmartCast P-Series Ultra HD HDR Home Theater Display includes a 6" Android Tablet Remote with a convenient wireless charging dock, putting consumers in control of their entertainment. The tablet remote comes pre-installed with the VIZIO SmartCast app and features Full HD 1080p resolution, Android Lollipop OS, a powerful V8 octa-core processor, integrated stereo speakers and 16GB of storage, making it a great standalone tablet as well. Consumers can enjoy games and other apps, available for download from the Google Play store, on the device.
With Google Cast built in to every VIZIO SmartCast device, consumers can access thousands of mobile apps they already know and love. By simply tapping the Cast button, consumers can easily watch content go from their mobile screen to any VIZIO SmartCast or Cast-enabled device on their home WiFi network. And with casting over WiFi, users can still multi-task on the P-Series included tablet remote or their own mobile device without interrupting what is casting on the display.
VIZIO SmartCast makes its debut on the P-Series Ultra HD HDR Home Theater Display with additional collections and products to follow. P-Series is available now with more information and retailers available at VIZIO.com.
VIZIO SmartCast 50" P-Series Ultra HD HDR Home Theater Display (P50-C1) MSRP $999.99
VIZIO SmartCast 55" P-Series Ultra HD HDR Home Theater Display (P55-C1) MSRP $1,299.99
VIZIO SmartCast 65" P-Series Ultra HD HDR Home Theater Display (P65-C1) MSRP $1,999.99
VIZIO SmartCast 75" P-Series Ultra HD HDR Home Theater Display (P75-C1) MSRP $3,799.99
I forgot Vizio even existing Posted via the Android Central App

Really? They're actually one of, if not THE, top TV sold in America now.

Maybe they are not in America.

OK, dude. They are making some of the best affordable TV's on the market. The 65" M series on my wall got rave reviews, even over comparable TVs costing hundreds more. This is some pretty awesome tech, I'm almost surprised Google basically baked a chromecast into the TV.

you must be living under a cave

I like watching my Vizio in a mancave Nexus 6P

U must not get out much.. Or ever. Posted via the Android Central App

I bought my E series 55" smart TV a while back and think it's great. It didn't cost a thousand bucks, does everything I ever hoped for, and supports my original model Chromecast just fine. I also have a smaller Vizio that serves well as a bedroom set, so yeah, still there.

240Hz IPS display as well, I was looking at the sony google cast tv, but this one looks like it might be the one to get

Really nice and useful addition to a TV. At last, something useful! I mean, I have apps in my panasonic TV like youtube and netflix but they're so archaïc it's frustrating to use and I ended up buying a chromecast altogether. Now they just need to incorporate it into A/V receivers as well.

Honestly, I'd prefer to just keep all native connectivity out of TVs, since no TV manufacturer is going to commit to keeping their software updated for anywhere near the amount of time that I keep TVs around. I've had my Vizio TV for about five years now, and the software on it is functionally useless and comically outdated-looking now. I'd much rather have an entirely dumb TV that I can just plug a Chromecast/Roku/Apple TV into as the tech improves.

If you read the in-depth article on the Verge about this, that's basically what Vizio is doing here. The Google Cast software that is baked into this TV is separated from the actual rest of the software that runs the TV, so that it can be updated independently at any time when updates to Google Cast come out.

I think that it's pretty cool that the remote is a small tablet. Since there aren't any apps on the tv and only Chromecase, it probably means no Amazon Prime streaming. Also, does anyone know if Chromecast supports 4k streaming from Netflix? I read the press release and I can't find a yes or a no on 4k

I got the 50" 4k M-series for sale at my local Walmart for $598 and I love it. The only thing I hate is the remote. There's no visible IR sensor so it's very unresponsive. U basically have to aim it DIRECTLY at the corner of the TV and hope that it registers the first time. Other than that the quality is great.
As far as this it sounds like it'll be super dope. I'm kinda jealous about the small tablet/remote. I want one. Lol Posted via the Android Central App
Android Central Newsletter
Get the best of Android Central in in your inbox, every day!
Thank you for signing up to Android Central. You will receive a verification email shortly.
There was a problem. Please refresh the page and try again.