Ubisoft's Driver Speedboat Paradise will splash onto Android this April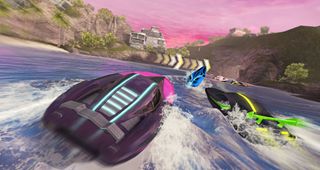 Titled "Driver Speedboat Paradise," the game puts players in the shoes of a young speedboat racer as he is enlisted to combat the mafia... by racing speedboats.
Ubisoft says that the game will feature realistic visuals and challenging courses as waves shift and change in real-time. Players will have to master the art of riding and dodging waves, water drifting, and performing crazy stunts with ramps planted throughout the game's courses. Along the way, players will collect upgrades for their boats including ship parts, new boats, and decals that will let them pimp their ride.
Overall, the plot of Driver Speedboat Paradise is either the most ridiculous or most amazing thing we've heard in a while. Either way, you'll be able to check it out when it lands on Android in April. In the meantime, you can check out the game's trailer above.
Press Release:
DRIVER® SPEEDBOAT PARADISE RACING TO iOS AND ANDROID PLATFORMS THIS APRIL
Today, Ubisoft announced that Driver Speedboat Paradise, a free-to-play speedboat arcade-racer, will be available worldwide on iOS and Android platforms in April 2015. Driver Speedboat Paradise ups the ante on the mobile arcade racing experience with a true-to-life water and dynamic wave system.
In the game players embody a young and reckless powerboat driver in a quest for fame and fortune who is persuaded by iconic Driver character John Tanner into a mission to bring down the mafia. As racers rub elbows with criminals and kingpins, they will learn to accelerate, steer and drift on realistic waves that change in height, power and frequency in real-time. While taking control of the most powerful speedboats, players will surf down, jump on and dodge waves to perform impressive stunts on ramps, improve steering skills to perform the art of water drifting, and collect nitro to give their boats an extra boost for the ultimate splash.
As players progress through the game, they will compete to earn new upgrades, collect ship parts to enhance their favorite speedboats, unlock extraordinary powerboats, and give personality to their rides with bold paint colors and striking decals.
For more information, please visit https://www.ubisoft.com/en-US/
About Ubisoft
Ubisoft is a leading creator, publisher and distributor of interactive entertainment and services, with a rich portfolio of world-renowned brands, including Assassin's Creed, Just Dance, Tom Clancy's video game series, Rayman, Far Cry and Watch Dogs. The teams throughout Ubisoft's worldwide network of studios and business offices are committed to delivering original and memorable gaming experiences across all popular platforms, including consoles, mobile phones, tablets and PCs. For the 2012-13 fiscal year Ubisoft generated sales of €1,256 million. To learn more, please visit www.ubisoftgroup.com.
Get the Android Central Newsletter
Instant access to breaking news, the hottest reviews, great deals and helpful tips.