Toshiba unveils 7.7-, 10.1- and 13.3-inch Excite tablets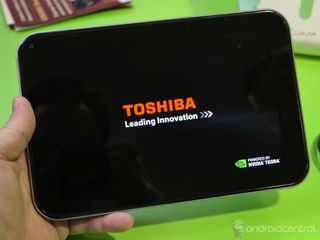 Toshiba this morning announced a trio of new tablets, ranging from 7.7 inches to 10.1 inches to a whopping 13.3 inches, all bearing the "Excite" name. (What you see in the picture above is the Excite 7.7, which we took for a beta test drive at Mobile World Congress back in February.) The three tablets have a lot in common, most notably that they're powered by NVIDIA's Tegra 3 processor. Each has a 5-megapixel rear camera and 2-megapixel front-facing camera, runs Android 4.0 Ice Cream Sandwich and is covered in Gorilla Glass.
So it's the physical attributes (and pricing) that really differentiates them. Here's the breakdown:
Excite 7.7: Has a 7.7-inch AMOLED display at 1280x800 resolution (196 ppi). Is 0.3 inches thick and weighs 13.4 ounces. Available in June for $499.99 for 16GB, $579 for 32GB.
Excite 10: Has a 10.1-inch LED display at 1280x800 resolution (149 ppi). Is 0.35 inches thick and weighs 1.32 pounds. Available in May for $449 for 16GB, $529 for 32GB.
Excite 13: Has a 13.3-inch AutoBrite LED display at 1600x900 resolution (138 ppi). Is 0.4 inches thick and weighs 2.2 pounds. Available in June for $649 for 32GB, $749 for 64GB.
One noticeable (but not really surprising) trend is that pixel density goes down as screen size goes up. That's prone to happen, and we shutter to think where the Excite 13 pricing might have ended up if it tried to compete with the iPad's 264 pixels per inch. Regardless, Toshiba's been putting out some some sleek hardware after the relatively uninspiring Thrive line. Will the new Excites compete on any sort of scale? We'll see. But they've at least got a chance. We've got the full presser and pics after the break.
Toshiba Excite 7.7
Toshiba Excite 10.1
Toshiba Excite 13.3
TOSHIBA SET TO EXCITE THE TABLET MARKET WITH NEW 10-, 13- AND 7.7-INCH TABLETS
Toshiba Introduces Three New Android-powered Tablets, Giving Consumers More Choice
IRVINE, Calif. – Apr. 10, 2012 – Toshiba's Digital Products Division (DPD), a division of Toshiba America Information Systems, Inc., today announced the expansion of its Excite™ family of Android™-powered tablets with three new display sizes - 13.3-inch, 10.1-inch and 7.7-inch. The new Excite tablets boast thin-and-light designs, brilliant displays, quad-core performance as well as a full range of essential ports and smart features.
"One size does not fit all, so we are carefully considering how and where people are using tablets and designing form factors to best suit various needs," said Carl Pinto, vice president of product development, Toshiba America Information Systems, Inc., Digital Products Division. "With amazingly thin and light designs, our new Excite family of tablets continues to incorporate what consumers have come to love about Toshiba tablets: essential ports for a more complete tablet computing experience plus durability that ensures they can go the distance."
Powered to Perform, Built to Last and Designed to Excite
The three new tablets - Excite 10, Excite 13 and Excite 7.7 - feature elegant and sturdy aluminum shells and scratch-resistant Corning® Gorilla® Glass displays, making them not only stylish, but also durable. Powered by Android 4.0, Ice Cream Sandwich, which builds on the things people love most about Android - the tablets offer a simplified UI, easy multitasking, customizable home screens, resizable widgets and a full suite of familiar Google™ mobile services applications - as well as powerful new ways of communicating and sharing.
From scrolling and swiping the web, to the fast action of the latest games, the Excite tablets' all-new NVIDIA® Tegra™ 3 processorsi deliver amazing multitasking, web, gaming and video. This innovative mobile processor features the world's only 4-PLUS-1™ mobile quad-core CPU, providing users outstanding performance for even the most demanding applications. Apps run faster, games are played at console-quality, HD video is smoother, plus it features a unique 5th battery-saver core to handle everyday apps - extending battery lifeii.
Each tablet is equipped with a 5-megapixel camera on the back, along with a 2-megapixel front-facing shooter for convenient photography, video capture and chat. The tablets also include stereo speakers with exclusive sound enhancements by Toshiba and SRS® Labs, as well as Wi-Fi® and Bluetooth® connectivity.
Excite 10: Smart, Speedy, Durable
An all-around tablet designed for home and away, the Excite 10 tablet delivers an exceptional visual experience, featuring a bright, high definition 10.1-inch diagonal AutoBrite™ LED Backlit display with 1280×800 resolution and 10-finger multi-touch support, making it an ideal choice for web browsing, reading, games and apps. Measuring just 0.35 inches thin and weighing just 1.32 poundsiii, the Excite 10 tablet is extremely portable and delivers up to 10 hours of battery lifeiv and seven days of stand-by.
Delivering more performance than previous generation tablets, the Excite 10 tablet is powered by a quad-core NVIDIA® Tegra™ 3 processorv with GeForce graphicsvi and 1GB of RAMvii, opening up new possibilities for everyday multi-purpose use and next generation mobile games. Built to do more than the average tablet, users can enjoy easy syncing and sharing between all of their favorite devices, with a selection of built-in ports, including Micro USB, Micro HDMI® and a full-size SD card slot.
Excite 13: More Screen for More of Everything
Delivering more screen real estate than any other tablet on the market, the Excite 13 tablet offers a big, bright, higher resolution display, while delivering more room for everything else - from sharing photos and web browsing to playing games and watching movies with a group. Ideally suited for the home, from growing families to empty nesters, the Excite 13 tablet is only 0.4 inches thin and weighs 2.2 poundsviii, so it is still easy to carry.
With a 13.3-inch diagonal AutoBrite™ LED Backlit display with 10-finger touch support, the tablet boasts a cinematic 16:9 aspect ratio and 1600×900 native resolution, perfect for watching HD movies and videos. A four-speaker sound system with exclusive sound enhancements by Toshiba and SRS Labs delivers amazing audio and an included tablet stand makes it easy to prop up on a table, kitchen countertop or coffee table to share videos with friends and family.
Not only great for movies, the Excite 13 tablet can power through the latest games and multitask with ease. Powered by the quad-core NVIDIA Tegra™ 3 mobile processorix with GeForce graphicsx and 1GB of memoryxi, the large display tablet offers smooth, console-quality gaming plus the performance for high definition entertainment. Extremely power efficient, the Excite 13 tablet is targeted to deliver up to 13 hours of battery lifexii and seven days of stand-by. The Excite 13 tablet includes Micro USB, Micro HDMI® ports and a full-size SD card slot for syncing and sharing content.
Excite 7.7: A Brilliant AMOLED Display
Toshiba's first tablet to feature an AMOLED display, the Excite 7.7 tablet is ideal for consumers on the go and is perfect for the mobile gamer and movie lover alike. The tablet's brilliant 7.7-inch diagonal display brings games, movies, books and photos to life like never before with rich colors, deep contrast and amazing sharpness. Extremely thin at just 0.3 inches and light at only 13.4 ounces, Excite 7.7 fits easily into a bag or jacket.
Exceptionally powerful and able to tackle the latest games and HD content, the Excite 7.7 tablet is powered by a quad-core NVIDIA® Tegra™ 3 processor with GeForce graphicsxiii and 1GB of memoryxiv. The tablet includes a Micro USB port and a Micro SD card slot for syncing and sharing content.
The Convenience of Android and Exclusive Toshiba Apps
The new Excite tablets include a full suite of familiar Google™ Mobile Service applications, including Google Play™, YouTube™, Gmail™ and Google Maps™. Additionally, the tablets come pre-loaded with a useful mix of Toshiba software and third-party applications, including TOSHIBA Book Place, which offers more than 3 million e-books, the TOSHIBA Media Player that supports content sharing, TOSHIBA File Manager, as well as Netflix™ and Zinio™, the ultimate app for magazine lovers and more.
Pricing and Availability
The Excite 10 tablet will be available for purchase on May 6, 2012 for $449.99 MSRPxv for the 16GB model, $529.99 MSRPxvi for the 32GB model and $649.99 MSRPxvii for the 64GB model.
The Excite 7.7 tablet will be available for purchase on June 10, 2012 for $499.99 MSRPxviii for the 16GB model and $579.99 MSRPxix for the 32GB model.
The Excite 13 tablet will be available for purchase on June 10, 2012 for $649.99 MSRPxx for the 32GB model and $749.99 MSRPxxi for the 64GB model.
These tablets will be available at major retailers, e-tailers and direct from Toshiba at ToshibaDirect.com.
Seriously, with the prospect of $200-250 7" tablets on the horizon, why is anyone still charging $500? Also, it blows my mind that the 7" is more expensive than the 10".

Yeah, that HAS to be a typo. $500 for a 7" and $450 for a 10"???

The price of the Excite 7.7 is extremely silly. Toshiba should prepare the write off for unsold inventory now and not waste time.

With the frequency of thrives being sold on deal sites like Woot!, I look foward to buying an Excite 7.7 for $300. I really want a ~7" AMOLED display.

Full HD should have been included on the 13 incher.

Lol BUDDY I'ts a 1600x900

Missed it by that much! Full HD is 1920x1080.

Im saying what more could you possibly want? LOL... Folks are just spec ridiculous...

Yea, and full hd is 1920 x1080... If the next Asus tablet is fitting it into a 10" tablet, there is no reason they couldn't do it on a 13".

Dear Toshiba, nobody is going to spend 500 bucks on one of your low res lousy tablets. Are you serious?? $500??? Out of your friggin mind.

Nice, but at what point when the manufacturers realize that their prices are too high? I can't see myself paying $500 for a 7.7 inch tablet let alone $650 for a 13 inch. ASUS has shown (and proven quite well) that $399 for a 10 inch tablet is an excellent price and it seems that other manufacturers are trying to drive that price down. Android tablets won't be a force to be reckoned with until the price goes down.

Man, I was really interested in hearing about that 7.7" tablet when I saw videos of it from MWC. But I was afraid it would come in at a price that was absurdly high... and it seems my fears came true. -Suntan

Let this be a lesson for the people who assume Apple always charges more for the same features... yes, a 32GB iPad costs $599 and not $529, but it also has a huge resolution boost over not just the Excite 10, but the Excite 13, too. The Excite 7.7 I've held in my hand felt nice to use, but at $500? Not unless I was one of those obstinate "I will buy no 10-inch tablet" types who wanted the best screen possible. This is why AMOLED isn't widespread yet.

I imported the Samsung 7.7 Tab to replace the original Tab 7. The AMOLED screen is fantastic as I suspect it will be on the Excite as well. The 7.7 size is ideal for carrying around all day, and fits in the winter jacket pocket. I found the 10" tablets to be a bit too bulky carrying around all day on public transit. We have always paid a premium for miniaturized devices, so a top quality, highly spec'd 7' form factor could cost the same or more than a 10. I have the existing 7 inch tablets, and although they are fine for the $, they don't compare to the Samsung 7.7 from style, weight, performance, bulk, and screen quality perspectives. I respect other opinions, but I have no problem paying top $ for a top quality 7.7 tablet that I will take out with me every day while the 10 inch tablets stay at home.

I don't care what anyone says, I still think the original Toshiba Thrive beats out a lot of tablets on the market. I get that people want the thinnest and lightest tablet, but comparing 0.62" to 0.3" is something that doesn't bother me in the slightest. The original thrive was also aggressively priced when it came out, it has full size ports including full sized sd card and hdmi. Was the thrive really that ugly of a device?

Yes... it was and still is damn ugly. And thick and heavy... and will no long er sold soon enough. THank Goodness.

Agreed I like Toshiba's Thrive line better than the Excite. If the Thrive gets a quad core processor with the original design, that is the next tablet I buy. The Excite is their thin tablets designed to compete with every other thin tablet out there.

My wife has the Thrive and loves it. She tested almost every tablet at the store and chose the Thrive. For what would appear to be a very bulky tablet, it is easy to hold due to the molded back. The fact that it reasonably priced and came with full sized ports made it a great tablet in my book.

The original Thrive is a true work tablet, not a cute toy. I still use it and I'm not in a hurry to get another tablet but when I do get a new tablet, it probably won't be another Toshiba tablet because of two reasons: 1. Toshiba takes too long for OS updates. Yes, they have pushed many updates with bug fixes and Google app updates but it took them a long time to actually push Honeycomb 3.2 and they are taking forever to update us to Ice Cream Sandwich while Asus, Acer, Archos, Samsung and Motorola have already updated their tablets to ICS. Seriously Toshiba, what's taking so fricking long to update the Thrive to ICS? You don't even have a crappy Sense/Blur/Touchwiz/other UI to adapt to the new OS! 2. The storage fiasco. Toshiba blames Google for this but whoever had the idea of locking the external drives (including the actual SD card) from being writeable is a huge idiot and truly ruined the Thrive user experience. When I bought the Thrive I thought to myself "awesome, I'll use the 16 GB built-in storage for apps and use a 32 GB SD card for my files". Except that since the Honeycomb 3.2 upgrade you can't write to the true SD card or to USB sticks from any application other than Toshiba File Manager. QuickOffice HD can't save documents to the SD card... not even Astro File Manager (which still has a better tablet-UI than Toshiba's file manager), can write files to anything other than the built-in storage! If they don't fix this in Ice Cream Sandwich, my next tablet is going to be an iPad. I'd rather have a device with missing features than one where you are given features just to have them taken away from you later.

i wont make any size comments cuz i know someone will say "thats what she said" comment. ill just say give me the last one

I don't get it. Not a terrible tab, but the screen is already behind the curve and it hasn't even launched...plus it's too expensive. SMH.

This is annoying. Dear manufacturers of Android Tablets outside of the iPad the only tablets that have sold moderately well were the HP Touchpad, The Amazon Kindle Fire and the BN Nook Tablet... Reason:Price. It is that simple. The mass majority of people willing to pay $500 for a tablet have already. The iPad. If the Android OS is going to ever take off in the tablet world someone is going to have to bite the bullet. Someone is going to have to release a Grade A tablet with all the bells and whistles at a much lower price. And by grade A I do not mean Kindle Fire clone but a full blown tablet at a $250-$300 price point. Yes they are going to lose on the front end but maybe if enough people purchase said tablet more developers will come along and create some wonderful apps for Android tablets and who knows what they may lead to...

What does AutoBrite LED look like?

Nothing here to cause me to consider selling the new iPad. Would love an Android tablet that doesn't suck.

Are these dual core or Quad Core? Not sure what Tegra 3 is?

Tegra 3's are 5 Core.
Which is a QuadCore, plus a single core to handle light duty and save on battery life.

Not to pile on, but that 7.7 price is outlandish. Do they have any idea what the tablet market looks like? What makes them think they can get away with that price structure? I'm not just asking rhetorically, I'm really curious.

Why is the 13.3" tablet also the thickest? Wouldn't there be more room to spread things out and make it thinner? Or at least be the same? I'm sure an electrical engineer can explain it to me, but I don't get it. Also, yes, the prices are ridic. /Kevin
Android Central Newsletter
Get the best of Android Central in in your inbox, every day!
Thank you for signing up to Android Central. You will receive a verification email shortly.
There was a problem. Please refresh the page and try again.