Sygic navigation updated with parking information from Parkopedia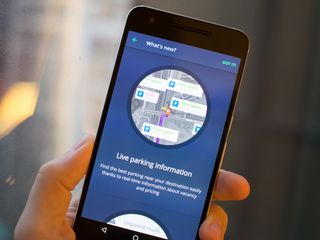 Sygic navigation, one of the popular offline mapping apps on Android, is adding a wealth of parking information from parking aggregator Parkopedia. Now if you choose to use Sygic for your mapping and navigation, you won't have to open up a separate app to get information on where to park when driving into a city. Parkopedia not only shows you parking locations, but can also give detailed information and let you even pay for parking.
The new Parkopedia integration joins several other apps that are baked right into Sygic, including Yelp and TripAdvisor, so you won't have to leave the app to get everything done when you arrive. Sygic is free to download from Google Play, and has in-app purchases for premium features if it turns out to be the right navigation app for you.
Press release:
Sygic Launches the Most Advanced Real-time Parking Service by Parkopedia in its Navigation app, Used by 100 million drivers Worldwide.
Sygic has integrated Parkopedia so that anyone using the navigation app can find and reserve a parking spot right from the Sygic app, without having to use multiple apps while on the move.
Bratislava, Slovakia, December 10, 2015 – Sygic today announced the launch of the new version of its GPS navigation app. The new version features an integration with Parkopedia which will allow subscribers around the world to locate and reserve a parking spot from their smartphone.
Sygic integrated Parkopedia so anyone using the navigation app can seamlessly find and reserve a parking spot right from the Sygic app. The app also includes integrations with TripAdvisor, Booking.com, Yelp, and Viator, making it the one-stop-shop for traveling around the globe.
Sygic, the global leader in "turn by turn" offline and online GPS Navigation, this year announced that it has reached a record-breaking 100 million users. Sygic stands ahead of competitors by offering offline GPS navigation tools, which won't leave users with problems if they wander out of WiFi or data range.
Parkopedia has established itself as the world's leading parking service, with a database including 75 countries, 6,300 cities and 38 million spaces. The partnership will bring parking ease to millions of users all over the world.
"Our aim to be the most advanced navigation app is even closer," said Michal Štencl, CEO of Sygic. "We are extremely excited to add Parkopedia to our list of partners, and together we will strive to make driving safer, easier and, most importantly, more fun for hundreds of millions of car owners around the world."
Parking is a real problem in cities around the world as local governments struggle to keep up the the never-ending flow of vehicles on the roads. A recent study in L.A found that up to 30% of downtown drivers may just be looking for a place to park their cars.
A survey by UCLA urban-planning professor Donald Shoup discovered that that the collective search for parking just around the UCLA campus would add up to 950,000 miles of travel, along with 47,000 gallons of wasted gas and 730 tons of greenhouse gas emissions. According to The Telegraph, the average driver spends 106 days of their life searching for a parking spot.
Parking services, such as Parkopedia can reduce the time spent looking for a space by 43%, and reduce the distance driven by 30%.
Leading competitor Google Maps recently announced plans to offer offline GPS Navigation functions, however its tools have very limited capabilities compared to the Sygic app. Unlike Google Maps, Sygic has optimized data download sizes to allow users to use maps offline, while using the minimal amount of memory on their devices. With Google Maps, users who wanted to make a road trip across California would only be able to download roughly one sixth of the state, which would use around 1500MB of their device's memory. With Sygic, users can download the whole map of California at just 370MB, leaving plenty of space for amazing photos and videos taken during the ride.
Sygic is one step ahead of the crowd. allowing users to go off the beaten track to spots with poor coverage and travel longer distances knowing they have the tools they need to get to where they want to be.
The app is available for download on iOS, Android, and Windows Phone for free, with premium features for only $21 for use in the whole of the U.S.A, or $31 for the whole world package. One purchase lasts for a lifetime, and users can use the same license whenever they change phones, and use the app on up to three devices under one account.
For more information, please visit http://www.sygic.com
About Sygic
Founded in Bratislava, Slovakia in 2004, Sygic is a Deloitte Fast 50 Company and in 2011 was added to Deloitte's Fast 500 EMEA listing too. Sygic was the first company to provide turn-by-turn navigation for the iOS platform in 2009 and boasts the most advanced navigation app on the market. With more than 100 million users, Sygic GPS Navigation is the go-to navigation app for Android, iOS and Windows users around the world.
About Parkopedia
Parkopedia is the world's leading parking service provider used by millions of drivers and organizations such as Audi, BMW, Ford, Garmin, GM, Jaguar Land Rover, Peugeot, Seat, Skoda, Sygic,, Toyota, Volvo and VW to name a few. Parkopedia provides detailed static information on more than 38 million parking spaces in over 150,000 off-street parking facilities across more than 6300 cities in 75 countries; including real-time parking space availability information in over 500 cities in 30 countries.
Get the Android Central Newsletter
Instant access to breaking news, the hottest reviews, great deals and helpful tips.
Andrew was an Executive Editor, U.S. at Android Central between 2012 and 2020.