Stream Tottenham Hotspur vs. Manchester United this weekend in 4K on FuboTV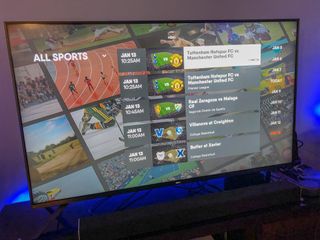 (Image credit: Android Central)
One of the best streaming services for sports is FuboTV. And one of the best reasons for that is that it's one of the only ways you can watch some of your favorite teams in 4K resolution. Not every game, mind you, and the service is still in beta, but there's a noticeable difference when it's available.
To that end, FuboTV will be showing three more Premiere League games in 4K resolution from NBCSN throughout January. It continues this weekend, on Jan. 13, with Tottenham Hotspur vs. Manchester United, at 11:30 a.m. ET.
That's right — Tottenham and Man U, as they should be, in 4K. Ain't America great sometimes.
And FuboTV has a couple more games on its 4K lineup as well:
12:30 p.m. ET Jan. 19: Arsenal vs. Chelsea
3 p.m. ET Jan. 30: Liverpool vs. Leicester City
There are a few caveats here, though. First is that you have be using hardware that's compatible with 4K resolutions. That starts with your streaming hardware and also includes your TV. Here's a list of the streaming hardware you can use with Fubo's 4K beta service:
AppleTV 4K
Chromecast Ultra
Internet Explorer (latest version)
Safari (latest version)
FireTV 4K
FireTV Cube
Roku Premier
Roku Premier+
RokuTV 4K
Roku Ultra
And Android phones with HDR10 displays, including:
Huawei Mate 10 Pro
Huawei P20
LG V30
Razer Phone
Samsung Galaxy Note 8
Samsung Galaxy Tab S3
Samsung Galaxy S9/S9+
Sony Xperia XZ Premium
Sony Xperia XZ1
Sony Xperia XZ2
Also: Fubo recommends that you internet speed be at least 40Mbps for downstream, and you'll be unable to record the 4K shows to your library.
Get a free 7-day trial (opens in new tab)
FUBO TV
(opens in new tab)
Main
Get a free trial! (opens in new tab)
I'll be happy if Manchester United loses. Cant stand them or Arsenal... I'll just be over here as a disillusioned Watford fan

4k feed of NBCSN is awful. Video and audio never in sync. Still definitely a beta

It's even worse - not working at all. Thankfully a 7 day free trial....
Android Central Newsletter
Get the best of Android Central in in your inbox, every day!
Thank you for signing up to Android Central. You will receive a verification email shortly.
There was a problem. Please refresh the page and try again.