Samsung passes out 5,000 Galaxy Tab 10.1s to I/O attendees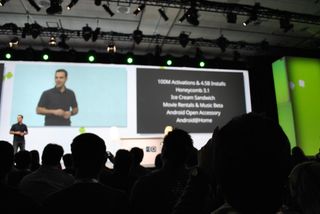 If you were lucky enough to score a ticket to this year's Google I/O in San Francisco, you'll be going home with a brand-spanking-new Samsung Galaxy Tab 10.1. As for those of us who didn't -- we'll, you can just be jealous. The Honeycomb powered device is not available to consumers yet, but we've played with a few times already at this point. At last year's Google I/O, HTC and Google linked up to give out tons of new EVOs.
Oh yeah, did we mention that Jerry and Phil are at Google I/O? It looks like they just got a new toy and of course, some work ahead of them in giving us all the finer details of the device. See -- swag does come at a price.
...and by that I mean "I was too slow to get a ticket." lol

Already on Ebay for over $1,200... http://cgi.ebay.com/Galaxy-Tab-10-1-Google-IO-Limited-Edition-White-/170...
Android Central Newsletter
Get the best of Android Central in in your inbox, every day!
Thank you for signing up to Android Central. You will receive a verification email shortly.
There was a problem. Please refresh the page and try again.