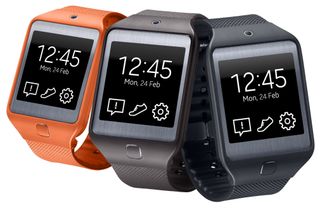 Samsung has announced the Gear 2 and Gear 2 Neo smartwatches. Both are compatible with Smasung's Android smartphones, but neither watch actually runs Android instead switching to Samsung's own open-source OS, Tizen.
The Gear 2 and Gear 2 Neo essentially are the same thing, only the Neo a tad smaller and lighter, has no camera and has different color options.
Here are the Samsung Gear 2 specs:
Swipe to scroll horizontally
| | |
| --- | --- |
| Display | 1.63-inch Super AMOLED (320 x 320) |
| Processor | 1.0 GHz Dual Core Processor |
| Operating system | Tizen-based wearable platform |
| Camera (Gear 2 only) | 2.0 Megapixel Auto Focus (1920x1080, 1080x1080, 1280x960) |
| Video | Codec: H.264, H.263; Format: 3GP, MP4; HD(720p, @30fps) Playback & Recording |
| Audio | Codec: MP3/AAC/AMR/Vorbis; Format: MP3, M4A, AAC, OGG |
| Camera Features | Auto Focus Camera, Sound & Shot, Location Tags, Signature |
| Fitness features | 1. Heart Rate sensor; 2. Pedometer; 3. Exercise (Standalone Modes: Running, Walking; Companion Modes: Cycling, Hiking); 4. Sleep & Stress (Downloadable) |
| Music | Music Player with Bluetooth Headset and Speaker |
| Watch-on Remote | Remote Controller via IrLED Sensor |
| Basic Features | Bluetooth Call, Camera, Notification(SMS, E-mail, Apps) |
| Apps | Media Controller, Schedule, Smart Relay, S Voice, Stopwatch, Timer, Weather |
| Downloadable features | Calculator, ChatON, Flashlight, Quick Settings, Voice Memo |
| Gear 2 strap options | Charcoal Black, Gold Brown and Wild Orange |
| Gear 2 Neo strap options | Charcoal Black, Mocha Grey and Wild Orange |
| Ruggedness | IP67 Certified Dust and Water Resistant, Noise Cancellation |
| Featured apps | Banjo, BMW, CNN , Conde Nast, Expedia, eBay, Evernote, Feedly, GARMIN, Glympse, GM (Onstar 4GLTE), iControl, Line, Path, Paypal, RUNTASTIC, Volkswagen, Weather Channel, Under Armour (Map my fitness). |
| Samsung Services | Samsung Apps |
| Connectivity | Bluetooth® v4.0 LE, IrLED< |
| Sensors | Accelerometer, Gyroscope, Heart Rate |
| Memory | 512MB RAM |
| Storage | 4GB |
| Dimensions | Gear 2: 36.9 x 58.4x 10.0 mm, 68g; Gear 2 Neo: 37.9 x 58.8 x 10.0mm, 55g |
| Battery life | Li-ion 300mAh; Typical Usage 2~3 days, Low Usage up to 6 days |
Press release says "Gear 2" and "Gear 2 Neo". No mention of Galaxy. Are these going to be Galaxy devices?

Galaxy is the branding they use for devices running Android. I guess they skipped Android since Google haven't optimised it for smart watches. Hence the tripled battery stamina despite a 20% higher clock rate compared to the "old" Galaxy Gear.

So they got just a bit closer to a functional smart watch. The Neo could do it, If it works with more phones and can be worn properly on all wrist sizes. Posted via Android Central App

there is the key. Are these compatible with all android phones running XX version of android or only samsung crap again. I plan on getting the s5, but will not buy this if its only compatible with samsung.

Did they remove call function? I don't see speaker in the specs

I think it's under the Music section: Music Player with Bluetooth Headset and Speaker

Hopefully these two will be cheaper than the last for me to get one. I don't need the camera so I will be going for the neo version. Price is everything. Posted via Android Central App

This looks exactly the same as the last gen Posted via Android Central App

Similar yes, the same? No. It looks to be thinner and it doesn't have that bitch ass wart they called a camera sticking out of the wrist strap.

After the Samsung S4 software upgrade my gear watch no longer receives email notifications. Why?
Android Central Newsletter
Thank you for signing up to Android Central. You will receive a verification email shortly.
There was a problem. Please refresh the page and try again.