Samsung Galaxy S II gets priced and is now on sale in the UK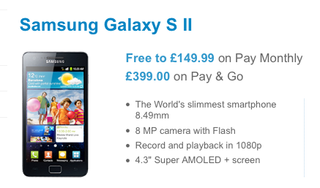 Although the Samsung Galaxy S II was announced way back in February, it's just now trickling out to retailers in the UK and anyone who has been waiting to pick one up, has several options at this point with more on the way.
If SIM free is your preferred method of obtaining new devices, Clove will gladly set you up right now for only £440. If contracted terms are to your liking, then O2 is where it's at as they'll hook you up for £149 on Pay Monthly or £399.00 on Pay & Go.
We've gone hands-on with the Samsung Galaxy S II in the past and were pleasantly surprised with the changes and new additions to the line up. Now that they're turning up for sale -- who's getting one? Let us know in the comments if you are.
Thanks, Rob for sending this in!
U.S. and Verizon now please!!

let's see how long before it hit the US

So they lied about the quad band HSPA? Everyone is listing the 3G as 900/2100 only.

well if Samsung's S2 microsite is to be believe then it is still quad band. https://www.androidcentral.com/e?link=https2F2Flink...

if the cyanogenmod team picks up support for the sgs2, it'll be my next phone!

£440 without VAT! -> £529 on Clove... now that is pricey! Any guesses how much will it cost in the USA? Hopefully not over $800 as the exchange rate suggests!

Any chance of coming to sprint?? Hopefully they don't fudge it up by adding a slider keyboard.

I like having a slider keypad on my epic. It is one of the main reasons why I chose it over the evo. I'll admit though that it feels a tad bulkier than I would like it to.

I hope they bring it to att with a 4" screen

I've preordered it from clove. Yes it's guaranteed and confirmed to work on ATT here in the US due to its quadband hspa+ frequencies. can't wait.. one more week to go

The u.s. version for att is the infuse, who knows how Verizon will look like

this is a diff phone. 4.3" instead of 4.5"

When this handset hits VZW, count me in.
Android Central Newsletter
Get the best of Android Central in in your inbox, every day!
Thank you for signing up to Android Central. You will receive a verification email shortly.
There was a problem. Please refresh the page and try again.