Rovio brings together East and West in the new match-3 game Angry Birds Fight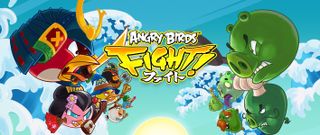 Rovio aims to bring West and East together with their latest title, sporting colorful visual effects and real-time player versus player gameplay. The game has already been made available in Asia Pacific, but now it's time for everyone to give the game a try and see what's what. Think of this new title as a Japanese Angry Birds.
The goal of Angry Birds Fight is to race against the clock to match as many panels as possible to power up their bird for the battle against other players. Tools and gear can be equipped to gain the edge in upcoming battles. But there's more to the game than simply fighting everyone you come across. Players are also able to explore uncharted islands for added challenge.
Challenge other players globally in real-time match-three puzzles
Power-up birds for the fight by matching faster and better than your opponent
Match 4 to activate special powers, MATCH 5 to start FEVER TIME!
Win fights to gain XP, win items and customize your flock and your ship
Accessorize with different items to increase health, attack and add skills
Earn bird coins in fights to buy more weapons and accessories in the shop
Play the lucky slots to unlock more items - go on, give it a spin!
You can find out more details about Angry Birds Fight on the official website.
Download Angry Birds Fight for Android
GET READY FOR BATTLE JAPANESE STYLE: 'ANGRY BIRDS FIGHT!' LAUNCHES WORLDWIDE TODAY ON IOS AND ANDROID
Rovio's first Angry Birds cultural mash-up migrates west to celebrate all things Japanese
Espoo, Finland, 11th June 2015 – Rovio brings players in the West a touch of the East with the worldwide launch of Angry Birds Fight!, an action-packed Match-3 puzzler featuring RPG elements, colorful visuals and the first Angry Birds title to fully integrate real-time player vs player gameplay.
Angry Birds Fight! is the first cultural mash-up game within the Angry Birds brand and fuses together elements of Japanese culture with the classic Angry Birds characters. The game, developed in collaboration with KITERETSU Inc. in Japan, was first released in Asia Pacific in May 2015 and has been downloaded over 3 million times since.
"We're thrilled to bring Angry Birds Fight!, the very first Rovio title developed entirely in Japan, to the rest of the world," said Katsumi Oikawa, Japan Country Director at Rovio. "We've dedicated a lot of time to developing a game that is tailored to those who are fans of Japanese culture, RPG and player vs player battles and we really hope fans worldwide enjoy the first Angry Birds game that champions these features. "
''Angry Birds Fight!, the latest cultural mash-up of 2015 can be enjoyed by anyone in the world regardless of gender, nationality or ages. We're thrilled to be part of bringing the worlds of Angry Birds and Japanese style game design together.' says KITERETSU inc. President & Founder - Masanori Kusakabe.
Fighters start the game with a race against the clock to match as many panels as possible to power up birds for the fight against other players around the world. They can then equip themselves with the ultimate battle tools to get the edge when they come under attack. It's fight or flight as players can also explore uncharted islands where they face unexpected battles with rogue challengers, and have to battle to stay in the game!
Be an expert in 5 minutes
Get the latest news from Android Central, your trusted companion in the world of Android