PlayStation 4: Everything you need to know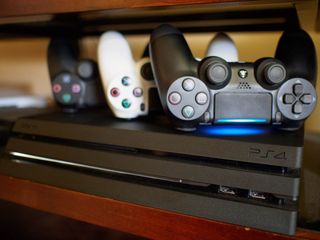 (Image credit: Android Central)
Not only is the PlayStation 4 a capable competitor on the market by itself, but the list of incredible games available for it is unrivaled. Some of us have been PlayStation fans from day one and some of us are only recently joining the family. Now that you have a PlayStation 4 you want to make sure you have all the best games, gears, and accessories.
With the PlayStation 5 on its way and set for a holiday 2020 release, the PS4 is nearing the end of its life cycle. But that also means a lot of you will finally be upgrading to the PlayStation 4 once it drops in price.
In this article, we are going to document all of the best products you can match to your PlayStation 4, how they improve your overall experience, and where you can buy them. Don't stress yourself looking for all the answers online. We've found them all and put them all in one spot for you to easily access.
Get a headstart!
Here is a link to all the information offered in this article. If you're looking for something specific all you have to do is click the title and it will take you right where you want to go!
Everything you need to know before you buy a PlayStation 4
Just like any other device, there are tons of questions you're asking yourself when it comes to whether or not you want to buy a PlayStation 4. Heck, even when you do decide you want the console there are even more questions like which console you should buy, what services to get, etc. We've gathered all the most frequently asked questions you should know before you buy a PlayStation 4 for yourself.
Not looking to buy a PlayStation, but you want to help or get a few gifts for your kids or loved ones? Skip the line and check out the best Christmas gifts for PlayStation fans, the best PS4 games for kids, and the top 6 things to do once you set up your new PlayStation 4 here.
What you need to know before you buy a PlayStation 4
What you need to know after you've decided to buy a PlayStation 4
The best games for the PlayStation 4 - Categorized
While there are plenty of super cool apps to lose yourself in, one of the main reasons for owning a PS4 is for the games. As you know, exploring the PlayStation Store from your console, or even online, can take hours and the only thing you're going to do is wish your wallet was fatter. Instead of window shopping, check out these options to get an idea of what people are already playing and what you should be playing too!
Don't forget to stay updated with our here on Android Central! Most of these articles are updated on a monthly basis, so if you keep checking in we're bound to have new content for you!
Monthly releases for PlayStation 4 games - Updated monthly!
Android Central's top-rated games for PlayStation 4
Unique games you need to check out
The best starting equipment for PlayStation 4 owners
Just like buying a new car there is always the option to get your possessions in a "fully loaded" style. Well, from the controllers to the headsets we've got all the information you'll need to deck out your gear for the PlayStation. These accessories and upgrades aren't just to improve the visual of your command center, but you can also improve the performance.
The top accessories you need for your PlayStation 4 are a headset, a chatpad, an external hard drive, and a safe way to travel with your console and accessories. While the headset and chatpad make playing online easier, the hard drive acts like an interchangeable memory card when your console is running out of space. Travel cases are important to protect your devices— Your PlayStation 4, the accessories, and all of your upgrades are an investment!
Should you? Could you? Would you? Do it!
When it comes to upgrading your PlayStation 4 or PlayStation 4 accessories you want to make sure whatever you're doing is actually beneficial. Just because someone says doing something will enhance your experience doesn't mean it actually will. We've tested products and theories the people are saying worked for them and reported whether or not it was worth the effort!
On top of this, we've also tested products that weren't necessarily made for the PlayStation 4, but ended up working with it anyway. Check out all of our findings here. If you decide it's right for you, you can check out the best places to buy the product down below.
The best replacement and upgrade options for PlayStation 4
Whether something broke or you just want to upgrade your PlayStation 4 in every way you can, we've got your back. We've figured out all the ways you can take your system apart and give it all the upgrades you want and where to get those hard-to-find replacement parts when things go wonky.
Don't stress yourself looking for the best replacements and upgrades at the cheapest prices, we did the work for you.
Best replacement options for PlayStation 4
Best upgrade options for PlayStation 4
Put away or display your PlayStation 4 and accessories
I love having display stands for my PlayStation 4 and PlayStation 4 accessories. While I prefer having one display stand to rule them all, I can appreciate the aesthetic of having a separate display stand for each kind of accessory you're storing— especially if you have multiple products.
Outside of appearance and organization, the best stands also serve as charging docs and cooling fans. This means you can stylishly improve the way you host your PlayStation 4 while offering it a bit more protection and giving yourself an easier way of making sure everything is ready whenever you want to play.
Thoughts?
Do you have any questions regarding your PlayStation 4? What helpful hints would you like to see more of? Let us know in the comment section below!
Sign up for Black Friday email alerts!
Get the hottest deals available in your inbox plus news, reviews, opinion, analysis and more from the Android Central team.
Essa Kidwell is an expert in all things VR and mobile devices who can always be found with an Oculus Go, a Pixel 2, and an iPhone 7+. They've been taking things apart just to put them back together for quite some time. If you've got a troubleshooting issue with any of your tech, they're the one you want to go to! Find them on Twitter @OriginalSluggo or Instagram @CosmeticChronus.