Best PlayStation 4 Accessories in 2022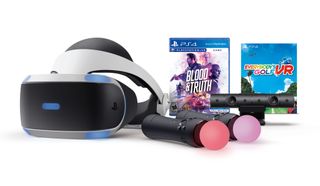 (Image credit: PlayStation)
Accessories can allow you to customize your gaming experience, giving you the right tools for various genres or just making it easier to interface with your console. You can certainly get by with just the PlayStation 4 out of the box, but if you're willing to spend a bit of money, this guide will provide you with ways to really unlock the system's potential.
Accessorize in style
The best part about accessories is that they allow you to make the game experience unique to you. If you're looking for something more, then you don't have to live with what comes out of the box. Add your personality with your favorite color DualShock Soft Touch controller. Little else can make your gaming experience feel more personal than having the perfect controller.
Make it all about you. Slip on the PSVR headset and delve into a new world. It is yours to experience. It may feel extra, but there is nothing wrong with being a little extra, especially if it means getting that perfect gaming experience you have been looking for. Happy gaming and happy accessorizing!
Android Central Newsletter
Get the best of Android Central in in your inbox, every day!
Thank you for signing up to Android Central. You will receive a verification email shortly.
There was a problem. Please refresh the page and try again.