Is the PS4 a great Blu-ray player?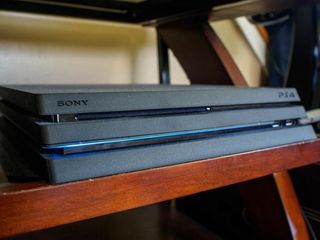 (Image credit: Android Central)
Best answer: Yes, but it depends on what you want. The PS4 has a Blu-ray disc player, and while it's great if you're watching regular Blu-rays in 1080p, users will need to grab a dedicated Blu-ray player or a new PS5 for 4K UHD Blu-rays.
Pick one up: PlayStation 4 1TB Console $300 at PlayStation
A more traditional route: Sony 4K Ultra HD Blu Ray Player $211 at Amazon
Not all Blu-rays are created equal
Regular Blu-ray brought physical media from 480p to 1080p so everyone could enjoy HD movies with better sound. Ultra High Definition, or UHD Blu-rays, bring the resolution up to 4K and frequently include extras like HDR video and Dolby Atmos audio support.
Put plainly, the difference between watching a Blu-ray and a UHD Blu-ray on a 4K UHD TV with a decent sound system is noticeable. It's also worth pointing out UHD Blu-rays are frequently more expensive than normal ones. Still, many releases often include a standard Blu-ray for those interested in future-proofing their movie collection.
You'll need something more for 4K
For those asking if the PS4 is a good Blu-ray player, the answer is yes. The Blu-ray player in all versions of the PS4, from the original released in 2013 to the 4K-ready Pro model released in 2016, is a standard 1080p Blu-ray player. Because it uses the same processor to play visually intense games, it's one of the faster Blu-ray players you can buy. The control interface uses the PS4 controller by default, but you can pick up a PlayStation 4 Universal Media Remote if you'd rather have a traditional remote. Your PlayStation also has access to basically every streaming app ever, so if you use your PS4 as a Blu-ray player, you can also use it to stream everything else. You can even watch live TV on it with a PlayStation Vue subscription.
This is an excellent Blu-ray player for an HD TV, offering a ton of features with room for expansion, but if you use a 4K TV, it's not quite 100% anymore. This console lacks UHD Blu-ray support, even in the 4K-enabled PlayStation 4 Pro, which means you won't be able to play UHD Blu-rays and enjoy things like Dolby Atmos audio support with your 4K HDR video. While you can use the PS4 Pro to stream 4K, the lack of UHD Blu-ray support makes it less than ideal for getting the best possible picture on your 4K TV.
So how good is the PS4 at playing Blu-rays? It depends on what you want. If you have a 4K TV with a killer sound system, you're better off getting a standalone UHD Blu-ray Player or trying your hand at finding a PS5. For those just looking for something to play movies, the Xbox One X also supports 4K Blu-rays.
But if you haven't made the upgrade to 4K and aren't planning to anytime soon, the PS4 Blu-ray player is fantastic. You'll be able to watch your 1080p Blu-rays with their full sets of features, and because Sony constantly updates the PS4, you can rest assured that it will remain a solid player throughout the life of the Blu-ray format.
Blu-ray Ready
A well-rounded entertainment machine.
While the PS4's primary function is playing awesome games, it can also play Blu-ray discs just fine. However, the base PlayStation 4 does not support 4K Blu-Ray discs or 4K UHD, so you'll need to upgrade if you're looking to play the newer films.
Upgrade to 4K
Watch everything in 4K.
Sony's UBP-X700 has everything you need to play 4K UHD Blu-rays. It features HDR and Dolby Vision support, has tons of streaming apps, and can even upscale 1080p content to 4K to make for a sharper image.
Get the Android Central Newsletter
Instant access to breaking news, the hottest reviews, great deals and helpful tips.
Anthony Nash has been writing about games and the gaming industry for nearly a decade. When he's not writing about games, he's usually playing them. You can find him on Twitter talking about games or sports at @_anthonynash.