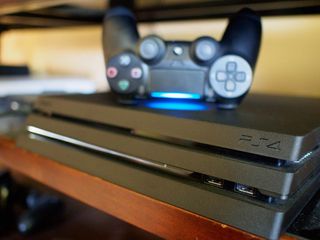 (Image credit: Android Central)
Making your PlayStation 4 stand out a bit from the crowd doesn't have to mean getting a fancy entertainment center or becoming a guru at cord management. With a few lighting hacks, you can ensure that when you're gaming, it isn't quite the same experience everyone else gets when they are at home. Whether it's disabling your controller's lightbar or adding LED lights that react to what is going on onscreen, you can use light — or the absence of it — to really change your experience.
We've got the details on what you can do right here!
Transparent LED thumbsticks
If you're a fan of being able to tell which accessories are yours with just a glance or you just want everything to glow, then swapping out your stock thumbsticks for a pair of transparent LED thumbsticks might be just the ticket.
You can pick up a pair from Amazon for just $12, which is a serious steal, but to get them installed you'll need a bit of technical know-how. That's because you'll have to take apart your controller and swap out the thumbpads, using solder to connect the LED elements. This sounds a bit more complicated than it is, but you can check out a great YouTube tutorial to get an idea of what you'll need to do before making a purchase.
Disable your DualShock 4 controller light bar
The lightbar located at the top of your DualShock 4 controller has been a source of irritation for plenty of gamers over the years. For those players who prefer playing in a dimly lit or dark room, the bright LED can seriously throw you off. We've talked before about how you can use decal stickers to hide your lightbar, but there is another option.
There is a way to manually disable your lightbar so that it's no longer an issue. This is a fairly straightforward process but will require a bit of work on your end. You'll have to take apart your controller and, using a foreign object, block one of the pins inside from communicating. This allows you to stop your lightbar from doing its job but definitely requires you to know what you're doing so that you don't accidentally muck things up.
If you're worried about the process you can check out a YouTube tutorial that will show you precisely how it's done.
Adjust your DualShock 4 controller lightbar
If the light bar on your DualShock controller is driving you absolutely batty but you don't feel totally confident in opening up your controller, there is another option. You can take the easier route and simply adjust the brightness. It's incredibly easy to do.
From the main menu on your PS4, go to Settings.
Select Devices.
Choose Controllers.
Scroll down and choose Brightness of DualShock 4 Light Bar. You can now select between Bright, Medium, or Dim settings.
Lightberry LED lights for your TV
Adding LED lights to your system or controller isn't really anything new, which is where Lightberry steps in. Lightberry gives you LED lights that connect to your PlayStation VR in order to react to what is going on on the screen.
This means that you get a pared down light show every time you watch a movie or play a game. Originally built to run off of Raspberry Pi, you can pick up an HDMI connector, which allows you to hook it up to your PlayStation 4 with minimal fuss. This, of course, means not taking anything apart or soldering anything.
All you need to do is open the box and follow the instructions to get your new lights installed, and they will then do the hard work of reacting to what is playing on the screen. Whether you're trying to save your team in Overwatch or trying not to cry while rewatching Band of Brothers, Lightberry will be ramping up the experience with lights for you.
Do you have a favorite hack?
Do you have a lighting hack for PlayStation 4 that we missed here today? Did we cover your favorite? Be sure to drop into the comments below and let us know about it!
Updated October 2018: Updated links and prices.
Sign up for Black Friday email alerts!
Get the hottest deals available in your inbox plus news, reviews, opinion, analysis and more from the Android Central team.