Best replacement SSDs for PS4 in 2022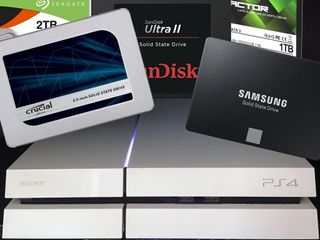 (Image credit: Android Central)
So you've decided that you have to throw a new hard drive in your PS4, and an external hard drive just won't cut it. It's one of those upgrades that may or may not visibly improve things, but if you can do it, why not? Most of the read and write speeds are comparable, but we have included them if it's a deciding factor for you. Here are some of the best options for PS4 available to you.
Where do you even start?
When you need something with more power and storage than the best external hard drives, SSDs are the way to go. If you need an SSD and want to have a good amount of storage space, then a 1TB drive may be the place to start. 1TB drives are, of course, going to be more expensive than their 500GB counterparts, but the price increase will give you space for a lot more games.
No matter how you get the job done, expanding the storage in your PlayStation is a really nice quality of life upgrade. We like the Western Digital Blue because it's a name you can trust, but the SanDisk is a name you'll know as well and offers a great product and a reasonable price.
Finally, you can always go with the below Seagate hybrid drive if you need to save some money, but a full SSD will work better for you.
The compromise
If you're looking at all these SSD prices and getting overwhelmed, I don't blame you. Solid-state storage is still pretty expensive. If you still want to see an increase in speed on your PS4, but want to save some bucks, there is another option.
1TB of hybrid storage
Seagate 500GB FireCuda SSHD
SSHD stands for Solid State Hybrid Drive. The elevator pitch for drives like this is that you will see SSD speeds with traditional drive prices. This claim is somewhat dubious, and I probably wouldn't put one in my PC and expect the same performance as an SSD. That said, I would totally put one in my PlayStation. Upgrading from the stock PS4 drive to a hybrid drive like this should show a marked increase in speed at a reasonable price point.
Android Central Newsletter
Get the best of Android Central in in your inbox, every day!
Thank you for signing up to Android Central. You will receive a verification email shortly.
There was a problem. Please refresh the page and try again.