Best Portable Monitors for PS4 in 2022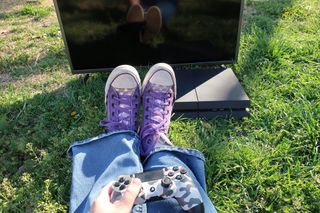 (Image credit: Android Central)
Playing your PlayStation 4 on the go can be a tricky and cumbersome experience, but it doesn't have to be thanks to the portable monitors. While it won't be portable in a handheld sense, you can make it far more comfortable to not only pack up and travel with your PS4 but also play it anywhere you can find a power outlet. We've highlighted these monitors based on some factors including portability, ease of use, and resolution.
Make your trip safer and easier!
Any portable monitor with an HDMI port will work for your PS4, but the options we highlighted today are advantageous in all the right areas. They're sizable and sharp in resolution because no one wants to feel like they're playing on a viewfinder. They all use IPS panels, so you'll get bright, accurate colors at a range of different viewing angles. These panels are also 60Hz, so they can show all your PS4 games at 60FPS. Last but not least, relatively fast response times mean you won't be lagging behind the competition when playing online. If we had to choose just one, our pick is the Lepow 15.6-inch monitor (opens in new tab) for overall value, gaming-centric positives, and easy portability.
You can't truly play the PlayStation 4 remotely because the console needs to be plugged directly into the wall, but these accessories still make traveling a breeze. Whether you need the second screen because the family TV is being used, you want to kick back in bed, or you have a trip your planning, any of these carry cases will help keep your tech safe and sound.
Travel case for all PlayStation accessories (opens in new tab) ($75 at Amazon)
This hard case has no specifically shaped corners for your products outside of the large section for your PlayStation 4 and that means you get to decide what it stores. It's large enough to store your entire system, the accessories, and your PlayStation VR gear!
USA Gear Carrying Case (opens in new tab) ($50 at Amazon)
This carrying case is perfect for bringing all the bare-necessities of your PlayStation 4 without wasting any space. There's enough room for your headphones, two controllers, cords, and the console itself. It has an incredibly durable case that is both scratch and water-resistant.
VanGoddy Portable Monitor Case (opens in new tab) ($30 at Amazon)
The slim design of the VanGoddy carrying case for portable monitors is perfect for saving space and keeping your gear safe. It can fit monitors up to 15.5 inches in size while offering padded walls and fabric for protection.
Android Central Newsletter
Get the best of Android Central in in your inbox, every day!
Thank you for signing up to Android Central. You will receive a verification email shortly.
There was a problem. Please refresh the page and try again.