NYKO unveils NVIDIA Shield accessories at E3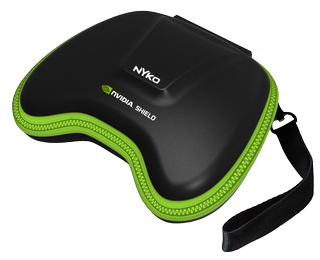 Accessories-maker NYKO today at the E3 gaming conference in Los Angeles unveiled a trio of accessories for the upcoming NVIDIA Shield, which is still on track for release this month.
NYKO rolled out a pair of cases -- a travel case that very much looks like NVIDIA's own travel case, as well as a hard-shell case (which you see above) for the times that you'll need extra protection.
Then there's the NYKO Shield Dock, which connects a dongle to the controller and then attaches to the dock, giving you a stable base from which to charge the device as well as output video.
And finally there's a Power Kit that gives you a set of adapters and cables for charging at home or on the road.
We've got more pics of the NYKO NVIDIA Shield accessories after the break.
NYKO NVIDIA Shield Travel Case
NYKO NVIDIA Shield Dock
Nyko Unveils New Accessories Product Line for NVIDIA SHIELD at E3
LOS ANGELES - June 11, 2013 -Nyko Technologies®, the premier gaming peripherals manufacturer, is unveiling their latest products at the Electronic Entertainment Expo (E3). A stalwart exhibitor at the video game industry's headline event, Nyko is proud to announce a line of charging and video products for use exclusively with the ultimate gaming and entertainment portable, NVIDIA® SHIELD™.
"SHIELD is a unique piece of hardware; it's high performance gaming that meets portable entertainment," said Chris Arbogast, director of marketing, Nyko Technologies. "We are excited to be working with NVIDIA to provide SHIELD gamers unique ways to power, charge and enhance their devices."
Nyko's E3 2013 SHIELD accessory line-up includes:
The SHIELD Dock utilizes Nyko's patented dongle charging system to provide a sleek and easy alternative for powering the device and utilizing its HDMI capabilities. The dongle attaches directly to SHIELD, and works seamlessly with the device. Simply place the unit into the dock and SHIELD will begin to charge while outputting to the attached display. The SHIELD Dock is powered by the same AC adapter that ships with SHIELD, and features a full-sized HDMI port allowing for easy connection to any HDTV screen. Users can also pair a Nyko PlayPad with SHIELD while in the dock to turn the device into an ultra-portable console playing and streaming their favorite Android and PC titles. The SHIELD Dock will be released later this year.
Nyko is also showing two separate cases for SHIELD. The Travel Case is an EVA soft case while the Shell Case is a high-impact hard case. Both cases fully encapsulate SHIELD, providing total protection. Each case is custom fitted to the exact specifications of the device and features a rubberized interior for added protection against bumps and scrapes. A detachable accessory bag is included to store the AC adapter and any necessary cables while traveling. An included carabineer allows the case to be conveniently attached to a laptop bag or backpack. Both the Travel Case and Shell Case will be available this summer.
The Power Kit provides all the necessary adapters and cables to recharge SHIELD at home, while traveling, or in the car. The kit includes one AC adapter, one car adapter and one extra-long Micro USB cable with Velcro strap. The Power Kit is an ideal replacement or secondary bundle for those looking to recharge SHIELD. The Power Kit will be available this summer.
Additional pricing and availability details will be released at a later time.
Get the Android Central Newsletter
Instant access to breaking news, the hottest reviews, great deals and helpful tips.