Life is Strange for Android: Everything you need to know!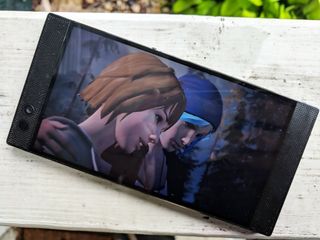 Life is Strange is an episodic narrative-based adventure game that arrived on Android this summer. It was first released on PC and consoles back in 2015 where it earned cult-hit status for it's beautiful hand drawn art style and an engaging storyline that branches off based on the decisions you make in the game. Broken in to five episodes, the game focuses on Max Caulfield as she discovers she has the mysterious power to rewind time and relive moments.
What's the story about?
Without diving straight into too much of the main plot spoilers, Life is Strange follows Max shortly after her 18th birthday as she discovers a supernatural ability to rewind time and replay moments in her life. The story takes place over the course of a week in the seaside town of Arcadia Bay, Oregon, as Max attends Blackwell Academy for photography.
The main story has Max reconnecting with her childhood best friend, Chloe Price, as the two explore the limits of Max's superpowers. During the first episode, Max discovers her powers and experiences weird visions from the future while simultaneously navigating the social world at a private school. The school is littered with missing posters for a girl names Rachel Amber, who just so happens to be Chloe's best friend to replace Max when she moved away.
This game is all about exploring the environment, interacting with other characters, and discovering new information to push the story forward. Each episode features a series of major choices for Max to decide which will affect the story later on in a 'butterfly effect' manner, but with Max's rewind abilities you're able to peek forward and gain valuable information and then replay interactions to undo mistakes, answer questions correctly, and ultimately pick the decision (and associated consequences) that you're most comfortable making.
The game is anchored around Max's journal and photo collection, where you'll always find your next objective and Max's internal dialogue on the latest happenings in the game. This is a really great feature that manages to flesh out the story while also providing you with important context if you're jumping back into the game.
You can play through each episode more than once
Each episode is about two hours to play through once, but you may find yourself going back and replaying key moments to see what happened in the alternate timelines. Most sections also have some optional photo opportunities that are shown as sketches in your journal. Match up the sketch with the right viewing angle and you should see a new "photo" action pop up.
When you go back to replay a section of an episode, you have the option of "collectible mode" which lets you go back with the intention of just collecting the optional photos for your journal, or you can re-write over your existing progress and replay a chapter to change the narrative's course. Each episode has four or five major choices that have major consequences for the story, while there are dozens of smaller decisions you make that will subtly influence your options later on in the story. By going back and replaying an older section, you'll be able to change the past and create a better (or worse) future world for the characters.
Controls optimized for mobile
Life is Strange follows in the Telltale-style adventure game tradition, which means it aims to plays like an extended cinematic scene, with you in control of what Max unfolding in front of you. For the times when you are in control of Max, Life is Strange gives you a but it's worth noting that the controls here seem offers both a If you've previously played games by Telltale Games, you'll feel very comfortable with the story-based gameplay but what's best are the controls. There are three styles of on-screen controls available along with support for Bluetooth controllers. This is important as you're often required to explore your surroundings and interact with other characters in a timely fashion so if you have a Bluetooth controller for your phone or tablet you'll probably want to take it out for this one.
Can my phone play this game?
To play the game, you'll need a device running Android 6.0 or later that supports OpenGL 3.1. Your phone will also need a 64-bit ARM processor and a minimum of 2GB of RAM. Square Enix recommends the game be played on a Samsung Galaxy S7 or Note 5 and up, Google Pixel or Pixel XL and up — basically any phone released in the past two years should be able to play the game just fine. Older devices might be able to run the game, but you may experience laggy frame rates or other bugs.
Verdict: You gotta play this game
Life is Strange is the type of game that's designed to elicit a strong emotional response from the player. The game delivers a clever branching story backed by a catchy soundtrack and great sound design overall, with cinematography that does a great job of blending cut scenes with gameplay for a memorable gaming experience.
You can download and play the first episode for free with the remaining four episodes available via in-app purchases. You can check out the second episode for just $0.99 with the remaining episodes available for $4.99 or opt and get the season pass for $8.99 — the better deal if you fall in love with the game.
Get the Android Central Newsletter
Instant access to breaking news, the hottest reviews, great deals and helpful tips.
Marc Lagace was an Apps and Games Editor at Android Central between 2016 and 2020. You can reach out to him on Twitter [@spacelagace.