LG's next high-end phone will have a 'Raindrop' camera, curved edges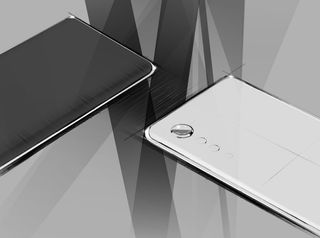 (Image credit: LG)
What you need to know
LG has revealed a new minimalistic design language for its upcoming smartphone.
Key highlights of the new design language include a "Raindrop" camera and front-back symmetrical curves.
The phone will also offer a more natural feeling in the hand, thanks to the new "3D Arc Design."
For the last few years, LG hasn't made any significant changes to the design of its flagship phones. Even though the number of cameras on the back has increased, the design language has remained mostly unchanged. The company's next phone, however, will feature a completely new design.
Cha Yong-duk, head of LG's Mobile Communications Design Lab, said in a statement:
LG says its new design language is a "nod to the natural world" with a visual form factor that is quite different from the current industry trend. While a large number of high-end smartphones released this year have a large, squarish camera bump at the rear, the upcoming LG smartphone will have a "Raindrop" camera.
As can be seen clearly in the render above, the phone will have three cameras in the upper-left corner, arranged in descending order by size, evoking "images of falling raindrops." The LED flash will be positioned right below the triple-camera array. LG says the "Raindrop" camera design not only takes up less space on the back of the phone but also offers a cleaner look.
Along with the "Raindrop" camera, the new design language incorporates what LG is calling the "3D Arc Design." The edges of the display, as well as the rear panel, will be symmetrically curved, ensuring a "more natural" feeling in the hand compared to the company's previous devices.
While LG hasn't confirmed it yet, the device seen in the above renders could be the LG G8 successor. The upcoming "flagship" phone is rumored to be powered by a Qualcomm Snapdragon 765G chipset and could be launched on May 15.
LG G9: News, Leaks, Release Date, Specs, and Rumors!
I really like the look of this. With any luck they'll refresh the Android skin and not just copy Samsung's One UI. Hell, see if you can throw Pixel launcher on there.

They implemented the UI without borking the gestures.

LG's next high-end phone will have a 'Raindrop' camera, curved edges - and no updates. Used to love LG phones but lack of real support makes me run away from them.

good looking phone, but LG will abandon it 10 minutes after release …. so sad.
i'd buy this if they would guarantee 2 OS updates. LG won't guarantee an update at all.
Android Central Newsletter
Thank you for signing up to Android Central. You will receive a verification email shortly.
There was a problem. Please refresh the page and try again.