LG's G9 could feature a Snapdragon 765G processor instead of the more powerful, more expensive Snapdragon 865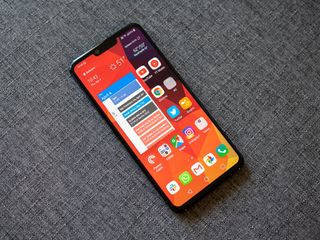 (Image credit: Android Central)
What you need to know
LG is rumored to be launching its flagship G9 with the Snapdragon 765
The 765G is a lower-tier processor than the 865, albeit one with decent performance regardless.
This is an opportunity for a competitively priced flagship with potentially a lower price in a time where other OEMs are shooting past $1,000.
LG's G9 is coming soon, and we may already know a little about what's inside. Unfortunately, if you were looking for a spec monster to match the Galaxy S20, you may be a little disappointed. As reported on the Korean blog Naver via Notebook Check, the company is reportedly outfitting the G9 with a Snapdragon 765 processor unlike the more powerful 865 that features in LG's other flagship, the V60.
The Snapdragon 765 isn't a bad chip by any means. It will still perform well enough for the average consumer and will also result in a lower price than the afore-mentioned Galaxy S20 due to costing less for OEMs to purchase and outfit their phones with. The Google Pixel 5 is rumored to be shipping with it and HMD Global has already stuck it in its brand new Nokia 8.3. if James Bond can use it, it's probably good enough for you.
LG's G9 will launch sometime in the latter half this year, we're not exactly sure when. Given the spec changes, it's likely to be billed as a value alternative to the more powerful V60. As for pricing, it's probably going to hit the same $600ish price point as HMD Global's own Snapdragon 765 equipped handset.
A More Powerful Option
(opens in new tab)
LG's true flagship
The G9 may come with a Snapdragon 765, but the V60 will not. If you want the best of LG's hardware and don't mind paying a little extra, it looks like this one might be the way to go.
If they want to downgrade the G9 to the mid-range segment, then sure.
Personally, though, I couldn't care less about the processor...if the phone is still 6" or anything above (and it will be), I won't even consider it. If I wanted a new dinner table, I'd go to IKEA, not LG.

Because you can't handle the big boy phones.

No, because unlike you I don't have a Freudian need for overcompensation with phones.

DJCBS, I am with you. I don't like a huge phone, which is why I went with the S10e last year. If I wanted a tablet, I would buy a tablet (or a dinner table). Not everybody likes the same thing and not all want huge phones. That is why there is choice. I actually like LG (I had a G2, G3, G4 - my favorite, and a G6!) , so I will seriously consider this if the rest of the specs are good.

frifred, I've had a similar phone history as you with LG, except I started with Nexus, had a few G series phones, then moved to the V series before ultimately landing on the Galaxy S10e. I've always liked LG, but I do feel like the S10e is a much better package overall, and with Samsung now only catering to the large phone market, it wouldn't be hard for LG to convince me to come back so long as they provide an option for a reasonably sized phone.

I'm with you, DJCBS. OEM's are not giving us options for quality phones at reasonable sizes. I don't need a phone that's 6+ inches, nor do I want one.

I've been waiting for some phones with the 765 to be released. I don't need the fastest processor under the sun. If the G9 has the 765, a teardrop notch, 1080p screen and 5000mah battery with decent cameras, & costs like $400, i'd be interested.

I wonder if it will have a dual screen option that be great.

Considering that dual screen is only a case, there's no reason why they couldn't provide that option. Bringing that at a reasonable price could definitely get people interested in two screens.

I don't have a problem with this, but I am wary of using LG phones with less than the best hardware. From my experience in the past, performance can be an issue even on their flagships. This wasn't a problem with me on the V30 and V40, tough, before I migrated to my first Samsung phone with the S10e. The thought of an LG budget phone has always been off-putting. What I'm most concerned with is how big this phone is going to be. Both the G and V series have been big phones. It would make more sense for the V series to be the larger phone with the G series being being the smaller, one-hand alternative.
Android Central Newsletter
Thank you for signing up to Android Central. You will receive a verification email shortly.
There was a problem. Please refresh the page and try again.