HTC Status available today on AT&T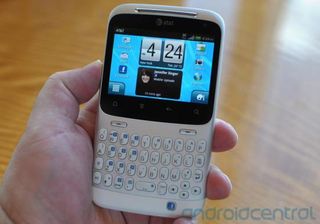 The HTC Status, AT&T's version of the HTC ChaCha, is officially available for purchase today. This device, the first to launch with a dedicated Facebook button is a bit different then many others that we have seen. We have gone hands on with the HTC Status already, and given a full review of the HTC ChaCha, so be sure to take a look at those, and see if this may be your next device. With a full retail price of $399, and an on contract pricing of $49, the device is sure to appeal to many, and if you pick one up be sure to let us know about it in the forums!
Buy online: AT&T Status (opens in new tab)
Jared started off writing about mobile phones back when BlackBerry ruled the market, and Windows Mobile was kinda cool. Now, with a family, mortgage and other responsibilities he has no choice but to look for the best deals, and he's here to share them with you.
diarrhea "cha cha" cha! Sorry, but they asked for that haha

With all due respect, this thing looks like a step back in smartphone history, I'm sure it's not, but it looks like it is.

I actually think this looks pretty nice

Who would buy that? Ugly small screen facebook button, having that button is like admitting you have no life and troll facebook all day

Plenty of people are happy to admit their facebook addiction. Aside from that, it looks like a solid phone. Not one for a poweruser, but a solid phone.

THIS PHONE DOES NOT HAVE THE FEATURES I LIKE, NOR IS IT ON A CARRIER THAT I CURRENTLY HAVE SERVICE WITH, NOR DO I PARTICIPATE IN ANY SOCIAL NETWORKS, SO DESPITE THE FACT THIS PHONE WASN'T EVEN MADE FOR PEOPLE LIKE ME I FEEL THE NEED TO DERIDE ANYONE WHO WOULD PURCHASE SUCH A LAAAAAAME DEVICE!!!!!!!!!!!11111117!!

Despite the caps, you have a good point. Would I buy the Status? No way. But would the droves of teenagers hooked on facebook? You betcha. At&t is going to sell a ton of these.

You think this is going to appeal to teen? Maybe prepubecent girls, but not your average teen. There are many other phones with similar contract price for mom and dad to buy for them. Most teens are more savvy than you think.

As far as AT&T goes, there are only 3 android phones with keyboards. This one has the best specs of the three, except the screen. It has the same resolution, but -0.5 inches. Aside from that, it's all form-factor/styling.

I doubt they sell more then 5000 of these phones across the whole USA and i like Htc. My son is 16 and he thinks its ugly and could careless about it but he is not a Facebook junkie doesn't even have a account so proud of him his hooked on xbox live

Yes, because your son is the only person this phone is marketed towards. I like the styling of the phone. I prefer having a powerhouse, but I wouldn't have a problem with this phone... other than it being on AT&T.

honestly your 16 year old son isn't the marketed audience for this phone. your son's girlfriend is and her group of friends. not to mention the number of physical keyboard phones on at&t is kind of slim. the torch, veer, and crossover are your only options. i feel the status is vastly superior to all of those phones.

It looks like a calculator with a Facebook button. Is it too inconvenient to touch the screen that has the Facebook app shortcut on it? This is a huge FAIL! The last phone I saw that screamed "FAIL!" was the Kyocera Echo. The reason that did was it was way under powered for two screens and the bezel between the screen would scream at my eyes. However, at least that was new an original. This looks like a calculator with a mini screen.

What happened to Facebook that was only dedicated for college students, in reality all the teens and kids should go back to MySpace! The phone is a nice, it will sell, with that integrated Facebook that's the reason why they'll buy it. They don't care about specs. They mostly care about getting on Facebook.

But they can get on FB by touching the screen. There is no major benefit to a dedicated button except to remove the FB app shortcut on the screen...big whoop

My brother works for AT&T. Went buy there today to look at this phone. The phone looks reallllly nice and well built.
Feels good in the hand. Then I pressed the unlock button.
Having Android on a phone like that and a screen that small just didn't feel right.

The FB button isn't meant to just launch the FB app. The button allows you to easily post content from your phone or web onto your FB account. Read people, READ! That being said, the phone is an entry level smartphone device, nothing more. Those looking to try their hand on a smartphone with a keyboard will be drawn to it as well as the teeny bopper FB power users who actually decide to buy it. Aesthetically, it's not the sleekest, but it's still nice. I'll have to go check it out for a bit to see if would recommend this phone or not.

People like to claim they hate Facebook so,naturally,they feel the same about this phone. If it wasn't for the FB button there wouldn't be near as much distain towards the Status.

Look out for the Nerd Rage!!

I don't get it...seriously. There's a FaceBook button, but what's the point when Android has a FaceBook widget that is much more useful? And the phone itself looks hideous. Odd shape, small, crappy screen, strange keyboard... Plus, with Google+ getting started and all the problems with FaceBook, I'm guessing it will be "Face who?" within the next year. Maybe 13 year old girls will like it?

HTC makes good device keyboards.The only fault on the Status is the screen is on the smallish side.But it's meant to be a communications device,like a Blackberry,as opposed to being a multi-media player which would warrant a 4+" inch screen. Think a fun version of the Droid Pro.

Typing on a portrait keyboard like that would be a nightmare for me.(I am 6'4" and not the skinny kind).

I like it. It looks like a modernized Motorola Q8 and it's clean. Simple and clean. I think, compared to the lower end android phones currently available, this one's MUCH nicer. The Facebook branding is obnoxious, though.
Android Central Newsletter
Get the best of Android Central in in your inbox, every day!
Thank you for signing up to Android Central. You will receive a verification email shortly.
There was a problem. Please refresh the page and try again.