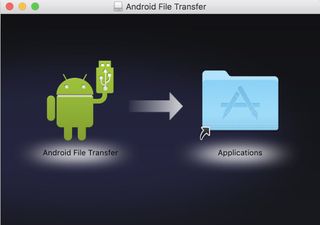 (Image credit: Adam Doud/Android Central)
Android File Transfer is an app developed by Google designed to help you move files from your Android phone to your Mac. On a Windows PC, it's a straightforward plug-n-play procedure. However, if you are not using one of the best cloud services available, the nature of macOS requires a separate app to transfer files.
How to transfer files from your Android phone to a Mac
Visit www.android.com/filetransfer.
Click Download Now.
Choose a location to download the file. Click Save. Double click on the file when the download is complete.
Drag the Android File Transfer icon to the Accessories folder.
Once installation is complete, you'll have the app. Click Android File Transfer in the Application folder to start the program.
You may be asked if you want to open an app downloaded from the Internet. Click Open.
Once the app opens on your Mac, you'll need to make sure your phone is set up to transfer files. In fact, Android File Transfer will most likely tell you that you need to do that. The easiest way to do so is to swipe down on the notification shade.
Tap the notification that says Touch for more options.
Tap Transfer files.
When you do that, you'll probably need to relaunch the Android File Transfer app. Once you do, you'll be shown a list of files. From here, it's straightforward. Drag any files you want from your Android device over to your Mac, and you're all set.
When you're done, simply unplug the phone. Hopefully, this all went very smoothly for you. However, our own Jerry Hildebrand wrote about how bad Android File Transfer was five years ago, and it has not changed since.
How to troubleshoot Android File Transfer
The app works better for some phones than others. Typically when you first plug a phone in, the app will launch and tell you it can't connect to the phone. After switching the phone to File Transfer mode, you'll typically need to close and relaunch Android File Transfer. Sometimes, you'll have to close File Transfer, then switch the mode on the phone, then relaunch. Sometimes, you'll need to unplug the phone. There's really no rhyme nor reason as to what works and what doesn't, which is, by the way, why Jerry wrote about this app five years ago. Sometimes, switching the phone to file transfer mode and relaunching the app will do the trick. We hate to leave you like this, but unfortunately, the app is just that bad.
Be an expert in 5 minutes
Get the latest news from Android Central, your trusted companion in the world of Android
Adam has been writing and podcasting the mobile tech space for almost a decade. When he's not writing, he hosts the Benefit of the Doud podcast, spends way too much time on Twitter, and redesigns his office space over and over.