Best apps and games for getting out and enjoying the outdoors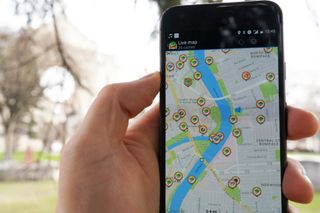 Ahh, spring and summer. For those of us who live in the North, it's that brief couple of months where we can go outside and comfortably enjoy the outdoors. And yet, it's still all too easy to stay inside, watch Netflix, and just lay about. Sometimes you need something to prod you up on your feet and set you off on a quick and fun adventure.
Whether you're looking to set up your fitness game, or simply spend a bit more time outside enjoying that fresh air, these apps and games are worth checking out — and stackable! I don't know about you, but the idea of playing Pokémon Go while outrunning zombies is pretty compelling...
c:geo
Why you can trust Android Central Our expert reviewers spend hours testing and comparing products and services so you can choose the best for you. Find out more about how we test.
If you've never tried geocaching before, you're sure to be surprised with just how many little treasure hunts are hidden in plain sight all around you! It's a fun hobby that's really taken off due to cell phone GPS making it easier than ever for the average person to check it out.
Once you've registered and configured the app, geocaching is a fun activity you can do at any time, wherever you are. Simply load up an app, use the map to target a nearby geocache, then head to that location and start searching! The geocache will be cleverly hidden in the area. Once you've found it you sign and date the included, re-hide the cache exactly how you found it, then share your experiences online.
There are several geocaching apps available for Android, but c:geo is your best bet. It's an open source app that's super easy to use for beginners and includes all the features you need to start hunting. It's an unofficial client for Geocaching.com, one of the internet's biggest communities for geocachers.
So what are you waiting for? Grab some friends and head out on your own geocaching adventure!
Zombies, Run!
Part fitness tracker, part audio drama, Zombies, Run! is the perfect app for those of us who really need to be motivated to keep running. Developed by Six to Start, this app has been around for quite some time, but it's always a fun recommendation to throw out there for anyone looking to jumpstart (and maybe jump scare) a running routine. Simply load up the game on your phone, pop in your favorite workout headphones and head out on your adventure.
You fill the role of Runner 5, a survivor of an ongoing zombie apocalypse that must head out into the infected lands on missions to collect supplies and find new survivors. You're able to listen to your own music for the stretches, with the story cutting in between songs. If you start slowing down, you may hear the living undead creeping closer — and it proves to be pretty motivating if you're buying into the narrative. Of course, you don't have to run. If you'd rather not have your evening jog or walk spoiled by a pack of audio zombies chasing you, you can turn the feature off.
The base app is free, but you can pay a monthly or yearly subscription to unlock all the missions and content at once. If you've never tried it before, it's definitely worth checking out.
Download: Zombies, Run! (Free w/ optional subscription available)
The Walk: Fitness Tracker
If running from zombies is a bit too intense for you, Six to Start also has a step counter app that uses the same storytelling mechanic to tell a different story. Developed and based in the UK, you are the star of an audio drama that spans 500 miles of walking.
While Zombies, Run! plays like a horror movie, the story here is more like a political thriller movie: A bomb has exploded in Inverness Station and you've been given a package that just might save the world. You must keep walking to stay alive and deliver the package to the other side of the UK, dodging agents of evil as the story continues to unfolds as you walk.
There are 51 episodes to listen that total over 800 minutes of audio. The game will track your steps even when your phone is asleep also adapt to your individual fitness level so that it never feels too easy or too challenging. It's another interesting app that might give you more reason to get up and take a walk outside, which is always a good thing.
Download: The Walk: Fitness Tracker ($2.99)
Clandestine Anomaly
Clandestine Anomaly is a pretty interesting game that turns your neighborhood into a battleground between intergalactic rivals, with your smartphone supercharged with everything needed to keep the evil Leecher virus from taking over Earth.
One of the first thing you do in the game is outline the perimeter of the play area — about a square mile or so —and each new level pops uplinked to a GPS location on a map. At its core, Clandestine Anomaly is a tower defense game where you use sensors to detect the Leecher pathways back to their spawning portals. You're able to play and destroy the oncoming waves from the comfort of your own home — but if you actually head to the area on the map where the battle is going down, you're able to use augmented reality to launch devastating attacks and gain the upper hand. In later levels, you need to be there to have any chance of being successful.
It's a really intriguing concept and while you only get four levels before you're required to pay to unlock the full game, it's worth giving it a shot if only for a cool look at how augmented reality can be incorporated into games.
Download: Clandestine Anomaly (Free w/ IAP to unlock full game)
Pokémon Go
A fairly obvious inclusion on this list. As we get closer to the one-year anniversary of the release of Pokémon Go, love it or hate it, it's still going strong with millions of regular players enjoying regular global events as they work to fill their Pokedex.
As we head towards summer, Pokémon Go may have a resurgence as we all look for more reasons to go outside for a walk somewhere. If you're thinking of getting back into the game or trying it for the first time, you might want to invest in Pokémon Go Plus, a Bluetooth accessory that lets you play the game throughout the day without using your smartphone. You can pick yours up at online retailers like Amazon or Best Buy.
Download: Pokémon Go (Free w/IAPs)
Fitness Fantasy
Fitness Fantasy is a fairly clever game that integrates a step-counting pedometer into a fairly traditional RPG. You control a team of adventurers who are on a quest to rid their world of Dark Energy. To do so, you will need to level up your character using Fit Energy.
This game works by linking to your Google Fit or Fitbit account and converting your daily step count into Fit Energy, which you then use to level up your characters to increase their battle strength. There are over 100 missions to play complete with storyline and new characters to unlock. The battles are pretty simplified and can be automated, but there's a bunch of resource management required here that's actually kind of calming at the end of the day.
Basically, this is a passive way to get in a bit more steps. There are ways to increase the conversion rate of steps to fit energy so you get more out of every step, but in general, this game is designed to give you a little added incentive to walk more without being too intrusive or requiring you to have the app open during your day. You can check in at the end of each day, see how much energy you generated and then use it to progess further in the game.
Fitness Fantasy is free to play with in-app purchases available.
Download: Fitness Fantasy (Free w/IAPs)
The ultimate outdoor challenge
If you're down for a challenge dive into the maps in c:geo, plan a nice long route with several geocaches on the way, then head out while playing Zombies, Run! and Pokémon Go with the Pokémon Go Plus all at the same time. See how many geocaches you can find, Pokémon you can catch, and zombie hordes you can outrun simultaneously in an hour.
Got any recommendations of your own? Drop us a comment!
Update April 6: Added Fitness Fantasy to our list! Now get outside and start walking around!
Sign up for Black Friday email alerts!
Get the hottest deals available in your inbox plus news, reviews, opinion, analysis and more from the Android Central team.
Marc Lagace was an Apps and Games Editor at Android Central between 2016 and 2020. You can reach out to him on Twitter [@spacelagace.