Android Studio 2.2 to feature test recording, new layout designer and more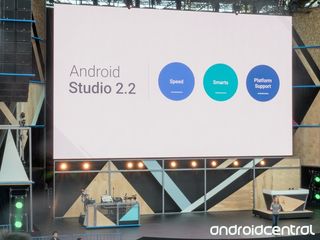 Google has detailed some of the changes coming to Android Studio with its 2.2 release. Android Studio, which is used in the creation of 92% of the top 125 Android apps, will be faster at building apps, and will give developers new tools to make going from an idea to a working app easier.
There are a number of new features coming with Android Studio 2.2. Test recording will allow you to test your app locally or in a cloud test lab, and get an automatically-generated test report. There's a new layout designer, which automatically adds restraints when designing your UI. The designer will also help you design for multiple layouts and screen sizes.
Amongst the other tools coming to Android Studio are the new layout inspectork, expanded Android code analysis, and enhanced C++ support. It will also feature support for new Android N features.
You can tune into the Android Centralliveblog of Google's keynote for more from I/O 2016.
I still need to convert over to using this. I am slacking.
Android Central Newsletter
Thank you for signing up to Android Central. You will receive a verification email shortly.
There was a problem. Please refresh the page and try again.