Amazon rolls out a dedicated wake word for Samuel L. Jackson's Alexa voice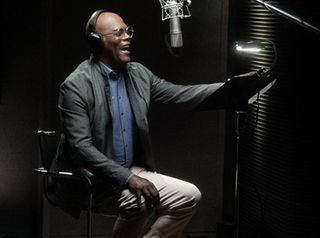 (Image credit: Amazon)
What you need to know
Amazon has made it easier for you to access the Samuel L. Jackson Alexa skill with a dedicated wake word – "Hey, Samuel."
Amazon has also updated the skill with more than 30,000 new phrases, including five times the explicit content.
The actor's voice skill was launched on Alexa in December last year.
In December last year, Amazon added Samuel L. Jackson's voice as a skill for its Alexa voice assistant. The retail giant is now making it easier for users to access the actor's voice by introducing a custom wake word. You can now have Jackson reply to your questions by simply saying, "Hey, Samuel."
The new custom wake word works on most Echo devices, except the first-gen Echo, Echo Dot, and Echo Look. If you have one of the first-gen Echo devices, you can invoke Jackson's voice by using "Alexa, ask Samuel" instead.
Aside from the new custom wake word, Amazon has also updated the Samuel L. Jackson voice skill with over 30,000 new phrases (via Variety). And on popular demand, that includes five times more explicit content than before. Amazon says almost 75 percent of all people who bought the skill had the explicit mode turned on. However, Samuel still cannot help you with reminders, lists, Shopping, or Skills.
Even though Amazon had said last year that the price of the skill would eventually increase to $5, it is still available (opens in new tab) for the introductory $1 price.
Echo Dot (3rd Gen)
The Echo Dot has nearly all the features that Amazon's more expensive Echo smart speakers offer, but at a much lower price point. It is also extremely compact, which means it can easily fit into the smallest of spaces.
"hey, mother forker, where's the nearest big kahuna burger?"

Is that "first gen Dot" or "all Dots?" Because guess who owns a hell of a lot of first gen devices? (FWIW, not working on my Dot w/Clock or Echo Flex yet either. And the Dot has the current software version.)

You have to enable it in the Alexa app. Open the app, go to the Devices page, then Echo & Alexa, then into the Echo device. tap on Wake Word, scroll down to the Celebrity Wake Word section, and turn it on. You have to do it for every device individually.
Android Central Newsletter
Get the best of Android Central in in your inbox, every day!
Thank you for signing up to Android Central. You will receive a verification email shortly.
There was a problem. Please refresh the page and try again.