Alcatel Idol 5 brings subtle design tweaks, heads to Cricket Wireless for under $200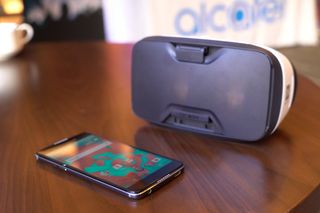 We're seeing a lot of premium smartphones come in over $800, but you can also enjoy some premium features in a smartphone that costs less than $200. The Alcatel IDOL 5 is a VR-ready Android 7.0 Nougat phone with a 5.2-inch 1080p display and dual front-facing speakers. Under the hood is a (cost-saving) Mediatek Helio P20 octa-core processor, 2GB of RAM, up to 32GB of internal memory and a microSD slot for even more storage.
The most noticeable change on the Idol 5 compared to the Idol 4 is the metal back. Alcatel says the move to metal was in response to customer feedback that the glass back on the Idol 4S was fragile.
The NOW key on the Idol 5 replaces the BOOM key from the previous model (my word, those names). The key instantly launches your most commonly-used tasks. You can use it to turn the flashlight on or off, compose a message, take a screenshot, snap a photo, or launch your favorite apps.
Other notable features include the 12-megapixel camera with dual-tone flash, 8-megapixel selfie camera with LED flash, and fast charging for the 2850mAh battery. You can also find a 3.5mm headset jack located at the bottom of the phone.
The new Alcatel Idol 5 is available exclusively at Cricket-branded stores or cricketwireless.com (opens in new tab) beginning October 27, with the affordable price of $199. The UNI360 VR Googles, which is optimized for the Idol 5, is sold separately for $49.99, although it is compatible with other VR-capable smartphones with 5- to 6-inch displays.
Android Central Newsletter
Get instant access to breaking news, the hottest reviews, great deals and helpful tips
Still Idol 4 Pro windows phone rocks!

2gb of ram is a no no. It's 2017 I don't care how much it costs, 3gb minimum

The phone looks good but the specs are only so so for that price point. I've heard a lot of negative things about Alcatel phones ao I would be hesitant to put $200 dollars into it. Besides I'm saving my pennies for a new Stylo 3 from Cricket. I've had great luck with LG stuff.

No no no, Alcatel. This is indeed a step backwards..

4s is still on marshmallow. Alcatel needs to start stepping it up with their updates before I purchase them again.

Alcatel phones are trash. So is their company

I bought my mom the DTEK50 last year, which was the Idol 4, with Blackberry controlled software. It has been great for her usage. But this phone is kind of a downgrade from the previous version. The DTEK has 3GB of RAM. Even at $200, I would have to think 3GB of RAM wouldn't have pushed the price point any higher. It was probably AT&T pushing lower specs, so they could get some additional profit out of the device.
Android Central Newsletter
Get instant access to breaking news, the hottest reviews, great deals and helpful tips
Thank you for signing up to Android Central. You will receive a verification email shortly.
There was a problem. Please refresh the page and try again.