Alcatel announces new Scribe HD LTE and 1080p Scribe X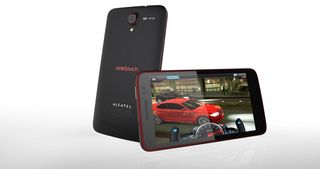 Following yesterdays announcement of three new Android smartphones from Alcatel, they're back again today with the announcement of another 2 -- the Scribe HD LTE and the Scribe X.
The Scribe HD LTE looks to be the same device as the Scribe HD that was announced yesterday, but with the added bonus of 4G LTE data capabilities. It's a 5 inch device with a quad-core processor and Jelly Bean. Not bad.
The Scribe X is a pretty interesting looking device. It's a much higher end smartphone from Alcatel, and packs some extremely competitive specifications. Like the Scribe HD LTE, the Scribe X has a 5 inch display, but this one is a full HD 1080p resolution display. It's packing a 1.4GHz quad-core processor, with a 12MP rear camera and a 720p capable front facing camera. We're also promised a bevy of creative features and accessories centered around creating movies, editing photos and wireless sharing to your TV.
We're lacking any information on RAM, storage and battery size at this time, but on the face of what we do know, the Scribe X can potentially go toe-to-toe with the newly announced Sony Xperia Z.
Both are to be shown off for the first time during the ongoing CES 2013 show in Las Vegas, and the full press release can be found after the break.
ALCATEL ONE TOUCH Announces LTE and 1080P Editions to ONE TOUCH Scribe Smartphone Series at 2013 Consumer Electronics Show
Las Vegas, Nevada (Consumer Electronic Show) – January 8, 2013 – TCL Communication, designer and manufacturer of ALCATEL ONE TOUCH branded mobile devices, announced today the latest devices in their ONE TOUCH Scribe smartphone series, the ONE TOUCH Scribe X and the ONE TOUCH Scribe HD-LTE. The devices will be shown for the first time at this year's Consumer Electronics Show.
The ONE TOUCH SCRIBE series was designed to enable people to express themselves in a new way, offering a perfect balance between slim design, large display, outstanding performance, and rich user experience.
ONE TOUCH Scribe X
The ONE TOUCH Scribe X provides a truly enhanced user experience with a 5" full HD 1080p display screen for impressively rich graphics and a 12MP camera for crystal clear photography. Together with a 720p HD front camera, a 1.4GHz quad-core CPU, the feature-rich device will come loaded with a full set of creative features and accessories that will enable users to create movies, edit photos and connect wirelessly to their TV's to extended the device's entertainment capabilities.
ONE TOUCH ScribeHD-LTE
The ONE TOUCH ScribeHD-LTE is perfect for users seeking a faster mobile experience for both work and play. The device provides high-speed data performance with no compromise to its stunning and slim form factor. Sacrificing nothing in functionality and incorporating the breakthrough speeds of an LTE connection, the device offers a unique combination of creativity and connectivity, allowing users to manage their multifaceted lives like never before.
For 20 years, the ALCATEL brand has brought global innovation and quality in mobile telephony to the widest-range of audiences. The ONE TOUCH smartphone product line leverages on that expertise, bringing unique products, priced to be accessible to all.
"The ALCATEL ONE TOUCH brand prides itself on the commitment to bring consumers innovation and quality in mobile technology, at a great price," said Dan Dery, Chief Marketing Officer. "The ONE TOUCH Scribe series truly showcases this value proposition offering a very broad selection of options to consumers: 4G, LTE, and a version with a more advanced feature set. All of which are offered with a full eco-system of accessories (pens, Wifi Display dongles for wireless connection to TV and a large catalog of Magic-Flips)."
Android Central Newsletter
Get instant access to breaking news, the hottest reviews, great deals and helpful tips
HTC Signed a hefty deal with the devil...I mean, Apple... Will they also follow suit and sue Alcatel (see what I did there?)? These phones look WAY TOO MUCH like the One series. And the pictures just screaaaam 'Butterfly/DNA'.

Agreed, and the name doesn't help with that either.

That was what I noticed as well.

took the words right out of my mouth. It's got to sting as they haven't done too well profit wise either

Bingo. I thought immediately that was an HTC One _. Even the color looks the same... Closer look it does look different, but it's that first glance that catches you.

dupe, please delete mods.

Wow.. Alcatel is just swagger jackin HTC all across the board, aren't they?

Red & Black color scheme?
Time for HTC to sue.

HTC and Alcatel must be sleeping together, I mean look at the 7 inch tab named the One Touch EVO 7 HD, with a black and red color scheme as well.

Imitation is the highest form of flattery. Great job HTC designers!
Android Central Newsletter
Get instant access to breaking news, the hottest reviews, great deals and helpful tips
Thank you for signing up to Android Central. You will receive a verification email shortly.
There was a problem. Please refresh the page and try again.