Yes, the LG Optimus Vu is big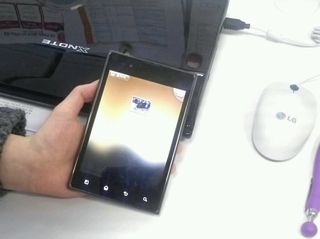 Here's another shot of the LG Optimus Vu -- the Korean manufacturer's upcoming 5-inch Android smarpthone with a 4:3 aspect ratio -- that we'll get to see up close and personal next week at Mobile World Congress in Barcelona.
Look, we know it's big, just like the Samsung Galaxy Note. Anything with a 5-inch screen is gonna be large and in charge. But here we get a great look at how that 4:3 aspect ratio shows how the display is wider than what you're probably used to. You almost certainly won't be one-handing this bad boy.
But we're certainly going to try next week in Barcelona. Stay tuned.
Source: @visitken
This thing just makes me laugh.

They should sell a bluetooth headset with this.. how else can you make a phone call?? However, I can truly see the value of tablet and phone all in one device, just makes sense!

The hell is that piece of crap? Put it in the bin and get a phone or a tablet...not some bastarded love child of the two

This gives 5" phones a bad image. Hopefully no carriers pick it up. GNote FTW

It's a perfect size as a mini-tablet(my wife loves her iPod touch but it's a bit small... this would suit her perfect)... but as a phone? Seriously??

If Apple released a device this size, people would be standing in line to get one with arguments like "it's like an iPad, but much more portable"... An apple logo would simply make people claim that this is the best sized device EVER! However, I personally prefer the aspect ratio on the Galaxy Note.

i would love to see some 4 by 3 aspect ratio tablets, just not at 5 inchs. Come on lg you guys just dont get android stick with windows phone instead
Android Central Newsletter
Get the best of Android Central in in your inbox, every day!
Thank you for signing up to Android Central. You will receive a verification email shortly.
There was a problem. Please refresh the page and try again.